Valenzuela's Offshore Ad Deal Finished
by Margaret Ransom
Date Posted: 3/31/2005 8:13:44 AM
Last Updated: 4/1/2005 2:26:44 PM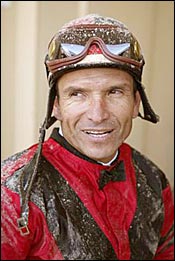 Jockey Pat Valenzuela, has cancelled advertising deal with offshore wagering site.
Photo: Associated Press

Just one day after jockey Patrick Valenzuela announced he had sold a two-month advertising deal to the offshore gambling Web site Betcris.com for $15,000, Santa Anita Park stewards informed the rider he'd be unable to wear the ads on his pants and his collar. Valenzuela, meanwhile, has terminated the deal.Valenzuela, who sold his clothing on the auction Web site eBay, was scheduled to don the advertisements beginning with the March 30 program."We had heard about the contract and he brought it in to us this morning," steward George Slender said March 30. "But there's some feuding going on with the associations and the offshore wagering sites, so we told him that, for now, until we found out about the company and the contract, he cannot wear the pants."Offshore wagering sites have been the center of controversy in racing because many of them take wagers on horse racing but don't return revenue to the sport.Betcris.com is an online gambling site that offers wagering on everything from horses and sports to entertainment and politics. Its actual name is Costa Rica International Sports, which is owned in its entirety by Betcris Ltd. of London.A Web site note about the race book says wagers are made bookmaker style in that they don't affect pari-mutuel pools. On a recent afternoon, the site listed post times for upcoming races at Aqueduct, Beulah Park, Freehold Raceway, Gulfstream Park, and Laurel Park."We sympathize with the riders, and we in no way want to stop them from pursuing advertising," steward Pete Pedersen said. "It is in our authority to rule on such matters and make decisions like this which are in the best interests in racing. (Valenzuela) called us a few minutes ago and said he'd drop the contract."Valenzuela said he wasn't disappointed by the stewards' decision, and that he would consider other advertising options in the future."I decided against (continuing the contract with Betcris.com)," Valenzuela said. "It's not in the best interests of racing. I'll just put myself back up on eBay and find another sponsor."



Copyright © 2015 The Blood-Horse, Inc. All Rights Reserved.