Century Mark
by Ray Paulick
Date Posted: 3/30/2005 9:47:40 AM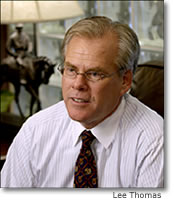 Ray Paulick
Editor-in-Chief


On May 4, 2005, it will be 100 years to the day since Belmont Park opened its doors to the public for the first time. The track, located in Nassau County, Long Island, was built on property acquired by August Belmont II and William C. Whitney and designed to provide a better showcase for horse racing than old Morris Park. The opening-day crowd of 40,000 was treated to a thrilling feature race, the Metropolitan Handicap, in which Horse of the Year Sysonby and Race King dead-heated for the victory. That initial program set the standard for what was to follow. Belmont Park survived a prohibition on betting in 1908 that led to a two-year shutdown. Its grandstand was rebuilt in 1920, three years after a fire destroyed part of the structure. Belmont underwent another major reconstruction in the 1960s, leading to what is today a mammoth and marvelous facility. Throughout all of its changes, high-quality racing has been the hallmark of the racetrack. There was Colin's narrow victory in the 1908 Belmont Stakes, keeping his perfect record intact. Exciting match races featured Kentucky Derby winner Zev defeating Epsom Derby winner Papyrus in 1923 and Armed solidifying his Horse of the Year honors by defeating Assault, the previous season's Horse of the Year, in 1947. Sadly, the one most people remember was the tragic 1975 match race involving the brilliant Ruffian and Derby winner Foolish Pleasure. Belmont Park has been the track to celebrate Triple Crown victories, including Secretariat's unforgettable 31-length tour de force in 1973 and Affirmed's gut-wrenching triumph over the gallant Alydar in 1978. In recent years, it's been where a rapidly increasing number of fans--including 120,139 in 2004--have turned out in hopes of seeing racing's 12th Triple Crown winner. The New York Racing Association will begin the celebration of its Belmont Park centennial on the 100-year anniversary date, May 4. The opening falls on a Wednesday at a time when Aqueduct normally is in operation (also giving New York fans a chance to watch the simulcast of the May 7 Kentucky Derby, gr. I, at Belmont). For more than half of Belmont Park's first 100 years, equine artist Richard Stone Reeves has memorialized many of the champion Thoroughbreds who have raced down the stretch of this historic track. Nearly 70 of those paintings are included in a new book, Belmont Park: A Century of Champions, which is being published in conjunction with the centennial celebration by Eclipse Press, the book division of Blood-Horse Publications. (More information can be found at http://www.EclipsePress.com or by calling 800-582-5604.) Reeves' first big break as an equine artist came in 1947 when J. Samuel Perlman, editor of the Morning Telegraph and Daily Racing Form, commissioned him to paint Horse of the Year Armed for owner Warren Wright Sr. of Calumet Farm. The oil painting was reproduced in LIFE magazine, and put Reeves in demand. Eclipse Award-winning writer and historian Edward L. Bowen eloquently captures the wonderful stories of the Thoroughbreds featured in Belmont Park: A Century of Champions. Reeves adds personal memories of each of the horses depicted in this book. There is this description of Reeves' encounter with Triple Crown winner Citation in 1948: "I stood in awe at having been in the presence of the most impressive horse I had ever seen. He had massive hindquarters and an almost perfect slope to his shoulders. His arched neck and finely chiseled head completed a picture that was unforgettable." Belmont Park is a special place--to owners and breeders, trainers, racing fans, and to Dick Reeves, who grew up near the track on Long Island. As Ogden Mills "Dinny" Phipps writes in the foreword to Belmont Park: A Century of Champions: "It is a place of champions, a place of history, a shrine to our sport."



Copyright © 2015 The Blood-Horse, Inc. All Rights Reserved.