CHRB Dismisses Baffert Morphine Case
by Lenny Shulman
Date Posted: 3/24/2005 2:45:36 PM
Last Updated: 3/25/2005 12:35:12 PM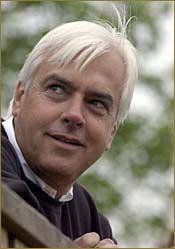 CHRB clears Bob Baffert of doping charges.
Photo: Anne M. Eberhardt

The California Horse Racing Board, meeting in executive session March 24, dismissed an almost five-year-old morphine case against trainer Bob Baffert. In doing so, the board followed the recommendation of administrative law judge Timothy S. Thomas, who heard Baffert's appeal in January.The case began after Nautical Look won a first-level allowance race at Hollywood Park in May 2000. A post-race test turned up positive for morphine, starting a long and winding legal procedure. In successfully arguing Baffert's case in front of Thomas, attorney Steve Schwartz presented a body of new evidence. Dr. B. William Bell, the CHRB's official veterinarian, testified that the amount of morphine found in Nautical Look's test was "pharmacologically insignificant and most likely due to environmental contamination." He further testified that Baffert's barn is the "most secure" he has ever seen, and that Baffert's employees took every reasonable precaution to prevent tampering.Schwartz presented evidence that in May and June of 2000, 13 samples out of 95 were deemed "suspect" for opiates, findings that were out of the ordinary and consistent with environmental contamination, according to Dr. Steven Barker, chief chemist of the Louisiana State Racing Commission. In his decision, Judge Thomas wrote: "These facts and (Baffert's) success as a trainer support the conclusion he had nothing to gain and a great deal to lose by the use of a banned substance on this horse."While Baffert said he was pleased by the finding and feels vindicated, he also said: "It should not be lost that it took four years and seven months, thousands of dollars in unnecessary legal expenses, and incalculable personal and professional distress to reach the right decision."Added Schwartz: "The previous executive director of the CHRB and the CHRB equine medical director were advised early on by one of the CHRB's own analytical chemists that this case was likely one of contamination and that that likelihood should be investigated. Mr. Baffert finds it shameful that a follow-up investigation was not conducted, and feels the CHRB did a disservice to all participants in California racing."The case began when the board of stewards found Baffert liable and suspended him for 60 days. Baffert got a stay of the suspension pending appeal, and filed a civil rights action in federal court. His attorney at that time, Neil Papiano, successfully argued that the CHRB's testing lab threw away a sample of Nautical Look's blood, rendering it impossible to test a split sample. The federal court issued a summary judgment in Baffert's favor and ordered the CHRB not to proceed further unless it could produce the blood sample.The CHRB appealed that decision to the 9th Circuit Federal Appeals Court and was successful in overturning it on the grounds that the federal court should have declined jurisdiction and allowed a state court to handle the case. That decision renewed the state court's action, and Baffert and his current attorney, Schwartz, presented their case in front of the administrative law judge in January.



Copyright © 2015 The Blood-Horse, Inc. All Rights Reserved.