Hollywood Ending?
by Ray Paulick
Date Posted: 3/23/2005 11:32:02 AM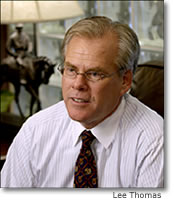 Ray Paulick
Editor-in-Chief


The good old days? They weren't that long ago for horse racing fans in Southern California. The year was 1980. Marjorie Everett and her management team at Hollywood Park were battling with Santa Anita Park for supremacy on the Southern California circuit. Santa Anita, with daily average attendance of 28,012, was coming off its best year since the mid-1960s. Hollywood Park, which over the previous five years had slipped from a daily average of 30,217 to 24,930 in 1979, needed something unique to catch the fans' attention and put it back on top. The track's marketing department found a solution that could be described in three simple words: free tote bags. On Sunday, May 4, one day after the Kentucky Derby, a crowd of 80,348 choked the surrounding streets and crammed into the Inglewood track for a heavily promoted tote bag giveaway. It set an all-time attendance record, sending the track's marketing department scurrying for more giveaways. Tube socks, T-shirts, beach towels, and binoculars were tried: 69,093 turned out on Memorial Day and 53,322 were on hand for the Hollywood Gold Cup (gr. I). But nothing came close to tote bag day. Attendance for that spring-summer meeting jumped 25%, averaging 31,150 for the 77 racing days. Handle was up 24% to a daily average of $5.2 million. In the good old days, the only way to make a legal bet was to be at the track; there was no off-track, telephone, or intertrack wagering in California in 1980. Those days aren't coming back. In 2004, the track's premier race, the Hollywood Gold Cup, attracted just 18,046 on-track fans, 42% fewer than the daily average in 1980. In-home wagering and cross-town simulcasting at Santa Anita have hammered on-track business. That's one reason, in the wake of a failed effort to get slot machines approved by California voters, Hollywood Park's parent company is exploring options for the property. Officials for Churchill Downs Inc., which bought Hollywood Park for $140 million in 1999, won't comment, but it is widely believed requests for proposals have been sent to major companies that may have an interest in developing the track's 240 acres. The land is worth far more for development than it is as a racetrack. Los Alamitos offers an interesting alternative to horsemen should Hollywood Park be sold. Mike Pegram, a major owner and breeder whose fortune was derived through McDonald's hamburger franchises, is proposing a $40-million expansion of the Orange County track. Built by the Vessels family in the 1950s, Los Alamitos is best known for its top-class Quarter Horse racing, but in 1977 the California Horse Racing Board approved a 14-day fair meeting that included Thoroughbreds. The meeting was quite successful, drawing an average daily crowd of 9,612 for its inaugural season. By 1980, the Los Alamitos meeting averaged 12,181 in daily attendance and more than $2.2 million in on-track handle. In 1981, Hollywood Park was given CHRB approval for a fall meeting that put the squeeze on Los Alamitos, forcing it to run at night. Business deteriorated and the track eventually dropped the Thoroughbred meeting. Dr. Ed Allred, a partner with R.D. Hubbard in Ruidoso Downs and a proposed racino in Hobbs, N.M., has owned Los Alamitos since 1991. He also owns 64 acres from an adjacent golf course that can be used to expand the track from five furlongs to a mile, add a turf course, and construct up to 800 new stalls to go with the 1,500 currently used. The plan also calls for another 3,000 seats to be added to the grandstand. A newly improved Los Alamitos wouldn't handle the 80,000 people that Hollywood once drew, but it will do nicely for what Southern California racing needs. These aren't the good old days.



Copyright © 2015 The Blood-Horse, Inc. All Rights Reserved.