Quarter Crack Knocks Out Roman Ruler
by Blood-Horse Staff
Date Posted: 3/20/2005 4:46:46 PM
Last Updated: 3/20/2005 5:03:06 PM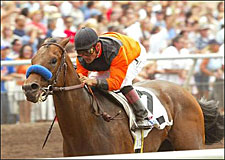 Roman Ruler likely to miss Derby; Preakness still possible.
Photo: Benoit

Roman Ruler, who finished last as the 3-1 favorite in Saturday's San Felipe Stakes (gr. II), has been taken off the Kentucky Derby (gr. II) by trainer Bob Baffert and owner Fog City Stable to allow the colt's quarter crack to heal."He needs three weeks off," Baffert said from Santa Anita Park. "We've got to remove that quarter and let it heal up and grow back. He's got that bad spot and you're taking a chance when you run him. I told Gary (Stevens) to see how he goes, and if he wasn't handling it to take care of him, and Gary was real good about it. Now, we'll just give him time and clear it all out."Baffert blamed the bad trip as much as the quarter crack for the colt's performance. He still believes this a very talented horse and expects him to return as good as ever."The Preakness, there might be a shot; but right now he's definitely out of the Derby," Baffert said."After he broke, he got squeezed and then he got rank on him (Stevens). But that (left front) foot has been plaguing him even though we've been trying to get him there with a band-aid approach, so I need to just stop on him and let that thing grow out properly."



Copyright © 2015 The Blood-Horse, Inc. All Rights Reserved.