Elliott Happy to Get Second Chance
by Dan Lauletta
Date Posted: 3/18/2005 3:51:02 PM
Last Updated: 3/18/2005 6:33:05 PM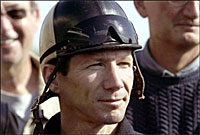 Stewart Elliott hopes Rockport Harbor can achieve the same success as Smarty Jones.
Photo: Associated Press

The picture above the month of November in the 2005 New York Racing Association wall calendar shows the stretch run of last year's Remsen Stakes (gr. II) in which Rockport Harbor held off Galloping Grocer to complete his 2-year old season undefeated. Notable about the photo is the wide smile on the face of Rockport Harbor's jockey, Stewart Elliott."It's pretty neat," Elliott said with a laugh. "I was pretty comfortable most of the way. I had to get after my horse the last part of the race and he responded. It seemed like he ran hard enough to do what he had to do."Rockport Harbor hasn't run since, but that will change March 19 at Oaklawn Park when he starts in the Rebel Stakes (gr. III). Elliott has the call as he pursues a return to the Kentucky Derby (gr. I), which he won last year in his first try at age 39. The similarities between Rockport Harbor and last year's Derby winner, Smarty Jones, are uncanny."It's the same thing," Elliott said. "Same trainer, from the same track, taking the same road to the Derby. So it's kind of neat."Like Smarty Jones, Rockport Harbor began his career at Philadelphia Park for trainer John Servis. A year ago it seemed as unlikely for a Philly Park-based horse to capture the Kentucky Derby as it would for a 39-year old journeyman rider whose biggest prior victory came in the Demoiselle Stakes (gr. II). But here is Elliott, now the veteran of one winter in New York--he won 41 races and finished seventh in the rider standings--heading back to Arkansas to rejoin the road to Kentucky."It's great to get another chance," he said.Just don't ask Elliott to compare Smarty Jones to his newest Visa Triple Crown candidate."That's tough," he said. "A few people have asked me that. Smarty Jones was a little different because he wasn't big and he didn't have a long stride like (Rockport Harbor), but he did have a lot of determination and a lot of heart. This horse has a long stride and he showed last time that he has a lot of courage. They're just both pretty talented racehorses."One major difference this year for Elliott's 3-year old star is his health. Rockport Harbor came out of the Remsen with a severe cut on his hind leg, and Servis discovered a sore hoof on the colt as recently as the weekend of March 12. As for Smarty Jones, though information later revealed he had a bruised foot in the final weeks before the Kentucky Derby, the smooth-striding colt had nary a day off the racetrack while wintering in Arkansas."As far as I know, (Rockport Harbor) is doing great," Elliott said from Aqueduct. "He's ready to go."As for Elliott, he credits his success last spring with helping him make the move to New York, where he recovered from a horrendous start to stamp himself as a regular. He plans to remain in New York until Monmouth Park opens in May, and at 40, he may have found a new schedule that will leave Philly Park in his rear-view mirror."I have a home over by Philly," he said. "Hopefully, they'll get the slots. I wouldn't mind going back there to race if the purses went up. It's hard to look too far ahead, though. I just try to go with what's happening at the time."In keeping with the theme of not looking too far ahead, Elliott isn't one to dwell on the past. As such, he has come to terms with last year's Belmont Stakes (gr. I), after which several writers cited Elliott's ride as the sole reason Smarty Jones didn't win and nail down the Triple Crown."I know in my heart I tried to slow the horse down as much as I could," he said. "I knew the pace was too fast but what am I gonna do? I knew he wasn't settled enough and that it was gonna catch up with him, and it did. Unfortunately, that's horse racing."He broke extremely sharp, and he's the type of horse that's aggressive. He had horses to his inside and horses to his outside, and he wanted to run with them."



Copyright © 2015 The Blood-Horse, Inc. All Rights Reserved.