Santa Anita Report: Robbins on Other Side of Upset Fence
by Craig Harzmann
Date Posted: 2/6/2001 3:32:29 PM
Last Updated: 2/11/2001 7:30:40 PM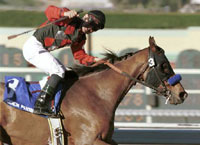 Jockey Corey Nakatani celebrates after winning the Strub Stakes with Wooden Phone.
Photo: Associated Press/Benoit

Now he knows how the Damascus people felt. Trainer Jay Robbins was just a lad of 22 in 1968 when it happened. He was rubbing horses for trainer Gene Cleveland, at a time when the stable housed Most Host, a gelding co-owned by Robbins' parents, Jack and Maggie, and Mrs. F.C. Bishop. Except for a home-court advantage and the barn's everlasting faith, there was really no logical reason to think that Most Host could win the Charles H. Strub Stakes that winter, especially with Damascus, the defending Horse of the Year, in the line-up. But young Robbins watched with a pounding heart that afternoon as Bill Harmatz and Most Host kept Ron Turcotte and Damascus pinned down in the deep mud along the rail. It was a classic display of racing tactics. Most Host won by a head. Jay Robbins was on top of the world. On Feb. 3, he found himself in on another Strub shocker. This time, however, Robbins was on the other side of the fence, after Wooden Phone slayed the newly-crowned Horse of the Year Tiznow in Santa Anita's $500,000 Strub Stakes (gr. II) at nine furlongs. No, it was nothing close to Secretariat's earth-shaking loss to Onion in the Whitney or Dare and Go's impossible win over Cigar in the Pacific Classic (both gr. I). But the 54th Strub was a hard pill to swallow all the same, leaving the 20,778 on hand to wonder why and those in the Tiznow camp with no answers to give them. "He didn't run his race, and I don't know why," a confounded Chris McCarron said after the Strub had sunk in. "I'm at a total loss." It certainly wasn't the first time a big name had crashed and burned in the Strub. Damascus was twenty cents on the dollar when Most Host stunned him in '68, and Hill Rise was 3-5 when he ran fourth to Duel three years before that. Both J. O. Tobin ('78) and In Excess ('91) couldn't do much better, each running third as the surefire favorites. And Bertrando was practically a lock eight years ago when Siberian Summer swept by late and spoiled the party. The bad boy who created havoc aboard Siberian Summer that chilly afternoon was one Corey Nakatani, who shows no remorse for odds-on choices or anybody else when the Strub rolls around. Patient as a sniper and competitive sometimes to a fault, Nakatani is an athlete who thrives when the spotlight burns brightest. Despite the overwhelming presence of Tiznow, Nakatani was firm in his belief the Strub would be Wooden Phone's best race yet. A cleaner trip in the Malibu Stakes (gr. I) and the gelding might have given Dixie Union more to deal with. Still, he ran third that day. In the ensuing San Fernando Breeders' Cup Stakes (gr. II), Wooden Phone jumped in front early, then caved in when Tiznow and Walkslikeaduck came calling. He was third again, with Nakatani piqued by the fact he never got a chance to show his stuff. "I put him on the lead," the rider said. "He wasn't really comfortable doing that. He didn't relax, he tried to drift out, he did a lot of things wrong. This time I thought he would move up." Indeed. Tiznow was prominent from the outset, flashing his innate speed from the six-hole. The Cee's Tizzy colt settled in the shadow of Capo Di Capo, and though committed to the outside, McCarron liked what he felt underneath him. "He was in the bridle nice around the first turn and down the backside," he said. "I was happy with my spot. I'm wide, but I'm on much the best horse, so I'm not concerned." It was when McCarron sought better position leaving the five-eighths pole that he sensed something was wrong. He asked Tiznow for some gas, but there was no response. Capo Di Capo, Tribunal, and Wooden Phone were all lined up to his inside, keeping the champ locked four-wide. With three furlongs to run and the pace starting to quicken, McCarron sent Tiznow after the leaders. He got nothing. "From the half-mile pole on," McCarron sighed, "he never went forward. He went backward. The bottom line is, he didn't fire. He didn't run a Horse of the Year-type of race in any way, shape, or form." Nakatani, meanwhile, had kept an eye on the big horse the entire trip. Unlike the San Fernando, Wooden Phone had loped along beautifully at the rail, and by the quarter pole, the race had boiled down to just two. Then it was down to one. While Tiznow toiled under McCarron's whip, Wooden Phone shot clear when Nakatani began to drive. With many looking on in astonishment, Wooden Phone crossed the finish two lengths clear, making Nakatani the first rider ever to win the Strub three years running. (He won with Event of the Year in '99 and General Challenge last year. Ironically, it was McCarron who was aboard 3-10 Bertrando when Nakatani and Siberian Summer shocked 'em back in '93.) McCarron was downright flummoxed by Tiznow's lack of punch. Tiznow returned home none the worse for wear, though, and by the next morning he was as bright and eager as usual. "Well, he looks good. Everything soundness-wise looks great," Robbins said. "He did bleed slightly. And he did lose quite a bit of ground. He'll live to fight another day. It looks like he'll be fine." It looks equally as promising for Wooden Phone, who missed most of last year with a fractured tibia, and his owners, Jim and Marilyn Helzer and Tom Durant. The son of Pick Up the Phone (by Phone Trick) will take aim at the $1-million Santa Anita Handicap (gr. I) on March 3. Nakatani, who took last year's Big 'Cap on General Challenge, is eager for the chance. "Finally it all came together," he said. "I always thought this horse had the ability to be a top-notch horse, but things gotta come his way and obviously he's got to step it up another notch in the next one. We're gonna find out how good he is." (Chart, Equibase)Continued. . . .



Copyright © 2015 The Blood-Horse, Inc. All Rights Reserved.