Gulfstream Report: Captain Steve's Work of Art
by Scott Davis
Date Posted: 2/6/2001 3:51:25 PM
Last Updated: 2/13/2001 2:54:35 PM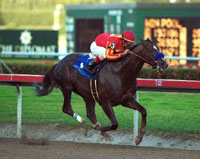 Captain Steve, winning Saturday's Donn Handicap.
Photo: Associated Press/Equi Photo, Bill Denver

Like any great masterpiece, the unfurled canvas of last year's Breeders' Cup Classic (gr. I) offers a lot to look at. The eyes are immediately drawn, of course, to the vivid colors and bold shapes of the finish, where two exceptional horses, Tiznow and Giant's Causeway, created a blaze of glory in what would be voted racing's moment of the year. But, like an impressionist's work, a more reflective glance reveals equally dramatic and perhaps longer-lasting impressions. Just 3 1/2 lengths behind the winners were another pair of gallant 3-year-olds, Captain Steve and Albert the Great, staging their own battle. There, on that gray November afternoon at Churchill Downs, Captain Steve overcame a rough trip to overtake Albert the Great by a head for the show position. When the two newly turned 4-year-olds renewed their battle at Gulfstream on Feb. 3 in the Donn Handicap (gr. I), it was under far different circumstances. Primarily, with Giant's Causeway off to the breeding shed and Tiznow plying his trade back on the West Coast, Steve and Albert were the heavies in the 43rd renewal of the race that traditionally kicks off the year for the handicap division. And strategically, while the Donn would ultimately come down to a stretch battle between the pair, like Picasso painting in straight lines the two runners abandoned their recognized running styles and embarked on journeys that might offer hints into what 2001 might hold in store. Albert the Great was a front-runner; that was a known fact. At no point in any of his five 2000 wins was he more than a half-length off the lead, and in his tour de force in the Jockey Club Gold Cup (gr. I), he hit all but one pole in front before drawing off to a six-length runaway. Drawing the rail for the Donn, there would be little doubt where Jorge Chavez would position the muscular bay. Except he wasn't there at the start of the race. While Captain Steve and North East Bound battled in lockstep through reasonable, if not taxing fractions, Albert the Great lagged some eight lengths behind, ahead of only the late-running Noble Ruler. "I was surprised that Albert the Great wasn't up there and that my horse was just cruising down the backstretch," said Captain Steve's trainer Bob Baffert. The gregarious trainer had plotted an equally surprising if less dramatic change in tactics for the Donn: sending Captain Steve to the lead. "I might have made a mistake last year in taking him out of the race," Baffert continued, discussing a horse whose Breeders' Cup rally commenced from 11th place. "I told Jerry (Bailey) to put him into the fight today. Last year I gave the rider the wrong instructions." Captain Steve and North East Bound traversed the Gulfstream backstretch doing their best imitations of each other right up until the three-eighths pole. There, with North East Bound having begun a retreat that would ultimately take him to last place, and Gander assuming a stalking position, the broad white shadow roll of Albert the Great flashed on the rail. He was rapidly swallowing up chunks of ground until his momentum carried him to the outside of Captain Steve on the turn, within a half-length. He would get no closer. Though it was just Steve and Al running in a race unto themselves down the stretch--third-place finisher Gander would finish more than 11 lengths back in third--Captain Steve had, in Baffert's words, "A lot of horse to fight back with when Albert the Great came to him in the stretch." Nine furlongs completed in 1:48.95, the margin at the line was 1 1/4 lengths. Put another way, when asked if he knew it was Albert the Great coming to him in the stretch, Bailey replied, "It really didn't matter." Taking the long view, however, it may matter. Though trainer Nick Zito said his colt was further back than he expected, the conditioner of last year's Donn winner Stephen Got Even--it clearly takes a "Steve" to win this race, it seems--had contended all along the Donn was just a first step on a long path. "I wish this race was in March," he had said from his Hialeah Park base the morning of the race. "It's a very long year and there are a lot of races we'd like to try to make. You look what happened to the horses that ran well in this race last year--Stephen Got Even, Golden Missile--and you see how hard it is to maintain that level throughout a long year." With that in mind, the pleased Zito neatly summed up his colt's newfound ability to close by saying, "This is a great thing to know." Meanwhile, in the winning camp, the tone was best expressed by musician Joe Walsh, who performed that afternoon at Gulfstream. The former Eagles guitarist brought the crowd to its feet during an encore that could just as easily been sung by winning owner Mike Pegram: "Life's Been Good to Me So Far." Wearing a pair of shorts and sandals and enjoying a cold libation during the post-race press conference, Pegram, a fast-food kind of guy in the decidedly five-star restaurant world of graded stakes racing, described the philosophy he and Baffert have adopted. "We're not afraid to go out on the road, and we have fun wherever we go. Besides, there's some awfully good food out on these back roads." He was speaking both metaphorically and literally about Captain Steve's sojourn. Following a juvenile campaign that concluded with resounding wins in the Brown and Williamson Kentucky Jockey Club Stakes (gr. II) and Hollywood Futurity (gr. I), the son of Fly So Free was winless in his first five starts as a 3-year-old. That led Pegram and Baffert to spend Independence Day in Altoona, Iowa, watching Captain Steve win the Iowa Derby at Prairie Meadows and begin the resuscitation of his career that would climax in the Donn. Until the Donn, Baffert's relationship with Gulfstream paralleled Captain Steve's with Santa Anita. The three-time Eclipse Award-winning trainer had been winless in nine starts since capturing the 1992 Breeders' Cup Sprint (gr. I) with the Pegram-co-owned Thirty Slews. Included in that run was Silver Charm's disappointing third at
4-5 behind Puerto Madero in the 1999 Donn and losses that November as the favorite in four Breeders' Cup races. "I've gotten beat at every track in the world," Baffert grinned, a gesture that was shared by many in the crowd of 22,158 who had been waiting to bask in the 500-megawatt glow of the man who has turned being a trainer-cum-celebrity into an art form. Baffert smiled and the crowd smiled back; he waved, admired babies, and stopped for snapshots with Canadian tourists all the while enjoying himself in equal measure with Pegram. Next stop for the Captain Steve traveling road show, a troupe that includes the Louisville detective for whom the colt is named--"This is a lot more fun than investigating murders," said the human Capt. Steve Thompson--is the Dubai World Cup (UAE-I) on March 25. While acknowledging the rigors of the trip, Baffert feels that his earner of just shy of $3 million is well suited due to his ability to travel well. "Besides," he added, "we're willing to cook him for $6 million." Beyond that, assuming he's not too well done, Baffert predicted Captain Steve would do most of his running on the East Coast. And since Albert the Great is embracing very much the same itinerary--Zito mentioned the grade I Whitney and Woodward Handicaps as goals for 2001--it can be expected these colts will have another chance to match brushstrokes in the future. (Chart, Equibase)Continued. . . .



Copyright © 2015 The Blood-Horse, Inc. All Rights Reserved.