Kingmambo Taken Out of Stud Duty
Date Posted: 3/9/2005 4:50:26 PM
Last Updated: 3/12/2005 1:22:26 PM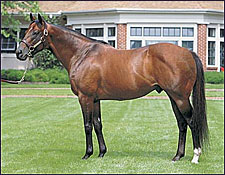 Kingmambo to remain out of action for three more weeks.
Photo: Tony Leonard

Prominent stallion

Kingmambo

, who was taken out of stallion duty in late February at William S. Farish's Lane's End Farm near Versailles, Ky., because of an injured leg, will spend about three more weeks on the sidelines due to an arthritic condition in his lower neck, as well as more recently suspected involvement of an EPM infection. Radiographs and a bone scan have revealed arthritis in the left facet joint of his C-6/C-7 articulation (at the base of his neck). The area at the base of the neck is a common site of "wear and tear" in a breeding stallion because of the way he must arch his neck during the breeding process. Kingmambo, whose fee is $300,000, will be monitored continuously and a breeding re-evaluation will be done on or about April 1.Due to the 15-year-old stallion's frustration and stress with some unsuccessful breeding attempts, the veterinarians are in agreement that it is in the stallion's best long-term interest to give him a total break from breeding for approximately three weeks. In the interim, the veterinarians have agreed that Kingmambo should remain on his current arthritis treatments, with appropriate gastrointestinal protectants, and the EPM treatment Marquis. Kingmambo, who suffered the leg injury while dismounting a mare, is fully recovered from that incident.Kingmambo (Mr. Prospector--Miesque, by Nureyev) has covered 10 mares during the 2005 breeding season, with four having been confirmed in foal to date. Three mares appear barren, and the remaining three, bred this week, are awaiting days to be scanned. Kingmambo, whose libido and seminal characteristics remain excellent, will continue on his normal paddock turnout routine at Lane's End.



Copyright © 2015 The Blood-Horse, Inc. All Rights Reserved.