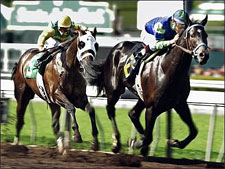 Declan's Moon get tested to some degree in the Santa Catalina (gr. II), which he did from the quarter pole to the eighth pole before asserting his class and drawing clear. He still does just what he has to, as indicated by the way he constantly threw his ears around, sticking them straight up as soon as he hit the front and again as he crossed the wire. No matter how hard Victor Espinoza tried to push him in the final sixteenth, Declan's Moon knew the race was in the bag and there was no reason to keep pouring it on.He did, however, come out of the race with a little heat in his knee, although trainer Ron Ellis said he believes it's "just normal stuff." Ellis went on to say the son of Malibu Moon was "walking fine and bouncing around the barn" and added that the race took nothing out of him. "This stuff usually cools out in a couple of days and then it's all gone," Ellis said. "It's not carrying any swelling or anything, so that's a good sign. He's been eating good and his attitude is great."Another matter was the front ankle wraps Declan's Moon was wearing for the first time. Ellis said he put them on to give the horse some support in case he hit a soft spot on the drying out track. "It had poured the day before and I was worried that the track might be drying out a little unevenly," he said. "It was a one-time deal. He's worked in bandages his whole life and he's always worked great in them."Although Declan's Moon made an excellent appearance before the race, it's easy to see why Ellis mapped out a two-prep schedule for him. He's a very tall, lean horse and doesn't carry much flesh, and a hard campaign is not something you want to subject him to. "That's precisely what my thinking was," Ellis said. "There was no way that I felt he was going to be able to handle a Triple Crown series and have three races before that, too. I just didn't think he needed any more seasoning for what he's accomplished so far. Even if he had another race in him, he's still right where I'd want him to be."Of course, history is still against any horse attempting to win the Kentucky Derby off two starts, so we'll just have to wait and see if he can do what only one horse has been able to do in over a half a century.Runner-up Going Wild (Golden Missile ) actually took a step forward despite having his three-race unbeaten streak broken. He broke awkwardly, then was broadsided by Declan's Moon, dropping back to last. He was forced down on the rail going into the first turn, and then was able to relax, showing he could rate off the pace. He briefly stuck his head in front after turning for home and battled gamely the length of the stretch. Despite all his troubles, and not changing leads in the stretch, he still was able to pull three lengths clear of pace-setting Spanish Chestnut in the stretch. So, all in all, this was an excellent effort and should set him up for a big race in the Santa Anita Derby (gr. I). Spanish Chestnut (

Horse Chestnut

) hung tough for a while before weakening in the stretch, and might have been a little short, not having raced since Jan. 15. The fatal breakdown of Snack (

Afternoon Deelites

) cast a pall over the race, and deprived the sport of an exciting young horse and a great Cinderella story in the making.A Fleet ReturnAfleet Alex also returned wearing front bandages for "precautionary measures" on the drying out track at Oaklawn Park, and looked sensational blowing away a fast stakes winner in Razor in the Mountain Valley Stakes. The son of Northern Afleet unleashed the same explosive move on the turn he displayed in the Sanford Stakes (gr. II). He was flying as he turned for home and kept building up momentum, while totally disregarding Razor drifting out into his path. He didn't budge an inch and simply overpowered his opponent, drawing away to win by 2 3/4 lengths in a swift 1:09 2/5. Two races earlier, the classy 4-year-old Pro Prado went in 1:10 2/5.Afleet Alex then galloped out seven furlongs in 1:22 3/5, and was caught pulling up a mile in about 1:39 2/5, which was almost the same time it took allowance horses to run a mile the race before.It's really difficult not to like this horse. He's fast, game, and consistent, and is just an exciting horse to watch. Although it was only a six-furlong race, this was the most impressive performance of the afternoon.Trainer Tim Ritchey, who originally said the colt would have only two races before the Kentucky Derby, wasn't surprised that he came back so sharp. "He's trained that way so far, and has been very aggressive," he said. "He's got a good bottom underneath him, and they'll do that when they have a good base. I've won quite a few races with horses first time off a layoff with only two breezes, so it's not that unusual." Ritchey said Afleet Alex won't run in front bandages in the Rebel Stakes (gr. III). He returned to the track Tuesday morning and "everything is a go."A Fountain of TalentNick Zito has himself four legitimate Kentucky Derby horses following the victories by High Fly (

Atticus

) in the Fountain of Youth Stakes (gr. II) and Noble Causeway (Giant's Causeway ) in a nine-furlong allowance race earlier on the card at Gulfstream Park. With Sun King (Charismatic) and Andromeda's Hero (Fusaichi Pegasus ) having already scored impressive victories the week before, Zito is ready to unleash an all-out assault on Churchill Downs.But, there are questions, not only with Zito's two winners Saturday, but also Fountain of Youth runner-up Bandini (Fusaichi Pegasus) and Holy Bull (gr. III) winner Closing Argument (Successful Appeal ), who skipped the Fountain of Youth to wait for the Florida Derby (gr. I), where he is expected to face High Fly, Noble Causeway, and Bandini.What we have here is a game of pool. Zito, Todd Pletcher (Bandini), and Kiaran McLaughlin (Closing Argument) all have made their last shots. But how well have they positioned the cue ball for their next shot? By running in the Florida Derby, which is five weeks before the Kentucky Derby, Bandini and Noble Causeway need to win or they likely would have to come back in the Coolmore Lexington Stakes (gr. II) three weeks later (and two weeks before the Derby) in order to assure they have sufficient earnings to get into the Derby field. Closing Argument will go into the Florida Derby off an eight-week layoff, then would have another five weeks off before the Derby if McLaughlin elects to train up to the race.Zito said he's going to take it one step at a time and see where he is after the Florida Derby. As of now, he has Sun King targeted for the March 19 Tampa Bay Derby (gr. III), while Andromeda's Hero will head to Turfway for the Lane's End Stakes (gr. II) the following weekend. With the Wood Memorial (gr. I) being moved up a week this year to April 9, only Sun King would be able to make that race, and that's only if Zito decides he'd rather go three weeks to the Wood and four weeks to Derby rather than the other way around and point for the Blue Grass Stakes (gr. I), which is the more conventional route.As for the Fountain of Youth, High Fly returned to the form he showed winning the Aventura Stakes. Jerry Bailey only had to hit him once right-handed and once left-handed, then hand rode him in the final sixteenth to hold off Bandini by three-quarters of a length. Unlike his third-place finish in the Holy Bull, he ran a professional race, as he had in the Aventura. He obviously has talent and good tactical speed, and we'll just have to see how much farther he wants to go.Bandini is a horse that catches your eye, with his beautiful head, elegant looks, and long, smooth stride. He is still a work in progress with unlimited potential. He ran kind of a spotty race, tracking the pacesetting B. B. Best (Yes It's True ) and High Fly for most of the race. He ranged up outside those two to challenge for the lead nearing the quarter pole, but seemed to lose his momentum, as High Fly kicked in and put B. B. Best away. Jockey John Velazquez had to go to a pair of early right-handed whips on Bandini while still on the turn to get him to keep up. After turning for home, Bandini lifted his head in the air and lost his rhythm, and appeared to be going nowhere. Then, inside the eighth pole, he dropped his head and shoulders and leveled off and began slowly cutting into High Fly's lead with those same fluid strides he showed in his last start. Many times, when a horse seems to be reboot his engines, it's more of a case of the leader backing up. But in this case, Bandini was extending his advantage over Papi Chullo (Comeonmom), who was mounting a rally on the outside, while collaring B.B. Best for the place. The way he lowered his head and improved his stride so quickly, it appeared as if he had indeed kicked into another gear and was getting stronger the farther he went. This was his stakes debut, and if he can learn to stay focused the whole race, he is going to be major force come Derby Day. But if the Florida Derby is to be his final Derby prep, he will have to overcome being a lightly raced horse bucking history by coming into the big race off a five-week layoff.Another horse from the Fountain of Youth to keep an eye on is Wild Desert, who had an eventful 3-year-old debut after being away for over three months. At the break, he was slammed into from the outside by Natural Phenomenon, dropping back to last. Then, going into the first turn, Papi Chullo came out into him, soundly bumping him and knocking him out several yards. With the track favoring speed all day, he mounted a good run along the inside at the head of the stretch, but briefly lost valuable momentum when Park Avenue Ball cut right in front of him. He continued to run on strongly and was beaten only 5 1/4 lengths. Watch for him to show big improvement next time out.As for Noble Causeway, when Pat Day took him off the rail and darted through a seam outside horses, another figure came darting onto the scene. Zito, who had been watching the race several yards up the horse path, suddenly emerged in front of the Matrix board, jumping and throwing a flurry of wild left hooks in the air. As Noble Causeway opened up and began drawing away from the field, Zito was an unstoppable force. When the horse crossed the wire 3 1/4 lengths in front, an excited Zito kept shouting "That's a Derby horse!"Needless to say, Zito has a strong affection for Noble Causeway, even down to the enjoyment he gets watching him pin his ears at the exact same spot while walking the shedrow. With this colt's dynamite pedigree and the way he's improving with every start, we could be looking at an up and coming star. But he still has to step way up in class, so we won't know much more about him until he gets his first real class test in the Florida Derby.Another newcomer to the Derby trail is Coin Silver (Anees), who turned in a gutsy effort to win a 1 1/8-mile maiden race right before Noble Causeway's race. Stretching out from 7 1/2 furlongs, he was under pressure on the lead the entire way from Three in the Bag, then put him away and opened up a clear lead. Despite ducking to the outside, he still ran on gamely, holding off the closers to win by 1 3/4 lengths. Although the race was run more than two seconds slower than the Fountain of Youth, the track was much heavier earlier in the day, and several jocks said the horses were really laboring over it. It got noticeably faster as the day went on.Also over weekend, a return to Turfway Park by Magna Graduate (Honor Grades) in the John Battaglia Memorial proved just the right tonic when he drew off to a 3 3/4-length victory over New York invader Pavo.Finally, as brilliant as Lost in the Fog (

Lost Soldier

) looked in the Swale Stakes (gr. II), and the 50-50 odds of heading on the Derby trail by trainer Greg Gilchrist, the colt's owner, Harry Aleo, said after the race he does not want to subject his horse to the Derby, but would consider the Preakness (gr. I)."I'm really not hot to go for the Derby," Aleo said. "It's March 5 and he still hasn't even gone two turns. I'm not going to push this horse. If he does good in his next race, the Preakness would be a race to think about."