Fasig-Tipton Florida Auction Produces Avalanche of Records
by Deirdre B. Biles
Date Posted: 3/2/2005 12:00:46 AM
Last Updated: 3/3/2005 7:58:15 AM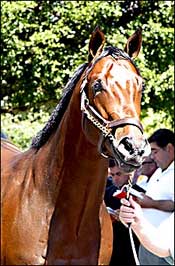 Tale of the Cat colt, sold for world-record price at Fasig-Tipton Calder sale.
Photo: Leslie Martin

It was the greatest show on earth...at least as far as sales of 2-year-olds in training are concerned. Fueled by an international cast of big spenders eager to acquire expensive young horseflesh, the Fasig-Tipton Florida select auction at Calder Race Course rocketed to unprecedented heights Tuesday. No juvenile auction in history has generated a higher gross, average, or price for an individual horse."There was remarkable strength at the top of the market; it was unlike anything that I have ever seen at the 2-year-old sales in the 17 years that I have been coming to them," said Boyd Browning, Fasig-Tipton executive vice president and chief operating officer.The final figures were 147 horses sold for a gross of $50,132,000, an average of $341,034 and sale record median of $200,000. Compared to last year, the gross and average advanced 21% and 16.4%, respectively from the former world marks of $41,586,000 and $292,859. The median climbed 17.6% from $170,000 while eclipsing the auction's former record of $175,000 that was set in 2001. In addition, the top individual price for a horse soared from another former world record of $4.5 million last year to $5.2 million."It's just frightening what one that's nice can make," said Irish agent Demi O'Byrne, who offers seven-figure bids on a regular basis at the world's top Thoroughbred auctions. His formidable competition at this sale included Sheikh Mohammed's bloodstock manager John Ferguson, Robert and Beverly Lewis of California, Satish Sanan of Padua Stables, and Oregon lumberman Aaron U. Jones, bidding through New Jersey bloodstock agent Buzz Chace.Eight horses sold for $1 million or more, doubling last year's total of four while reaching an all-time high for a juvenile auction. The $5.2-million sale topper was a muscular, well-balanced Tale of the Cat colt that had worked an eighth of a mile in :10 3/5. Sheikh Mohammed's Darley Stud was the buyer, with Ferguson outlasting a determined O'Byrne and the Coolmore Stud team. Also in the hunt for the handsome bay were Chace and Jones."Obviously, he's a very nice horse," said Ferguson, who spoke with Sheikh Mohammed by cell phone during the bidding. "We had a pretty good idea he would make a good price."The colt is the first foal from the winning Devil's Bag mare Carry All and is from the family of grade I winner and successful sire

Seeking the Gold

. Florida horseman Robert Scanlon consigned the world record setter as agent."Sheikh Mohammed is a big fan of Seeking the Gold (who sired Dubai Millennium); he's been a lucky horse for us," Ferguson said. "This was a chance to get into the family, so that was a help. He also looks like he could be the real thing."Kentuckians Jay and Cammie Brunker, with foreign partners they declined to identify, bred the colt in the names of Grade I Bloodstock and Halcyon Farm. He had not been offered previously at public auction."Cammie cried, and I laughed a little," Jay Brunker said. "It was very exciting. I haven't slept for two days hardly just thinking about it, knowing that the potential was there for something big to happen. I don't know that it's really sunk in yet, but it was a lot of fun."Darley's other purchases included a $2.9-million

Grand Slam

– Duma colt. O'Byrne didn't leave empty-handed, picking up a

Forestry

– Rare Bird colt for $3 million, a Golden Missile – Ms. Copelan colt for $1.5 million, and a

Storm Cat

– Turbo Launch filly for $1.5 million. The Lewises nabbed a $1-million

Gone West

– Heavenly Rhythm colt.Other buyers of seven-figure horses were European trainer Jeremy Noseda, who purchased a $1,050,000 Exchange Rate – Raspberry Affair colt as agent and American trainer Eoin Harty, acting as the agent in a transaction involving a $1-million Tiznow – Thega colt."It's great at the top," said Fasig-Tipton president Walt Robertson. "We knew that we had more top caliber horses than we've probably ever gathered before for this sale. I thought that there were a bunch that were going to bring in excess of $500,000."The auction's only disappointment was the buy-back rate, which rose from 36.3% last year to 44.9% this year as 120 horses were listed as not sold."It was higher than I would have liked to have seen," Robertson said. "There were some decent horses that didn't sell. Welcome to the 2-year-old world. It's the nature of the business."Hip-by-hip Results Fasig-Tipton Calder Sale



Copyright © 2015 The Blood-Horse, Inc. All Rights Reserved.