Magna Impacted by Laurel Setback, Spending on Gaming Initiatives
by Ron Mitchell
Date Posted: 2/23/2005 1:40:23 PM
Last Updated: 3/8/2005 8:28:24 AM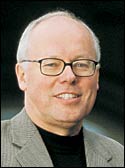 Magna Entertainment president and CEO Jim McAlpine.
Photo: File photo

Despite reporting increased revenues and decreased losses during 2004 and the fourth quarter of the year, Magna Entertainment was negatively impacted by setbacks in the reconstruction of Laurel Park in Maryland and spending on gaming initiatives and regulatory matters.As a result, the company finds itself operating with reduced cash flow and a limited ability to incur additional indebtedness, according to company officials who discussed the financial picture with analysts Wednesday.On Tuesday, Magna reported revenues rose 3.2% to $731.6 million in 2004, compared with $708.9 million in 2003, with a net loss of $95.6 million ($0.89 per share) in 2004, compared with a $105 million ($0.98 per share) loss in 2003. During the fourth quarter 2004, revenues of $138.9 million represented a decline from the $146 million figure for the same period in 2003; the net fourth-quarter loss was $40.9 million, compared with a $103.16 million loss in the same period in 2003. The company noted that fourth-quarter revenues for 2003 included the $8-million benefit from the sale of real estate at Golden Gate Fields in California.MEC's indebtedness soared in 2004, with total long-term debt of $241.4 million at the end of 2004.Elaborating on the company's latest results and prospects for the future, Magna Entertainment president and CEO Jim McAlpine said Wednesday that positives in some areas of the company's operations were offset by revenue losses of expenditures in other areas.Among the positives were increases in attendance and handle for the Preakness Stakes (gr. I) at Pimlico and success of the Breeders' Cup World Thoroughbred Championships at Magna's Lone Star Park in Texas, as well as other business-related moves that improved revenues.On the other hand, Magna spent $20 million on initiatives pushing alternative gaming and other regulatory matters in 2004, McAlpine said. Also, the company was negatively impacted by the reconstruction of the track at Laurel Park when inclement weather pushed the project behind schedule. Although the racing dates where shifted to Pimlico, McAlpine said attendance and handle would have been larger at Laurel. Adding to the downside, McAlpine said, were downturns at Santa Anita in California. Another project impacting the bottom line was the startup of a racino in Austria."Those are what I would call 'disturbances' that are a fact of life for a growing company like MEC," McAlpine said of the two developments. "We thought they (gaming initiatives) were critically important in an effort to gain a foothold in the future. The Laurel setback had a devastating impact on revenues and earnings in the fourth quarter. We did not expect to lose half of a year of racing at Laurel, but the rain destroyed our plans and we had to deal with it. In the state of California, we had a pretty dismal 2004 at Santa Anita. But we believe with some changes we have made in management there and a new focus by that team we can turn that around in 2005."With the company limited in its ability to take on any more debt, McAlpine said Magna will begin to realize benefits from some of the 2004 expenditures in 2005 and that the company is taking steps to cut costs and improve cash flow.McAlpine and Blake Tohana, MEC's executive vice president and chief financial officer, said Magna is attempting to sell some non-core assets, including real estate, is involved in negotiations with potential partners, and is cutting costs wherever possible."MEC is a classic example of a young company with ambitious goals for future growth," McAlpine said. "Despite our enthusiasm for the future and the belief that our long-term goals are appropriate, we recognize that we cannot continue to strain our limited current resources with costs related to initiatives providing no significant current revenue. Accordingly, we have recently taken specific steps to improve short-term profitability.""Under the current (credit) facilities, there is minimal debt capacity right now. We are very focused on the operations of the business to ensure we reduce any unnecessary expenses and increase cash flow from operations," Tohana said. "We are confident we can manage cash requirements to meet our plan as we sit today."Part of the cost-cutting by Magna includes revising the compensation package for MEC management, tying it to achieving specific targeted profit performance levels, McAlpine said. Also, the company has recently "re-evaluated a number of functions in the corporate office and reduced those functions," did not renew a lease on a non-profitable Geryhound track, and is in the process of restructuring and reshaping a number of operations. Among the corporate cost-cutting measures were reductions in salaries and wages."While 2004 was a challenging year for MEC, the management and staff look forward to 2005 with enthusiasm," McAlpine said. "As a company, Magna Entertainment is still a work in progress... We remain committed to our strategic vision and to achieving profitability and growth in shareholder value."While it is premature to speculate on how the alternative gaming options will play out in Maryland, McAlpine reiterated that regardless of what happens with that Magna would like to keep Pimlico Racecourse open, even if on a limited basis each year. Among the alternatives being proposed in Maryland is legislation that would preclude a slots license for a racetrack in the county where Pimlico is situated."Our goal in a perfect world would be to redevelop Pimlico and Laurel both as first-class racing facilities," he said. "That decision is somewhat tied up in the issue of gaming, because if gaming comes to one and not the other, the one that gets gaming becomes a lot more attractive than the other. Laurel is ideally situated to maximize its location between Baltimore and Washington, D. C. We haven't given up on trying to convince people that Pimlico should be a beneficiary in this process. Pimlico is home to the Preakness and has always been home to the Preakness and that is very important... But if you only have one (gaming) location, there are ways to help the other location, depending on the (revenue) splits and number of (slot) machines."If Pimlico did not get to offer slot machine gaming at the track, McAlpine said the track could operate a "boutique meet around the Preakness" rather than being open with live or simulcast racing 12 months out of the year.



Copyright © 2015 The Blood-Horse, Inc. All Rights Reserved.