Eclipse Award of Merit: Jim McKay
by Blood-Horse Staff
Date Posted: 1/31/2001 8:54:40 AM
Last Updated: 1/31/2001 9:22:37 AM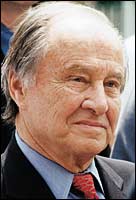 Broadcaster Jim McKay, recipient of an Eclipse Award of Merit.
Photo: Rick Samuels

By Rick SamuelsAt the National Turf Writers Association's annual awards dinner just before the 2000 Breeders' Cup, Jim McKay couldn't help taking a jab at those honoring him with the Joe Palmer Award for meritorious service to racing. "I don't travel that much anymore, but I just had to come and see if a bunch of print journalists were really going to honor a broadcast guy," he said to roaring laughter and applause. Fact is, no one has been more deserving of that award or the Eclipse Award of Merit. McKay has made no secret of the fact horse racing and golf are his two favorite sports to cover, and as the voice of the Triple Crown on ABC Sports for 25 years, he has probably been heard by more would-be racing fans than any other announcer. The Philadelphia native also was the guiding force behind a major day of racing in the Mid-Atlantic region. It was he who, after seeing the first Breeders' Cup in 1984, hatched the idea for Maryland Million Day. McKay has won 13 Emmy Awards and a Peabody Award of Lifetime Achievement in broadcasting. He is a member of the Television Hall of Fame, only the second sportscaster (Howard Cosell is the other) to be so enshrined, and he has an autobiography to his credit, The Real McKay. He also is a horse owner and breeder, he and his wife, Margaret, calling home their Bellefield Farm north of Baltimore. The couple has two children, daughter Mary and son Sean, the latter the president of CBS Sports.



Copyright © 2015 The Blood-Horse, Inc. All Rights Reserved.