John Gaines, Formerly Owned Gainesway Farm, Founded Breeders' Cup, Dies at 76
by Dan Liebman
Date Posted: 2/11/2005 5:45:26 PM
Last Updated: 2/15/2005 2:12:18 PM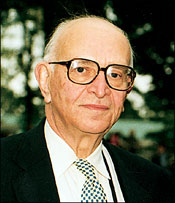 Legendary horseman John Gaines, dead at 76.
Photo: File Photo

John Gaines, who built Gainesway Farm into one of the industry's leading stud farms and is the man credited with founding the Breeders' Cup, died Feb. 11 from complications of diabetes. He was 76.James E. Bassett III, chairman of Keeneland and retired president of the Breeders' Cup, said of Gaines: "Beyond his well-known contributions to the industry--Gainesway Farm, Breeders' Cup, National Thoroughbred Association--the mark of the man for those who knew him will always be his intellectual curiosity, his deep appreciation of the arts, and his willingness to challenge the status quo."Gaines took over a Standardbred operation begun by his grandfather in 1925 and had the vision to enter the Thoroughbred side of horse breeding. He started a Thoroughbred division of Gainesway Farm in 1962.He always believed in the stallion side of the game, never owning more than 15 broodmares. Gaines acquired, syndicated, stood, and managed such top stallions as Lyphard, Riverman, Blushing Groom, Vaguely Noble, Bold Bidder, and Broad Brush.Gainesway was one of the first farms to start multiple breeding sessions per day and had success with putting mares under lights before many farms began the practice. For many years, Gainesway's manager was Joe Taylor, who died in December 2003. Marion Gross, the stallion manager, has been at the farm for more than 40 years.In 1989, Gaines sold Gainesway to Graham Beck of South Africa. Today, the farm is run by Beck's son, Antony.Just a few years after selling the farm, Gaines re-entered the business, though on a completely different level. He started buying mares, and quickly owned more than 100. He was joined in the operation of John R. Gaines Thoroughbred by his son Thomas and daughter Gloria, with the enterprise managed by Olin Gentry.Gainesway had for many years been a leading yearling consignor to Keeneland and Saratoga, but John R. Gaines Thoroughbreds sold its entire crop each year as weanlings.It was Gaines who had the idea for the Breeders' Cup, which he announced just prior to the Kentucky Derby of 1982. The series was launched in 1984. Gaines was a founder of the National Thoroughbred Association, which later morphed into the National Thoroughbred Racing Association. He was also instrumental in the founding of the Kentucky Horse Park and Maxwell H. Gluck Center for Equine Research at the University of Kentucky. A reception room at the Horse Park is named the John Gaines Room. He was the founder of The Gaines Center for the Humanities at the University of Kentucky.He received the Duke of Devonshire Award for improving English breeding and racing, as well as the Lord Derby Award for contributions to English racing.Gaines was elected to the Kentucky Athletic Hall of Fame in 1992.Always known as a philanthropist, Gaines and his wife, Joan -- the two were married in 1959 -- were the chairs or co-chairs of fund drives that raised more than $100 million for education, arts and sciences, and religion.Gaines was awarded a Special Eclipse Award, was an honor guest of The Thoroughbred Club of America, and received the Breeders' Cup Special Award.Gaines was fascinated by genetics. He was asked in a question and answer with The Blood-Horse in 1999: What are the most important factors to breeding success?"Everything in breeding and racing is a matter of understanding the probabilities and getting the probabilities working for you instead of against you. In genetics it is the progeny test and in the environment it is the transcendent trainer," he said.In the same interview, Gaines was asked: What is it about Thoroughbred racing and breeding that has kept your attention all these years?"It is a legacy handed down to me by my grandfather, my father, and by me to my two children. We all have an ownership in John R. Gaines Thoroughbreds, and I am happy to say there is an unbroken continuity for four generations now of a shared love of the Thoroughbred."Breeding Thoroughbred horses is the greatest challenge in animal husbandry, because you are breeding for highly elusive intangibles like speed, stamina, soundness, and courage. I have also discovered in my lived experience that you cannot have sporting success unless you have economic success. Improving the breed, and at the same time improving your pocketbook, is the best of all worlds."Gaines loved the arts and for many years collected pieces of artwork. He was a director of the National Gallery of Art in Washington. Gaines sold part of his collection at Sotheby's in 1986 and the 46 drawings brought $21.28 million. Included was Leonardo da Vinci's "Child With a Lamb" which sold for $3.6 million, a record for the artist. New high prices were set for the drawings by 25 other artists.Gaines' grandfather, Thomas P. Gaines, had trotting horses in the early 1900s and his father, Clarence F. Gaines, continued that tradition. John Ryan Gaines was born in Sherburne, N.Y., on Nov. 22, 1928. His grandfather ran a feed business and his father developed a nutritionally balanced dog food. Gaines Dog Food was sold to General Foods in 1956.Gaines graduated from Culver Military Academy in 1946 and received an A.B. degree in English from Notre Dame in 1950. He got an A.B. in genetics from the University of Kentucky in 1952. He served as an intelligence officer in the Pentagon until 1956.Gaines developed his father's farm into what is still called Gainesway Subdivision in Lexington. He moved the farm to its present location on Paris Pike when he acquired half of the C.V. Whitney Farm. He bought his first Thoroughbred, Oil Royalty, in November 1963.It should be noted he was the first to syndicate a trotter, Demon Hanover, who went on to win the Hambletonian. He bred another Hambletonian winner, Kerry Way, who won trotting's biggest race in 1963. He and two partners raced 1967 Hambletonian winner Speedy Streak. Gainesway bred and owned Classical Way, who set a world record for a trotting mare in 1980.He received the Harness Tracks of America Award of Merit and the United States Trotting Association's Special Award for inventing the Gaines-Guards, now a mandatory piece of safety equipment for racing sulkies in North America.Among the first mares he acquired was Cosmah, who would produce three-time champion Tosmah and two-time leading sire Halo. Cosmah was named the 1974 Kentucky Broodmare of the Year, and her plaque received for the accomplishment was always prominently displayed in his office."John Gaines was a most amazing man," said D.G. Van Clief, commissioner of the National Thoroughbred Racing Association and a founding member of the Breeders' Cup management team. "He was a family man, an intellectual, a philanthropist, an activist, a visionary and a leader. He had an immense intellectual curiosity and capacity for learning, which made him, among other things, an expert in fields as diverse as art, literature, architecture, genetics, farming and politics. John also was a great market timer. He knew when to buy or sell, and that included launching his own ideas.

"Above all, he was a believer in the power of ideas. In addition to being the father of the Breeders' Cup, he'll be remembered as the founder of the Kentucky Horse Park, and the founder of the National Thoroughbred Association, which served as the catalyst in the formation of the National Thoroughbred Racing Association. Locally, he'll also be remembered for his contribution to creation of the new University of Kentucky Library and, most recently, for his instrumental role in the founding of the Kentucky Equine Educational Project, which like so many of his contributions, will likely to be an important influence for years to come and like the Breeders' Cup, will undoubtedly be emulated widely."Services will be held at the Holy Spirit Catholic Church at the Newman Center in Lexington, adjacent to the University of Kentucky campus. Gaines was a major benefactor of the Catholic Newman Center. Visitation will be from 5:30-8:30 p.m. Monday, Feb. 14,with a funeral service conducted by Rev. Tom Farrell to be held Tuesday, Feb. 15, at 10 a.m. Private burial will be at Lexington Cemetery. W.R. Milward Mortuary is in charge of arrangements.Memorials are suggested to the Gaines Center for the Humanities, University of Kentucky, 232 E. Maxwell St, Lexington, KY 40506 or the Newman Center, 320 Rose Lane, 40508.Read more about John R. Gaines in the Remembering John R. Gaines section of bloodhorse.com.



Copyright © 2015 The Blood-Horse, Inc. All Rights Reserved.