Galloping Ghost
by Ray Paulick
Date Posted: 2/9/2005 5:05:10 AM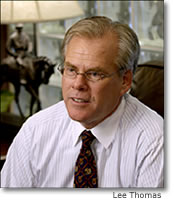 Ray Paulick
Editor-in-Chief


While 3-year-olds were gearing up for their march to the Triple Crown and top older horses began to surface in major handicap races at Santa Anita and Gulfstream Park, one of racing's grand warriors turned in the kind of performance that helps define this sport's endearing appeal. Chindi, an 11-year-old gelding from the first crop of leading sire

El Prado

, was about to embark on the 79th start of a career highlighted by two graded stakes victories and earnings of $975,638. The Feb. 5 race was at Chindi's favorite racetrack, Oaklawn Park, and at his best distance, six furlongs. Though it was an optional claiming event, Chindi was not racing for a tag. In fact, the only time in his career he ran for a claiming price was in his first start, a $10,000 maiden claiming race at Oaklawn March 15, 1997. He won that race by eight lengths. Trainer Steve Hobby has been worried that Chindi is nearing the end of his competitive days. Sound as a dollar since he began his career, the only R&R Chindi ever required was last summer when he underwent throat surgery for an entrapped epiglottis. But the procedure didn't seem to help Chindi, who lost five consecutive starts after his return. When he stepped onto the Oaklawn Park surface Feb. 5, Chindi was suffering through an 11-race losing streak, the longest of his career. Chindi, whose name comes from an Indian word for "ghost," is one of those easy-to-follow runners: a white horse loping along at the back of the pack. That's where he was in the early stages of the Feb. 5 race, but Hobby sensed Chindi's competitive juices were flowing. "He wasn't nearly as far back as he is usually is," Hobby later said. Jockey Tim Doocy had Chindi nine lengths off the lead after the opening quarter-mile and 6 1/2 back after a half. Doocy then steered his mount to the outside, and the final quarter-mile was unadulterated joy for Chindi's connections and fans. He took command inside the eighth pole and hit the wire a length in front. The official chart said he was "full of run" at the wire. "That was really something," Hobby said the next morning. "Like winning a big stakes race. And the fans went crazy, too. They love him so much here in Hot Springs." Chindi wound up in Hobby's barn after Kentucky bloodstock agent Omar Trevino bought him privately in 1994 as a foal for longtime client Ran Ricks--a major figure in Oklahoma racing who Trevino said was "like a father" to him. Trevino stumbled across Chindi and his dam, Rousing (a daughter of Alydar from the crack sprinter Excitable Lady), while looking at some land near Paris, Ky. Sadly, Ricks died several months before Chindi raced. His widow, Carol, has carried on with the operation, CresRan Farm, where there is a paddock reserved for Chindi when his racing career is over. He'll spend his winters in Oklahoma, Hobby said, and spend the rest of the year with him as a stable pony. The colorful writer and irreverent television commentator Heywood Hale Broun bred Chindi in partnership with Lockhart Spears, owner of Stoneleigh Farm in Paris. His breeders enjoyed a taste of Chindi's early success, though Broun passed away in 2001 when the gelding was seven. Spears' death came two years later. Inveterate racetracker Broun would have loved to see the geriatric overachiever speeding past his younger foes in the stretch as if they were tied to a post. Chindi's days as a runner may be numbered, but they aren't over yet. He's just $2,762 shy of the $1-million mark in career earnings after his recent victory. "I'm going to let him tell me when he's finished," Hobby said. "For now, he's really happy being here. When he goes to the track in the morning, he doesn't walk--he runs, every day." After his next start, Chindi could become racing's hardest-working millionaire



Copyright © 2015 The Blood-Horse, Inc. All Rights Reserved.