Eclipse Awards: 2-Year-Old Male: Macho Uno
by Deirdre B. Biles
Date Posted: 1/30/2001 10:36:31 PM
Last Updated: 1/30/2001 11:02:55 PM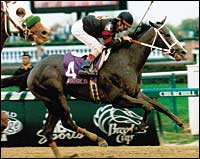 Macho Uno, 2-year-old male Eclipse Award winner.
Photo: Barbara D. Livingston

Macho Uno's pedigreeWinning Breeders' Cup races has become a family affair for the homebred runners of Frank Stronach. In 1998, Awesome Again capped off an undefeated campaign with a three-quarter-length victory over Silver Charm in the Classic (gr. I). Two years later, Awesome Again's half-brother, Macho Uno, held off the determined charge of Point Given to capture the Juvenile (gr. I) by a nose. That performance was good enough to land him the Eclipse Award as the top 2-year-old male in 2000. A compact, well-muscled son of Holy Bull, Macho Uno started his racing career in impressive fashion last July, scoring by 2 3/4 lengths in a 5 1/2-furlong maiden race at Saratoga. He then moved quickly up the competitive ladder, tackling a grade I event, the Hopeful, in only his second start. Trapped in a difficult spot between horses for much of the seven furlongs, Macho Uno battled gamely and wound up only a neck behind the dead-heat finish of two more seasoned competitors, City Zip and Yonaguska. After a seven-length stroll in the Grey Breeders' Cup Stakes (Can-I), Macho Uno was shipped to Kentucky, where he settled in with the rest of trainer Joe Orseno's horses, including Perfect Sting, another Stronach homebred who would win the Breeders' Cup Filly & Mare Turf (gr. IT), as well as an Eclipse Award. For the Juvenile, Macho Uno was the betting public's fourth choice in a talented field of 14, his 6-1 odds ranking him behind only Champagne Stakes (gr. I) winner A P Valentine, the favorite, and West Coast standouts Flame Thrower and Street Cry. Macho Uno's old nemeses, City Zip and Yonaguska, also were among the challengers. Ridden by Jerry Bailey, who had guided him to his Grey Stakes victory, Macho Uno broke from post four and tucked in behind front-runners Arabian Light, Flame Thrower, and City Zip. Coming out of the final turn, Arabian Light pulled away from his rivals and looked poised to keep on going, but Bailey got busy on Macho Uno, easing him off the rail. With a burst of speed, the colt shot to the lead. Drifting in and ducking back out, Macho Uno raced greenly in the lane, helping to set up one of the afternoon's most dramatic finishes at Churchill Downs. While he was weaving his way toward the wire, Point Given came flying on the outside, gaining ground with each long stride. Macho Uno got there first...but just barely. Macho Uno and Awesome Again were produced from the Blushing Groom mare Primal Force, who won four times by a combined total of 30 lengths in her eight-race career and earned $74,251. Stronach purchased her for $95,000 at the 1992 Keeneland January horses of all ages sale. According to Dan Hall, who manages the Central Kentucky division of Stronach's Adena Springs operation, Primal Force had some soundness problems, but was considered an attractive breeding prospect because of her conformation ("nice hind legs"), "quality pedigree," and the speed she had shown in her races. Based on the outstanding accomplishments of her offspring, it is obvious the mare is passing along her most desirable traits to the next generation.



Copyright © 2015 The Blood-Horse, Inc. All Rights Reserved.