Wind Slows Times Down in OBS Under Tack Show
by Deirdre B. Biles
Date Posted: 2/6/2005 3:41:00 PM
Last Updated: 2/7/2005 10:45:05 PM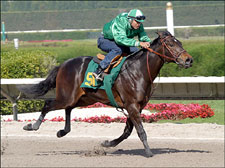 Montbrook--Unlimited Pleasure colt worked a quarter mile in :22 1/5 at Ocala sale.
Photo: Leslie Martin

With horses breezing into a stiff headwind that didn't let up, the times slowed down Sunday at Calder Race Course during the second and final under tack show for the Ocala Breeders' Sales Co.'s select sale of 2-year-olds in training. On Jan. 31, the fastest times for the first breeze show were :10 1/5 for an eighth of a mile and :21 2/5 for a quarter. This time around they dropped to :10 3/5 and :22 1/5."The wind made it very difficult," said Tom Ventura, the general manager and director of sales for OBS. "The horses that showed their best on Monday (during the first under tack show), several of them didn't bother to come out. And the ones that didn't show their best Monday, didn't have an opportunity today, so it was a little bit frustrating."Sunday's :22 1/5 worker at a quarter was a Montbrook colt out of the 8-year-old stakes-placed Valid Appeal mare Unlimited Pleasure. Consigned by his breeder, Ocala Stud Farms, the colt is from the family of grade I winners Outofthebox (also by

Montbrook

) and Mighty Appealing.Five horses shared the time for the fastest eighth of :10 3/5. They were a More Than Ready – Blushing Maggie filly, consigned by Kings Equine, agent; a

Delaware Township

– Chubbs colt named Purse Collector, consigned by Excel Bloodstock, agent; a

Siphon

– Debra C. filly, consigned by Sequel Bloodstock, agent; a

Hennessy

– Jessica Rapid filly, consigned by Don R. Graham and Ocala Oaks; and a Yes It's True – Mrs. Greeley filly, consigned by Excel Bloodstock, agent. The Yes It's True colt is a half-brother to Closing Argument, winner of Saturday's Holly Bull Stakes (gr. III) at Gulfstream Park."This wind is killer; it's a dead headwind," said Straightaway Farm's Carl Bowling, who breezed one horse then called off the works for the rest of his 2-year-olds. "I know not to come back out and run against it. It'll knock you back two- to three-fifths (of a second). The first breeze show we had a tailwind until the last hour and a half and then it turned into a headwind."Said another consignor, Terry Oliver: "I don't think the wind is hurting anybody, but it's not helping any."The OBS sale is scheduled for Tuesday, beginning at noon (EST)."I think it will be a real good sale," Bowling said. "There's some awful nice horses here, and the economy has kicked up a little bit. More people are looking at horses, and more people are buying. There's just more people interested in horses. I think old Smarty Jones helped us all a little bit. People are a little more excited about the overall deal, and I definitely feel better about my horses. I spent more and had to change my buying a little bit because all the buyers are looking for the better horses.



Copyright © 2015 The Blood-Horse, Inc. All Rights Reserved.