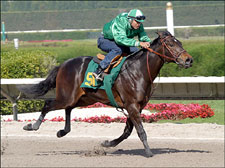 Montbrook

) and Mighty Appealing.Five horses shared the time for the fastest eighth of :10 3/5. They were a More Than Ready – Blushing Maggie filly, consigned by Kings Equine, agent; a

Delaware Township

– Chubbs colt named Purse Collector, consigned by Excel Bloodstock, agent; a

Siphon

– Debra C. filly, consigned by Sequel Bloodstock, agent; a

Hennessy

– Jessica Rapid filly, consigned by Don R. Graham and Ocala Oaks; and a Yes It's True – Mrs. Greeley filly, consigned by Excel Bloodstock, agent. The Yes It's True colt is a half-brother to Closing Argument, winner of Saturday's Holly Bull Stakes (gr. III) at Gulfstream Park."This wind is killer; it's a dead headwind," said Straightaway Farm's Carl Bowling, who breezed one horse then called off the works for the rest of his 2-year-olds. "I know not to come back out and run against it. It'll knock you back two- to three-fifths (of a second). The first breeze show we had a tailwind until the last hour and a half and then it turned into a headwind."Said another consignor, Terry Oliver: "I don't think the wind is hurting anybody, but it's not helping any."The OBS sale is scheduled for Tuesday, beginning at noon (EST)."I think it will be a real good sale," Bowling said. "There's some awful nice horses here, and the economy has kicked up a little bit. More people are looking at horses, and more people are buying. There's just more people interested in horses. I think old Smarty Jones helped us all a little bit. People are a little more excited about the overall deal, and I definitely feel better about my horses. I spent more and had to change my buying a little bit because all the buyers are looking for the better horses.