Devil's Bag Dies at Age 24
by Blood-Horse Staff
Date Posted: 2/4/2005 7:14:53 AM
Last Updated: 2/25/2005 4:23:17 PM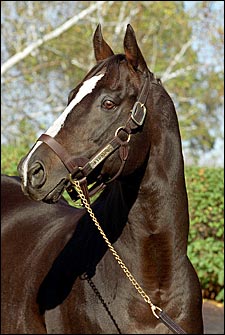 Devil's Bag, died Thursday at Claiborne Farm.
Photo: Barbara D. Livingston

Claiborne Farm stallion Devil's Bag, the sire of 43 stakes winners, was euthanized Thursday morning after being injured in his stall at the Paris, Ky. farm. The son of Halo was 24."It's the end of an era for us," Dell Hancock, whose family owns Claiborne, told the Thoroughbred Daily News. "It's sad. Woody Stephens trained him and we were so close with Woody. We still have (now-pensioned) Danzig on the farm, but Devil's Bag was the last active stallion we had that had been with Woody."At the time of his death, Devil's Bag stood for $10,000."He fractured his right hind leg in his stall," said Charles Koch, the assistant farm manager at Claiborne. Bred in Maryland by E. P. Taylor, Devil's Bag raced for the Mills' family's Hickory Tree Stable. He was the champion 2-year-old after winning all five of his starts, including the Laurel Futurity (gr. I) in track-record time.Kept in training after being syndicated for $36 million at the conclusion of his 2-year-old season, Devil's Bag won the Derby Trial Stakes at Churchill Downs as a 3-year-old while stablemate Swale won the Kentucky Derby (gr. I) and Belmont Stakes (gr. I)."After we had to put him down, we all started talking what a great 2-year-old he was," Koch said. "He was such a special horse. It's funny how this game works. He was the one who was supposed to win the Derby. Then he gets hurt and can't run, and Swale ends up winning, which was such a big high and a thrill for Claiborne and the Hancocks."Then Devil's Bag is brought to Claiborne to stand," Koch continued. "I guess he wasn't what you'd call a superstar stallion, but he had his niche and got some good runners, and was a popular stallion. He was such a great horse to be around, and I ended up grooming him for a couple of years. He was always a fun horse to be with and easy to take care of."The best horses sired by Devil's Bag included Japanese champion Taiki Shuttle and multiple grade I winner Devil His Due.



Copyright © 2015 The Blood-Horse, Inc. All Rights Reserved.