Pincay Receives Second Big Sport of Turfdom Award
by Blood-Horse Staff
Date Posted: 1/30/2001 3:44:20 PM
Last Updated: 1/30/2001 6:21:47 PM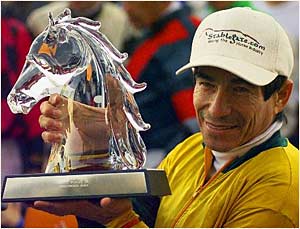 Laffit Pincay Jr., first two-time winner of the Big Sport of Turfdom award.


Laffit Pincay, racing's all-time winningest rider, set another record on Tuesday afternoon in New Orleans, La., when he became the first two-time winner of the Big Sport of Turfdom award presented annually by the Turf Publicists of America. Pincay, who broke Bill Shoemaker's all-time winning mark of 8,833 in December of 1999 and more recently surpassed the 9,000-win plateau, first won the Big Sport award in 1985, the year he teamed with Swale to capture the Kentucky Derby. The award is presented to those individuals who have been judged by the organization of racetrack publicists to have done the most to promote the sport of racing.Among those on hand for the presentation was Wanda Hooper, whose late husband, Fred Hooper, brought Pincay to the United States 35 years ago. Since that time, Pincay has ridden in nearly 46,000 races, and his current win total is 9,073. He mounts have earned in excess of $215 million. The 54-year-old Pincay currently is enjoying a resurgence: last year, when he won 202 races and had $8.2 million in mount earnings, represented his best year since 1991, and he currently leads the Santa Anita jockey standings with 31 victories.Pincay, who is scheduled to present the 2000 Eclipse Award for outstanding jockey at the annual Eclipse Awards dinner later Tuesday evening, paid tribute to Shoemaker while accepting his latest Big Sport award. "He became my role model," Pincay said of Shoemaker, "and I hope I can be the same for the young riders of the future."



Copyright © 2015 The Blood-Horse, Inc. All Rights Reserved.