That's Show Biz
by Evan Hammonds
Date Posted: 2/2/2005 11:58:27 AM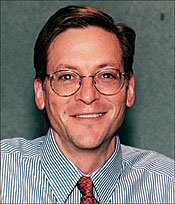 Evan I. Hammonds
Managing Editor


A pat on the back goes to all involved at the National Thoroughbred Racing Association for putting together a smooth and slick presentation of the 34th Eclipse Awards Jan. 24. A special nod should be given to Debbie Blair, the event coordinator and vice president of customer service at NTRA/Breeders' Cup. Having the event return to Southern California gave it the right Hollywood glow, and getting actor/horseplayer Jerry O'Connell to serve as emcee was a catch. The television star proved he belonged among the racing set by giving props to Oaklawn Park's Charles Cella--"he lets me into the Turf Club for free"--and noting he was at Hollywood Park when Laffit Pincay Jr. passed Bill Shoemaker with win No. 8,834 in December 1999. Having enthusiastic presenters such as Merv Griffin, Larry King, and actor Leslie Jordan gave the evening the right mix of "star power" and "horse power." In another locale, the roster may not be as deep. For example, O'Connell zipped over from the lot at Universal Studios late that afternoon. Adding to the excitement of the evening was a lack of elbow room during the cocktail hour as a record 652 seats were sold and additional tables had to be squeezed into the ballroom at the Regent Beverly Wilshire Hotel. Key ingredients included Beverly Hills as a desirable destination for visitors; a deep local contingent of horsemen and industry people from which to draw; and the involvement of TVG, which aired the event live. According to NTRA officials, there was an influx of requests for tickets from fans and racing insiders beyond those connections with the three finalists in each category. TVG's promotion of the event, which started in December, was a positive factor. TVG's investment in the Eclipse Awards presentation was substantial. It took a staff of 50-60 and nine cameras to put the show together, though costs were greatly reduced by the fact it took place in TVG's backyard. Should the Awards show take place in South Florida, where it was last year, the cost would "easily triple," according to senior producer Meredith Gleaves. The format was changed this year, for the better, as the dinner portion took place before the awards were handed out. In years past, entrees weren't passed out until after the statuettes, making not only for a long evening, but having many in attendance duck out right after the Horse of the Year announcement in search of a meal.
ALMOST HEAVEN? A few hours before the Eclipse program got underway, trainer Dale Baird stood in the valet parking area of the Regent Beverly Wilshire, taking it all in. Fellow trainer Dale Romans sauntered over to offer his congratulations, not only on Baird receiving a Special Eclipse, but his recent milestone. Baird acknowledged win No. 9,000 was fun, but noted he may not make it to 10,000. "I'm slowing down," the 69-year-old Baird said. Though he may hang 'em up before he hits the next plateau, don't expect him to retire to Beverly Hills. While discussing the room rates at the swank hotel, Romans wisecracked: "Before you guys got slots, you couldn't afford a room here." Purses in West Virginia have soared since the introduction of video lottery terminals in 1997, and now legislators may want a bigger slice of the pie (see page 771). Gov. Joe Manchin would like to take $5 million from purse accounts at each of the state's four racetracks (two Thoroughbred and two Greyhound) to help cover a $3-billion shortfall in the state workers' compensation program. Purses at Mountaineer Race Track and Gaming Resort and Charles Town were $89,532,035 in 2004, so the state would be putting its hand in the till for an additional 11%. Who says politicians don't pay attention to racing?



Copyright © 2015 The Blood-Horse, Inc. All Rights Reserved.