Dominguez Unseats Baze to Win Isaac Murphy Award
by Blood-Horse Staff
Date Posted: 1/20/2005 7:20:25 PM
Last Updated: 1/21/2005 10:22:54 AM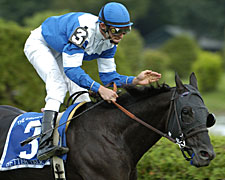 Murphy Award winner Ramon Dominguez gives Better Talk Now a pat on the back after Sword Dancer win.
Photo: Skip Dickstein

For the first time in its 10-year history, there is a new winner of the Isaac Murphy Award presented by the National Turf Writers Association. Ramon Dominguez has unseated nine-time winner Russell Baze.The award, given to the jockey with the highest winning percentage (with a minimum of 500 mounts) during the year, was inaugurated in 1995 and had been presented to Baze each year since its inception.In 2004, Dominguez had 1,353 mounts and won 383 races for a strike rate of 28.31%, according to Daily Racing Form statistics.Baze finished second, winning on 321 of 1,182 mounts for a 27.16% win percentage. In 2003, Baze had topped the 30% mark for the first time when he won 30.17% of the time.Rounding out the top 10 were John Velazquez (25.24%), Ramsey Zimmerman (25.17%), Chad Schvanaveldt (24.45%), Pedro Alvarado (24.39%), Rafael Bejarano (23.67%), Ken Tohill (23.40%), Jerry Bailey (23.05%) and Todd Kabel (22.74%).Dominguez, 28, is a native of Venezuela who lives and is based in Maryland. He moved to the United States in 1995. He has twice been the nation's leading rider by wins, in 2001 with 431 and 2003 with 453.In 2004, besides his 383 wins, Dominguez had 231 seconds, 216 thirds and his mounts earned $11,506,889.The highlight of 2004 for Dominguez was getting his first Breeders' Cup mounts. He won the John Deere Breeders' Cup Turf aboard Better Talk Now. He also finished third on My Cousin Matt in the Breeders' Cup Sprint, and ran fifth with Dance Away Capote in the Breeders' Cup Juvenile Fillies.The Isaac Murphy Award is named in honor of the legendary 19th Century black jockey who won with 44% of his career mounts.Dominguez will receive his award later this year.



Copyright © 2015 The Blood-Horse, Inc. All Rights Reserved.