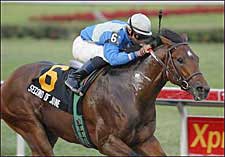 (from Gulfstream notes)
Second of June, on the comeback trail after a 3-year-old season shortened by a serious injury, will race in the $1 million Ocala Breeders' Sales Classic, the highlight of the Jan. 29 Sunshine Millions program.The 4-year-old colt was ready to roll down the Triple Crown trail after a heart-stopping duel with Read the Footnotes in the Fountain of Youth (gr. II), but suffered a leg fracture in that effort to crush the Derby dreams of his football player-turned-trainer Bill Cesare."It was the thrill of victory and agony of defeat overnight ...a really funny feeling," said Cesare. "It was like this time we were playing Oakland (while a Tampa Bay Buccaneer) and they were beating us by 20 points at halftime. We came out and got a two-point lead, but they put together a last-minute drive and beat us with a field goal. You just feel like you worked hard and played hard and then it all goes out of your control."But Second of June has rehabbed his way back onto the scene, this time as a threat on the handicap circuit. After eight months away from the track, the Florida-bred son of

Louis Quatorze

began working out in October and returned to the races with a narrow loss in an allowance race at Calder Dec. 26."We expected him to get a little bit tired, and that's what happened," said Cesare. "We were pleased with the race. We would have been happy if he had won, but that was a lot to ask a horse to comeback after 10 months ... He's come out of the race good and he's training good. He may get beat in the Sunshine Millions, but we won't have any excuses."Since the Classic is restricted to horses bred in Florida or California, Cesare targeted it as a stepping stone toward other tests throughout the season. Nominees for the 1 1/8th-mile race include proven stakes stars like Midas Eyes, Limehouse, and Supah Blitz. "Right now we feel great," he said. "We've got him going in the right direction. We just want to try and win some of the right races and set him up for stud duty down the line."