Keeneland January Average and Median Still Running Ahead of 2004 Pace
by Deirdre B. Biles
Date Posted: 1/14/2005 6:08:01 PM
Last Updated: 1/19/2005 11:51:19 AM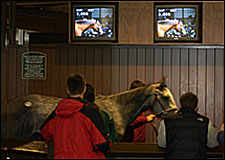 Prospective buyers look over horses in the back walking ring during the Keeneland January Horses of All Ages Sale.
Photo: Anne M. Eberhardt

As Keeneland's January horses of all ages sale headed into the stretch Friday in Central Kentucky, its gross revenue, average price, and median price all remained ahead of last year's pace. Through the fifth of the auction's six scheduled sessions, 1,196 horses had been sold for a gross of $52,220,600, an average of $43,663, and a median of $16,000. Compared to 2004's five-day January sale, the number sold was down 4.9%. However, the gross grew 5.8% while the average and median increased 11.3% and 23.1%, respectively.By Keeneland's count, this year's gross revenue already is the fourth-highest in January history. Based on The Blood-Horse's records, which do not include the figures from the 1988 Nelson Bunker Hunt dispersal in the January statistics, this year's gross is the third-highest."Everybody is optimistic, and the stallion people are very, very pleased," said Jody Huckabay of Elm Tree Farm. "When you buy one of these mares and then you go to try and book her, it's difficult to find a season no matter how good she is. Many of the good horses are filled up."During the fifth session alone, 187 horses were sold for a gross of $1,489,800, an average of $7,967, and a median of $4,500. Compared to the same session a year ago, the number sold and gross were down 26.7% and 24.8%, respectively. However, the average and median rose 2.5% and 18.4%, respectively.A broodmare prospect and a pregnant mare each sold for $90,000 to top the session. The broodmare prospect, Courriel, is a 4-year-old winning daughter of French Deputy. Produced from the winning Rubiano mare Reboot, Courriel is a half-sister to Rebuttal (by Mr. Greeley), a winner and group I-placed in England. Kingswood Farm, agent, purchased Courriel from Trackside Farm, agent.Hash It Out, who is in foal to Proud Citizen , is a 10-year-old stakes-winning daughter of Lost Code – Eggs Binnedict, by Naskra. McMahon Bloodstock, agent, bought Hash It Out from Taylor Made Sales Agency, agent.The sale's final session begins Saturday at 10 a.m. (EST).Results From Keeneland's Fifth Session



Copyright © 2015 The Blood-Horse, Inc. All Rights Reserved.