Valenzuela Licensed to Resume Riding
by Margaret Ransom
Date Posted: 1/13/2005 7:59:09 AM
Last Updated: 1/13/2005 6:27:53 PM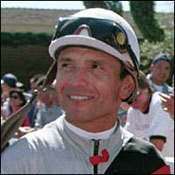 Jockey Pat Valenzuela, can resume riding Saturday.
Photo: benoit

Embattled jockey Patrick Valenzuela received his California riding license and is expected to be back in the saddle for the first time since last July on Jan. 15. Valenzuela, 42, received a conditional license (Jan. 13-Dec. 31) after he and his attorney, Neil Papiano, met Jan. 12 with Santa Anita Park stewards."To our knowledge, these are the strictest conditions ever imposed on a licensee to participate in racing," senior steward Pete Pedersen said. "I know of none more exacting."Valenzuela's new license agreement contains all of the pertinent conditions listed in previous agreements, including random drug and/or alcohol testing. In addition, Valenzuela will be subject to testing in other jurisdictions when he leaves California to ride in other states or countries.The jockey also has agreed to, "maintain hair upon his head that is a minimum of one and one-half inches in length and of sufficient quantity (minimum 150 strands/shafts) to submit a satisfactory sample for hair strand/shaft testing," according to the agreement.The decision to license Valenzuela came five days after the seven California Horse Racing Board commissioners unanimously adopted an administrative law judge's recommendation to grant the jockey's appeal of a suspension that had been issued by the stewards last summer."Patrick agreed to submit to any reasonable drug test," Papiano said. "They can't test him every half-hour or anything, but all the experts and most everyone else agrees that a urine test every three days is most effective. That should take care of it. Now he can do everything any other jockey can do starting (immediately)."When asked if Valenzuela might pursue a lawsuit over earnings lost since July, Papiano said: "I'm not going to comment on that right now."Valenzuela's agent, Ronnie Ebanks, said he has accepted five calls for the Jan. 15 racing program at Santa Anita, including Mass Media for Bobby Frankel in the $200,000 San Fernando Breeders' Cup Handicap (gr. II) and Eastern Sand for trainer Jeff Mullins in the Hill Rise Stakes. The jockey also is set to ride A Song in A Minor for trainer Sal Gonzalez in Sunday's El Encino Stakes (gr. II).For most of his career, Valenzuela has been in and out of the saddle due to substance abuse and/or personal problems. He captured the riding titles for all the major Southern California meets in 2003, and then sat out most of 2004 beginning in January following his failure to submit to a drug test after he took off his mounts without notice.In April 2004, CHRB chairman John Harris issued Valenzuela a stay of his suspension pending appeal, and a month later the CHRB unanimously ruled Valenzuela could return to the saddle with additional conditions attached to his license, including hair-follicle testing.The rider returned for one day July 1 before he was suspended again for failure to provide hair for testing after he showed up to ride with his entire body shaved. In early August, Valenzuela appealed to the board of stewards, and after three days of testimony from both legal and hair-testing experts, they upheld their initial ruling and recommended the rider not be eligible for further licensing in any capacity.In November, administrative law judge Steward Waxman ruled the stewards erred in suspending Valenzuela. He said they confused hair follicle testing with hair strand testing, thus the CHRB failed to correctly administer the test. Waxman stated in his November decision that "the Board of Stewards' decision to uphold (Valenzuela's) July 2 summary suspension for maintaining his hair at a length insufficient for hair strand or hair shaft testing is deemed arbitrary, capricious, and an abuse of discretion...(Valenzuela) did not fail to comply with the order to submit to a hair follicle test."Valenzuela has been keeping fit by exercising horses at San Luis Rey Downs and currently is at riding weight. "With the experiences I've had I should come back (to top form) after the first race (back)," Valenzuela said enthusiastically following his closed-door meeting with the stewards.Ebanks said demand for Valenzuela from California trainers has once again been high. "Our goal is that we want to be leading rider in the nation and win the Eclipse Award," Ebanks said. "He just might be the greatest rider there has ever been; to have accomplished what he has accomplished with all the setbacks is incredible. If it lasts a year, great. If it lasts two, then super. If it lasts forever, which I anticipate it will, then it'll be phenomenal."CHRB executive director Ingrid Fermin, who participated in the settlement discussion, was scheduled to meet with the other jockeys at Santa Anita Jan. 12 to answer any questions they might have about the licensing of Valenzuela."As they will be competing against him, the other jockeys are entitled to know how we came to this point and what procedures will be in place," Fermin said. "This is not just about Valenzuela. This is about all of the riders. I want to have open communications with all of the jockeys in order to address their concerns."



Copyright © 2015 The Blood-Horse, Inc. All Rights Reserved.