With Sagamore History as Backdrop, Maryland Stallion Station Opens
by Tom Keyser
Date Posted: 1/10/2005 10:00:59 AM
Last Updated: 2/4/2005 7:44:42 PM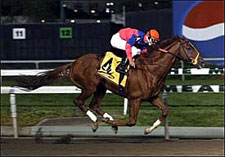 Meadowlands Breeders' Cup Stakes winner Bowman's Band, among the stallions at Maryland Stallion Station.
Photo: Equi-Photo, Ryan McAlinden

Don Litz looked over the crowd and then looked over the valley. He took a deep breath. Finally, his dream was realized.Maryland Stallion Station opened Sunday with more than 400 visitors touring the grand barn, observing a parade of the five stallions and, like Litz, peering across the valley at historic Sagamore Farm. Litz, 58, long involved in the Maryland horse business, drew on the legend of Sagamore, home and burial place of Native Dancer, for inspiration in developing Maryland Stallion Station."That is it for me," Litz said. "There is an energy, and I think it comes from him, Native Dancer. When I look out over the valley, I can feel the energy of that horse. This is almost like Camelot for me, just being here."Constructed on the side of a hill about 20 miles northwest of Baltimore -- across a two-lane road from Sagamore -- Maryland Stallion Station represents the most significant major investment in the Maryland breeding industry in nearly two decades. It consists of 100 acres, a spacious barn with 11 stalls and paddocks of nearly two acres apiece. Litz, president of the operation, said he expects more than 350 mares, about half from out of state, to be bred to the five stallions during the upcoming breeding season.Aris Melissaratos, secretary of the Maryland Department of Business and Economic Development, represented Gov. Robert L. Ehrlich Jr. at the grand opening. He reminded the crowd of Ehrlich's "push" to help the horse industry, a reference to slot machines at racetracks."We're with you," Melissaratos said. "We value your industry. We're going to find a way to get it done."The horse industry in Maryland has lobbied aggressively for slot machines to help it keep pace with neighboring states, whose racing purses and breeding incentives have flourished with proceeds from slots. Melissaratos said that Maryland has about 87,000 horses worth about $700 million and that the state's horse industry contributes nearly $2 billion to the state economy."About 685,000 acres in this state are devoted to horse farming," Melissaratos said. "That's about one out of every 10 acres in the state."The success of Maryland Stallion Station will depend on the appeal of its stallions to out-of-state breeders. The owners of most Maryland stallion farms have adopted that regional approach. Maryland Stallion Station's advertising motto is: "Dawn of a New Era in Mid-Atlantic Thoroughbred Breeding."Litz and his local partners, David M. DiPietro and Herb May, assembled a roster of five stallions to launch their operation. A sixth, Eastern Echo, died last month at age 16 of an apparent heart attack. The five stallions --

Bowman's Band

,

Jazz Club

, Outflanker , Rock Slide , and

Seeking Daylight

-- all descend from Native Dancer, the Grey Ghost.Long enamored by the Sagamore legend, Litz spent years putting together a team to try to recreate it. He recruited investors, the most significant being Lane's End Farm, which was instrumental is securing Maryland Stallion Station's sires.Cricket Goodall, executive director of the Maryland Horse Breeders Association, described Litz as "eternally optimistic and very persistent."Litz's intense determination was evident throughout his drive to create Maryland Stallion Station. But he deflected the credit."It's so much bigger than me," Litz said. "In fact, it's not about me at all. It's about Native Dancer. It's about Sagamore. It's about this valley. I just happened to stumble into a destiny."



Copyright © 2015 The Blood-Horse, Inc. All Rights Reserved.