Leading Juvenile Sire 2004: Storm Cat
by Dan Liebman
Date Posted: 1/5/2005 1:19:46 PM
Last Updated: 1/10/2005 2:56:03 PM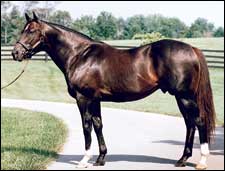 Storm Cat, leading juvenile sire of 2004.
Photo: Tony Leonard

In September 2004,

Storm Cat

set a record when he passed Northern Dancer as the all-time leading sire of seven-figure yearlings. As the year came to a close, the Overbrook Farm stallion added another impressive statistic to his résumé. In leading the list of sires of juveniles by progeny earnings for 2004, Storm Cat passes Bold Ruler as the stallion to have led that table the most times. This marks the seventh year Storm Cat has been the leading sire of 2-year-olds, having also been atop the leader board in 2002, 1999, 1998, 1995, 1993, and 1992. Bold Ruler was the leading sire of juveniles six times, in 1963-64, 1966-68, and 1972. A son of Storm Bird, Storm Cat, who just turned 22, was represented this year by a crop of 66 foals of 2002. Of that group, 32 made at least one start and 16 became winners, earning $1,927,589. Four of the 16 winners won stakes races and another two were stakes-placed. Storm Cat's percentages for 2004 are very similar to his lifetime juvenile numbers. To date, he has had 960 named foals of racing age, with 409 runners (42%), 212 winners (22%), 48 stakes winners (5%), and 44 who were stakes-placed (5%). His juveniles have earned nearly $19.5 million of his total progeny earnings of more than $88 million, roughly 22%. This year, the earnings by his 2-year-olds amounted to 25% of his $7.7 million. With Storm Cat standing for the highest stud fee in the business, $500,000, it is no surprise he attracts some of the top mares from some of the top breeders. In fact, there were numerous unraced Storm Cat juveniles of 2004 out of mares that are household names, such as Cash Run, Chilukki, Diminuendo, Jewel Princess, Sacahuista, Blissful, Eliza, and Miesque. Storm Cat's 16 juvenile winners in 2004 were bred by 12 different breeders, three by Pacelco, a Coolmore entity. Several years ago, Coolmore purchased a block of lifetime breeding rights to Storm Cat. Two winners each were bred by Elizabeth Moran's Brushwood Stable, and the Young family's Overbrook. Of course, the big horse is Sweet Catomine, who should provide Storm Cat with his third juvenile champion. She won three of four starts in 2004 and is a foregone conclusion to win the Eclipse Award for juvenile filly. Storm Cat is also the sire of 2002 champion juvenile filly Storm Flag Flying, as well as Canada's top 2-year-old filly of 1995, Silken Cat. Sweet Catomine, out of the Kris S. mare Sweet Life, is a homebred for Marty and Pam Wygod. Trained by Julio Canani, she capped off her season with a win in the Breeders' Cup Juvenile Fillies (gr. I). She also won the Del Mar Debutante (gr. I) and Oak Leaf Stakes (gr. II). Storm Cat's other 2004 juvenile stakes winners were: the Overbrook homebred Storm Surge (out of Especially, by Mr. Prospector), who won the Lone Star Park Juvenile Stakes on Breeders' Cup day; Consolidator (out of Good Example, by Crystal Glitters), who was bought by Bob and Beverly Lewis as a yearling for $1,250,000 and won the Lane's End Breeders' Futurity (gr. I); and Cherokee (out of Totemic, by Vanlandingham), who won the Go and Go Round Tower Stakes (Ire-III) for Michael Tabor and Sue Magnier. "We all know that it takes everything falling into place for them to even start at two, which underscores how significant his 2-year-old statistics have been over the years," said Ric Waldman, an Overbrook adviser who books the mares to Storm Cat. "They (2-year-olds by Storm Cat) want to train, are eager, and are competitive." At this stage of his career, Storm Cat hardly needs another milestone, but Waldman said he is prouder of this accomplishment, breaking the tie with Bold Ruler, than any of Storm Cat's other marks. "Every time he passes a milestone, it is very rewarding to all of us at Overbrook," he said. "This means a lot because now he holds the record alone. "It is rare that a stallion can be so consistent at the top; usually you see the odd downward dip, and if you were to chart him by stakes winners, by winners, by progeny earnings, you would find he has had less downward movement over the last six to eight years than most other great stallions."



Copyright © 2015 The Blood-Horse, Inc. All Rights Reserved.