McCarron: Plenty of Lost Sleep Over Guild
by Tom LaMarra
Date Posted: 1/5/2005 8:25:31 AM
Last Updated: 1/8/2005 3:17:29 PM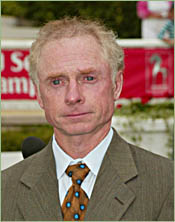 Retired jockey and current Magna executive Chris McCarron.
Photo: Benoit

Hall of Fame jockey Chris McCarron said he has "lost a tremendous amount of sleep" over the ongoing Jockeys' Guild conflict but is hopeful it will be resolved to the benefit of riders and the racing industry at large.McCarron has declined to discuss in detail his role in hiring of Dr. Wayne Gertmenian, who took over as Guild chief executive officer in 2001. On Jan. 5, McCarron opened up a bit when he was a guest on "At the Races & Beyond," a radio talk show hosted by former trainer J.J. Graci on WNN-AM in Pompano Beach, Fla.McCarron and others who were on the Guild executive committee in 2001 have refrained from talking to the press about the circumstances surrounding the ouster of former national manager John Giovanni. Since that time, some are no longer are Guild members or sit on the board.McCarron, a retired Guild member, said he has known Gertmenian for 10 to 12 years, and their daughters went to school together. McCarron said he used to tell Gertmenian of his frustrations over the Guild's lack of progress when compared with players in other major league sports.Gertmenian expressed an interest in the organization and eventually was hired as CEO. McCarron said he later suggested Gertmenian supply former Guild members Jerry Bailey and Pat Day with information--including his resume--they had requested."When he said, 'No,' that it was his own private business, things began to unravel from there," McCarron said.McCarron and Gertmenian had a falling out. McCarron said many of the issues are extremely sensitive, so he wouldn't discuss them in detail.Gertmenian, in a recent interview with The Blood-Horse, indicated one focus of the Guild is to ensure jockeys are treated with respect by the racing industry, something supported by McCarron and others. As for Gertmenian's credentials and background, McCarron said his position has changed since 2001."I don't know what he is and what he isn't, to this day," McCarron said. "I think it matters. Earlier on it didn't matter that much to me, but now it matters not just to me but to all the jockeys, and it matters to the strength of the organization and future of the organization...It all comes down to credibility and integrity. I hope and pray he's able to prove us all wrong.""It is incredibly sensitive to me, and I've lost a tremendous amount of sleep over what has gone on. I don't understand it. I just can't understand for the life of me how it got to this point. I think at the end of the day, the righteous and the good will prevail. I can't tell you what that is right now."McCarron, who now works at Magna Entertainment Corp.-owned Santa Anita Park, said he remains committed to jockey-related issues such as health and welfare, safety, and elevating riders to star-status level."I believe the industry as a whole does not take advantage of the tremendous asset called a jockey," McCarron said. "The first thing that has to happen is the industry needs to assist these riders into becoming household names, in becoming stars."I think it would be wonderful if the Jockeys' Guild would be able to organize in such a way to be able to come to the tracks with a proposal, and have the tracks embrace the proposal, and work together at making stars of the riders."McCarron also sits on a California Horse Racing Board panel investigating how the Guild spends the about $1 million it receives each year from the California pari-mutuel industry. The money goes to the Guild for standard health insurance premiums for jockeys and their families, not for on-track medical insurance.



Copyright © 2015 The Blood-Horse, Inc. All Rights Reserved.