CHRB Panel to Look Into Jockeys' Insurance
by Margaret Ransom
Date Posted: 12/31/2004 9:10:56 AM
Last Updated: 12/31/2004 11:54:22 AM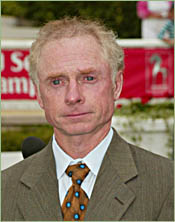 Retired jockey Chris McCarron, to serve on CHRB insurance panel.
Photo: benoit

California Horse Racing Board commissioner Richard Shapiro has established a special committee to investigate where an estimated $1 million per year California gives the Jockeys' Guild for the health and well-being of the state's jockeys goes and why most of the 1,200 Guild members nationwide were unaware their catastrophic accident insurance was allowed to lapse nearly two years ago.The $1 million, which is derived from breakage and un-cashed tickets, is administered by the CHRB."I became aware of the situation when I heard about Gary Birzer, who I've met," Shapiro said. "I was horrified at his situation. And the first thing I thought was, 'Wait a minute, we're giving them money.' The CHRB has effectively taken the position that we're not going to give (the Guild) any money until we know where the money goes. We have three goals in mind, the first being that California jockeys and all jockeys in general know what's going on with their Guild, that they're fully informed about the issues and that we have accountability for all our dollars."Gary Birzer was paralyzed from the waist down in a spill at Mountaineer Park in July and only the first $100,000 of his medical expenses were covered by the standard catastrophic insurance carried by most North American tracks.Shapiro said the committee is made up of a dozen of the state's industry insiders, including jockeys and former jockeys, as well as track managers and state racing commissioners. Now-retired Hall of Fame jockey Chris McCarron, who played a role in bringing current Jockeys' Guild president Wayne Gertmenian into the organization in 2001, is on the panel as is recently former Guild board of directors member Kent Desormeaux.Other committee members include the CHRB's newly appointed executive director Ingrid Fermin, Thoroughbred Owners of California president Drew Couto, and CHRB chairman John Harris.Though the committee meetings will be closed-door, Shapiro said there will be full disclosure to jockeys and the racing industry as a whole."There will be no secrets," Shapiro said. "We want to make sure there are no problems in what we're doing and why we're doing it."Though California jockeys are covered under trainers' individual workers' compensation policies, many travel to other states to ride and are therefore bound by the insurance policies in place in the states they accept mounts in."Ultimately this is about the welfare of our jockeys and their families," Shapiro said. "I don't profess to be the most knowledgeable, but we're making a lot of changes and with things like this we're hoping what we do will dovetail out into the industry and prove that California racing is a great place to come back to and race."The first insurance committee meeting is set to take place on Jan. 4.



Copyright © 2015 The Blood-Horse, Inc. All Rights Reserved.