Coolmore Donates Stallion Nominations to Aid Tsunami Victims
by Evan Hammonds
Date Posted: 12/30/2004 3:21:35 PM
Last Updated: 1/4/2005 2:43:42 PM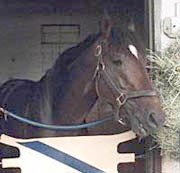 Fusaichi Pegasus, among the Coolmore stallions whose nomination has been donated to the tsunami relief effort.
Photo: Anne M. Eberhardt

Coolmore stallion owners are donating one nomination to every one of their stallions worldwide to aid humanitarian efforts following last weekend's earthquake-tsunami catastrophe in Asia and Africa, it was announced Thursday.Coolmore also is offering to assist and facilitate other stud farms interested in donating seasons to their stallions.The total fund will be given to the International Red Cross to assist its work with those devastated communities. The death toll in the Indian Ocean region has climbed over the 115,000 mark as of Thursday afternoon according to wire reports.According to a release from Coolmore, bidding will start Friday, Dec. 31, as Ashford Stud in Kentucky and Coolmore Stud in Ireland will accept bids for nominations to each of their stallions while Coolmore Australia will do so for its one permanent resident, Encosta de Lago. Bidding will close at 5 p.m. local time on Tuesday, Jan. 11, 2005 (during the Keeneland January sale).The highest bids and the names of the bidders for each stallion will be published daily in the Thoroughbred Daily News and the final charitable purchasers will be released to all major racing and breeding publications. In order to respond to the urgent needs of the Red Cross and their international partners, payment will be required immediately. These nominations will therefore be on a no guarantee basis but will include a right of return.A spokesman for Coolmore said, "Everybody has been so affected by this unprecedented human disaster that Coolmore, its stallion owners and staff wanted to do something to help. It will also provide a way in which breeders internationally can contribute to the excellent work of the Red Cross. Offering a nomination to every stallion across the board gives the widest possible involvment. Coolmore welcomes the participation of other stud farms or syndicates to add stallion nominations to the auction for this charitable effort. Coolmore and the TDN will be willing to assist them in handling the details in any way possible."Bidders should call the following lines, being manned by Coolmore staff over the New Year holiday period:Coolmore, Ireland: Contact Christy Grassick, David O'Loughlin +353 52 31298Coolmore, America: Contact Aisling Duignan, Dermot Ryan (859) 873 7088 Coolmore, Australia: Contact Michael Kirwan +61 2 65 764 200The list of stallions available (2005 fee):
Ashford Stud:


Black Minnaloushe

($7,500)


Chapel Royal

($10,000)
Fusaichi Pegasus ($150,000)
Giant's Causeway ($150,000)


Grand Slam

($85,000)


Hennessy

($35,000)


High Yield

($15,000)


Hold That Tiger

($15,000)


Honour and Glory

($15,000)


Johannesburg

($30,000)


Lion Heart

($30,000)


Monashee Mountain

($10,000)


Royal Academy

($17,500)


Stravinsky

($25,000)
Tale of the Cat ($65,000)


Thunder Gulch

($40,000)


Van Nistelrooy

($7,500)


Woodman

($20,000)Coolmore Stud (2005 fee, in Euros):
Danehill Dancer (40,000)
Fasliyev (25,000)
Galileo (37,500)
Golan (10,000)
Hawk Wing (25,000)
High Chaparral (30,000)
Montjeu (45,000)
One Cool Cat (17,500)
Peintre Celebre (30,000)
Rock of Gibraltar (55,000)
Sadler's Wells (private)
Spinning World (12,500)
Statue of Liberty (10,000)Castlehyde Stud (2005 fee, in Euros):
Alzao (7,500)
Catcher in the Rye (4,000)
Choisir (12,500)
King Charlemagne (7,000)
Mull of Kintyre (5,000)
Night Shift (17,500)
Orpen (8,000)
Spartacus (5,000)Coolmore Australia (fee in Australian dollars):
Encosta de Lago A$132,000.



Copyright © 2015 The Blood-Horse, Inc. All Rights Reserved.