Shaking Things Up
by Ray Paulick
Date Posted: 12/28/2004 9:05:31 AM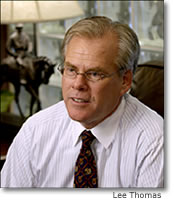 Ray Paulick
Editor-in-Chief


There was something a bit unsettling about how the California racing industry began a crackdown in February 2004 against the use of "milkshakes"--the loading of bicarbonates through a stomach tube as a performance-enhancing aid in Thoroughbreds. It wasn't the fact that efforts were being made to stop the cheaters. That move has been universally applauded. The unsettling part had to do with who was doing the cracking down. It wasn't the California Horse Racing Board, the state agency empowered to enforce the rules of racing. Instead, random pre-race testing for overages of alkalizing substances, or milkshakes, was funded by the Oak Tree Racing Association and a couple of anonymous Thoroughbred owners who felt not enough was being done to prevent cheating. They pushed for it and paid for it, hoping to convince the CHRB that there was a problem. The tests began at Santa Anita last February and continued at Hollywood Park, Del Mar, Golden Gate Fields, and Bay Meadows. Officials confirmed a 10% overage of bicarbonate levels in horses tested during the Del Mar meeting, which has the highest average daily purses of any California racetrack. Persistent rumors had Del Mar's cheater meter closer to 33%. Problem was, no horses were disqualified and no trainers or veterinarians were charged. The betting public, which pumped almost $580 million through the tote system during the 2004 Del Mar meeting alone, was never told which horses may have gotten a little help from an alkalizing agent. When some trainers suddenly went cold (surveillance was said to increase at certain barns with multiple overages), the public was left in the dark as to why. The CHRB never developed procedures or rules to deal with the administration of milkshakes. This major oversight occurred despite widespread publicity about the activity in other jurisdictions. In Kentucky, for example, racing commissioners made a red-faced admission in 1999 that they had no regulations prohibiting milkshakes and called an emergency meeting to deal with the issue. All the while there has been increasing skepticism within the California racing community about the CHRB's efforts to police milkshaking and other alleged medication infractions. But that skepticism may soon subside. The tracks are taking this issue seriously, and so is the CHRB. To get stalls for the current Santa Anita meeting, trainers were required to sign an agreement acknowledging the testing program for milkshakes along with the penalties for violators. First offenses will result in increased surveillance of a trainer's barn for 45 days. For 30 days, horses from that stable may be confined in a detention barn one day before they race. Second offenses will lead to a 15-day prohibition from the entry box by the trainer charged. A third offense will result in the trainer being banned from Santa Anita for one year, and he will be unable to enter any horses there for the balance of the meeting. The CHRB is scrambling to adopt regulations pertaining to milkshaking. Under chairman John C. Harris, the CHRB has taken a step in the right direction by filling the recently vacated executive director position with Ingrid Fermin, a longtime steward with a tough-but-fair reputation. Fermin has pledged to make medication issues her number one priority, and that's good news for California racing. In some regards, California has lapped the field. It went from also-ran to pacesetter in the battle against performance-enhancing medication. Other states, including Kentucky, have rules on the books prohibiting milkshakes, but are they doing anything to enforce those rules?



Copyright © 2015 The Blood-Horse, Inc. All Rights Reserved.