Year Will End With Pletcher, Velazquez on Top
by Blood-Horse Staff
Date Posted: 12/27/2004 1:44:08 PM
Last Updated: 12/27/2004 4:06:29 PM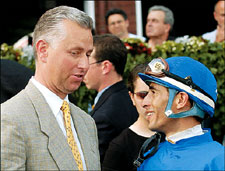 Trainer Todd Pletcher (left) and jockey John Velazquez (right) leading earners of 2004.
Photo: Skip Dickstein

With less than one week remaining, the 2004 American racing season will conclude with new leaders in earnings for jockeys and trainers.With stable earnings of $17,478,872 from 938 starters (with 240 wins) through Dec. 26, trainer Todd Pletcher was on track to unseat the two-year reign of Hall of Famer Bobby Frankel, who was second with $16,784,681.The earnings compiled by Equibase Company are for North America and some selected foreign racing, such as the Dubai World Cup.Trainer Steve Asmussen, who earlier this year surpassed Jack Van Berg for a record number of wins in a season, had 552 winners through Dec. 26 and ranked third on the earnings' list with $13,945,936.Jockey John Velazquez, who was the main jockey for the Pletcher stable throughout 2004, will unseat Hall of Famer Jerry Bailey in the jockeys' race. Through Dec. 26, Velazquez' mounts had earned $22,212,686 as he had 335 victories to his credit. Velazquez rode in selected races throughout December and did not threaten Bailey's all-time seasonal earnings record of $23,354,960. Edgar Prado, who finished behind Bailey in 2003, is second again this year, with $18,311,516.According to The Jockey Cub's equineline.com, Pletcher and Velazquez have teamed for 148 wins from 458 starters, with $10,704,103 in purses.Jockey Rafael Bejarano, who rode in Kentucky throughout most of the year before relocating to New York in the fall, is the new leader among jockeys by number of wins. Bejarano had ridden 450 winners through Dec. 26, meaning the wins title will no longer be held by perennial leaders Russell Baze or Ramon Dominquez.



Copyright © 2015 The Blood-Horse, Inc. All Rights Reserved.