Soaring Free, Sam-Son Top Sovereign Awards
by Blood-Horse Staff
Date Posted: 12/17/2004 11:21:31 PM
Last Updated: 12/19/2004 7:05:39 PM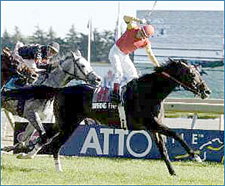 Soaring Free, Canada's Horse of the Year, winning the Atto Mile.
Photo: File photo

Sam-Son Farm and its homebred Soaring Free took home top honors when the Sovereign Awards were presented by The Jockey Club of Canada at the annual awards dinner Friday night in Ontario.A 5-year-old gelded son of Smart Strike owned and bred by Sam-Son, Soaring Free was voted Canada's Horse of the Year and champion male turf horses on the basis of a 2004 campaign in which he won six of eight starts and earned $1,113,862. Trained by Mark Frostad, Soaring Free won the Atto Mile (Can-I), Play the King Handicap (Can-III), Scotts Highlander Handicap (Can-III), and Ontario Jockey Club Stakes, all at Woobdine, and Keeneland's Shakertown Stakes (gr. IIIT). A Bit O'Gold, the champion 3-year-old male, was runner-up to Soaring Free for Horse of the Year honors.In addition to being voted outstanding owner honors, Sam-Son, the racing and breeding entity founded by the late Ernie Samuel, also took home a sixth Sovereign Awards as outstanding breeder. The Stronach Stable of Frank Stronach finished second in the outstanding owner category and Stronach's Adena Springs Farm was runner-up for top breeder honors.2004 SOVEREIGN AWARDS, ANNOUNCED BY THE JOCKEY CLUB OF CANADA:OUTSTANDING JOCKEY: Todd Kabel OUTSTANDING APPRENTICE JOCKEY: Corey Fraser

OUTSTANDING TRAINER: Robert Tiller OUTSTANDING OWNER: Sam-Son Farms

OUTSTANDING BREEDER: Sam-Son Farms OUTSTANDING BROODMARE: Annasan

CHAMPION TWO-YEAR-OLD FILLY: Simply Lovely

CHAMPION TWO-YEAR-OLD MALE : Wholelottabourbon

CHAMPION THREE-YEAR-OLD FILLY: Eye of the Sphynx CHAMPION THREE-YEAR-OLD MALE: A Bit O'Gold CHAMPION OLDER FEMALE: One for Rose CHAMPION OLDER MALE HORSE: Mobil CHAMPION SPRINTER: Blonde Executive CHAMPION MALE TURF HORSE: Soaring Free

CHAMPION FEMALE TURF HORSE: Inish Glora HORSE OF THE YEAR: Soaring FreeOUTSTANDING PHOTOGRAPH: David Landry OUTSTANDING FILM/VIDEO/BROADCAST: Woodbine Entertainment GroupOUTSTANDING NEWSPAPER STORY: Paul Wiecek OUTSTANDING FEATURE STORY: Darryl Kaplan




Copyright © 2015 The Blood-Horse, Inc. All Rights Reserved.