Gertmenian: Tracks, Not Guild, Would Fuel 'War'
by Tom LaMarra
Date Posted: 12/11/2004 2:58:52 PM
Last Updated: 12/11/2004 6:49:44 PM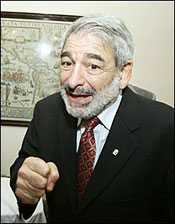 Dr. Wayne Gertmenian, CEO of the Jockeys' Guild.
Photo: Tim Sharp

The chief executive officer of the Jockeys' Guild has reiterated his calls for cooperation from the racing industry, and indicated the tracks, not the Guild, would be responsible should there be what he called a "war" between the two industry factions.In a 30-minute interview with The Blood-Horse Dec. 9 during the University of Arizona Symposium on Racing in Tucson, Dr. Wayne Gertmenian discussed the Guild's annual assembly, held Dec. 6-7 in Irving, Texas, as well as other issues. Gertmenian digressed at times and on a few occasions waved off questions, but he did hint that the Guild has a plan to win compensation and respect for jockeys.A proposal circulating in the industry is a sort of jockeys' bill of rights that lists guidelines for health and safety, animal rights, civil rights, benefits, authority, and compensation. The Guild would negotiate with individual racetracks on the proposal, which would generate millions of dollars.There also has been talk, however, that the Guild could seek much more--$50 million to $100 million -- should it take to the court system to see just how much money it could earn in rights from the transmission of simulcasts. During the Guild's annual assembly, an attorney is said to have told members billions of dollars are available.With about $15 billion in total Thoroughbred handle in the United States and Canada last year, revenue from wagering was about $3 billion. One-third of that went toward purses, which are considered revenue in the pari-mutuel formula."I will do everything I can to be reasonable," Gertmenian said. "I've had meetings with (the North American Pari-Mutuel Regulators Association), and they couldn't have been more positive. I've also gotten support from two tracks that have been extremely reasonable in private meetings. That's the path I want to take."Gertmenian was asked if the Guild planned to make challenges in court, but he didn't say. He did indicate the Guild's proposal would be more reasonable financially than the alternative."The industry will decide what road I will go down," Gertmenian said. "It could be 10% of what the package could be if (the racetracks) go into a war. They've been doing this for three and a half years, and I'm tired of it. It's time for them to come to me."During the annual assembly, there was discussion about a "war council" and "war plans," but details weren't available. Jockeys were told in the first meeting Dec. 6 not to talk to the media. On Dec. 10 at the symposium, racetrack executives said privately they had heard rumors of a possible walkout by jockeys Dec. 12, but one executive noted he had heard conflicting reports.Gertmenian, whose Matrix Capital Associates began running the Guild in 2001, said the 2004 Guild meeting drew the most jockeys ever. He said members never have been more united, and some shed tears."I've never been to (an annual assembly) so collaborative and thoughtful, and everybody had the opportunity to speak," he said. "It was a wonderful spirit. They're back into the spirit like the old Guild."On the other hand, Gertmenian was critical of racetracks, which he accused of continuing to treat jockeys poorly. He called it "reprehensible behavior.""The industry has always been hostile to jockeys and the Jockeys' Guild," Gertmenian said. "Jockeys are called pinheads, boys and girls, and told if they don't like it, they should go to work at McDonald's. In three and a half years I've seen nothing but disrespect. They are mean-spirited, evil people."Still, Gertmenian said he sees progress on the issue of on-track medical insurance for jockeys. He participated in the first National Thoroughbred Racing Association Jockeys' Medical Insurance Panel Nov. 22. A subcommittee is expected to have recommendations by the end of the year."The people they put on that technical subcommittee absolutely know what they're talking about," Gertmenian said. "It looks like the guys are pretty darn knowledgeable. I'm hopeful the industry will start a dialogue and find solutions, but I don't see any silver bullets here. Check your pockets later."Gertmenian did credit Alan Foreman, chief executive officer of the Thoroughbred Horsemen's Association, for helping put together the Maryland workers' compensation insurance plan whereby owners and trainers pay a yearly fee to provide on-track medical insurance for riders. He said it's a solution that no only works, but works for a relatively low cost."I would like to see that repeated," Gertmenian said. "You have someone who solved the problem brilliantly."In a list of recommendations to state regulators, the Guild seeks liability protection from racing associations for on-track injuries, and says minimum protection shouldn't be less than workers' compensation benefits generally provided to employees of other industries.



Copyright © 2015 The Blood-Horse, Inc. All Rights Reserved.