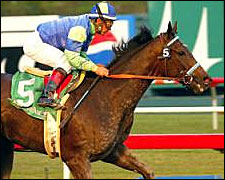 Rockport Harbor. The latter is undefeated, and has demonstrated brilliance and courage, winning from six furlongs to 1 1/8 miles. And although he has not won a grade I stakes, he is sure to get his share of votes, especially if something unforeseen happens in the Hollywood Futurity.The son of

Unbridled's Song

had his first gut check in the Remsen after three strolls in the park and he more than passed the test. Going two turns for the first time, he nearly outbroke the gate, then relaxed beautifully on the lead under Stewart Elliott, with Galloping Grocer lurking right behind. This was the New York-bred Galloping Grocer's first try in open company after toying with state-breds in his first three starts.After an opening half in :47 1/5, Rockport Harbor went his next two quarters in :23 4/5 and :24 2/5. Although the track was very fast, you rarely see 2-year-olds do that, especially going nine furlongs. Elliott, despite having Galloping Grocer breathing down his neck at the quarter pole, waited until he was well into the stretch before getting after his colt. Both horses showed they're still a bit green, as Galloping Grocer jumped back on to his left lead after being hit once right handed; then Rockport Harbor switched back to his left lead after being hit once left handed.Both horses were relentless and determined all the way to the wire, finishing more than eight lengths ahead of the third-place finisher Killenaule, a two-time stakes winner. To make Rockport Harbor's race even more impressive, he returned with blood pouring out of his right hind hoof, the result of being struck from behind by Pavo going into the first turn. The 2 1/2-inch gash is pretty severe, but certainly not as bad as it could have been. Although it will take him a while before he gets back in serious training, he should have no trouble making the Derby.Galloping Grocer showed he can rate behind horses, which is something Rockport Harbor still has to do. The bottom line is that both horses are brilliant, tough, and tenacious, with huge strides that enable them to cruise at high speeds. While neither is inundated with stamina, they certainly have as much as Smarty Jones and Funny Cide.Looking ahead to a mile and a quarter on the first Saturday in May, one has to think that Defer is a natural. Shug McGaughey is one of the last of the old-fashioned type of trainers, training for the last of the old-fashioned stables (the Phipps family), and if he makes it to the Derby, you can be sure his horse will have a great shot to win. Defer has Derby written all over him, from his looks and running style to his incredibly strong pedigree. His maiden victory was very professional and he looked to be in control the whole way. He was no match for Rockport Harbor in the Nashua, but it was only his second start, and his subsequent race in the Laurel Futurity was a big step forward, as he drew clear in the stretch to defeat the promising Todd Pletcher colt, Funk, who will be one of the favorites for this weekend's rich Delta Jackpot. Defer definitely is one who could be the complete package.Although the first three finishers in the Kentucky Jockey Club Stakes all look to have a bright future, the horse that really bears watching is the second-place finisher, Rush Bay, trained by Tom Amoss. The son of

Cozzene

was brilliant breaking his maiden, but is still immature and should make great strides over the winter. He got stuck behind horses in the Kentucky Jockey Club, but put in a strong run between horses in the stretch. Although he was outrun by the more experienced Greater Good, who had a great trip coming through on a wide-open rail, he was striding out beautifully at the wire. Also, keep an eye on his stablemate, Cherokee Path, who also runs this weekend in the Delta Jackpot off a big maiden victory at Churchill Downs.As for Declan's Moon, we'll know a lot more after he stretches out to two turns in the Hollywood Futurity. But as of now, this son of Malibu Moon has done everything asked of him, and he just has the look and demeanor of a top horse. He's shown exceptional speed and courage; he's professional, and he has an interesting pedigree. His broodmare sire, Norquestor, was a brilliant stakes horse trained by Sonny Hine, and the gelding is inbred top and bottom to Secretariat's dam, Somethingroyal.-- Norfolk Stakes (gr. II) runner-up Boston Glory is suffering from tendonitis and will not make the Derby, according to trainer Eoin Harty.-- "I have a better one in the barn." How often do you hear that line from a trainer after one of his horses wins impressively? Although trainer John Kimmel, who has already saddled two exciting winners in Premium Tap and Shorty Knudtson, didn't come right out and use those words, you can tell he is really excited about an unraced colt named Awesome Twist. Kimmel reluctantly was forced to scratch the colt from a Nov. 27 maiden race after the son of Awesome Again out of Twist Afleet, drew the rail in the seven-furlong race. More newcomers to watch:Dearest Mon -- This son of

Maria's Mon

, trained by Rick Violette, has a lot of scope for physical improvement, and he's still green. But he was impressive breaking his maiden at Aqueduct on Nov. 27. Although it was a very fast track that day, his final time of 1:22 flat was impressive. He patiently waited for running room nearing the quarter pole, then shot to the lead and drew clear to win by three lengths. Also watch out for the runner-up, Noble Causeway, a son of Giant's Causeway trained by Nick Zito, who made a big run on the turn and also raced greenly down the stretch. He looked strong in the final furlong and should improve after stretching out. In the second division, the big favorite, Benjamin Baby, a son of

Forest Wildcat

scored a workmanlike victory, winning by two lengths in 1:22 3/5.Get Down -- A son of

Doneraile Court

, he's two-for-two at Woodbine for trainer Nancy Triola and owner West Point Thoroughbreds. He could turn out to be a good bargain after selling for $17,960 as a yearling in Canada and $37,000 as a 2-year-old at Ocala.Harlington -- This handsome colt certainly was no secret, being by Unbridled out of champion Serena's Song and selling as a yearling for $2.8 million. Trained by Todd Pletcher for Eugene and Laura Melnyk, he closed strongly in the final furlong to get up by a neck, going a mile in the slop at Aqueduct.High Fly -- A son one-time world record-holding miler

Atticus

, from a stamina-laden female family, he's won both his starts at Calder in brilliant fashion. After breaking his maiden by 9 1/4 lengths at 3-2, he captured a 6 1/2-fulong allowance race eased up by three lengths as the 1-10 favorite. Bill White trains the homebred for Live Oak Plantation.Wahran -- There's a lot to like about this son of

Quiet American

. After breaking his maiden first time out at Keeneland for Carl Nafzger, he ran a strong second to the highly regarded Stephen Got Even colt, Don't Get Mad (discussed in an earlier column), who looks like a good one. Wahran's dam is by the classy international sire Sharpen Up, out of a half-sister to Kentucky Derby and Preakness winner Majestic Prince.At Hollywood Park, Washington-bred I'magambler, showed good speed to break his maiden by two lengths in 1:09 1/5, but the horse to keep an eye on from this race was the runner-up, One Smart Deputy, a Bob Baffert-trained son of

Silver Deputy

who turned in a big stretch run to finish a clear-cut second. He cost $700,000 as a 2-year-old.-- Bally's has a most unusual price listed in their latest Future Book, dated Dec. 1. They're quoting 15-1 on a horse who hasn't even started yet. That's just some idea of the hype that awaits Neil Drysdale's $4.5 million yearling purchase, Fusaichi Samurai, who has been bet down from 225-1. He is scheduled to run at Hollywood in the next couple of weeks. The son of Fusaichi Pegasus was picked out as a yearling for $270,000 by Nick Zito for Robert LaPenta, who pinhooked him the following year.-- One final thought about the rescheduling of the Wood Memorial (gr. I). Although some trainers may prefer the four weeks to the Derby, they will be hard pressed to get three races in before the big one. If they space their horse's races three to four weeks, that means they'll have to be ready to go by early February at the latest, and then find two suitable races in which to run before the Wood. And the pickins will be slim with the Florida races all designed to lead up to the Florida Derby (gr. I), not the Wood. And the Lane's End Stakes (gr. II) comes too close to run in both. If a race doesn't fill along the way, or they miss a race due to a setback, there won't be many alternative plans available. As for the Florida Derby (gr. I), it's simple: the trainers are either OK with training a horse up to the Kentucky Derby off a five-week layoff or they alter their schedule and go somewhere else. Any trainer pointing for the Florida Derby or Wood who wants to get four races in before the Kentucky Derby will really be under the gun if their horse isn't ready to go by early January. The question facing many trainers will be: Is the goal the Kentucky Derby or the Triple Crown? Finally, it's funny how trends go. Before Commendable in 2000, no horse ever won the Belmont coming off the Derby without a race in between. Now that's it's been done three times in the last four years, it's possible many trainers will skip the Preakness after losing the Derby and go straight for the Belmont. But once again, remember, the three trainers who succeeded were D. Wayne Lukas, Bobby Frankel, and Nick Zito. It's not just a coincidence that no one in the previous 125 years ever pulled it off. Also, it must be noted that Frankel and Zito basically were forced to go that route. Empire Maker ran in the Derby with a bruised foot and needed the time, while Birdstone was such a slight, fragile horse who had some physical issues and wasn't able to handle all three races.