Central Kentucky Real Estate Market Heats Up
by Dan Liebman
Date Posted: 12/1/2004 8:28:21 AM
Last Updated: 12/2/2004 7:57:11 AM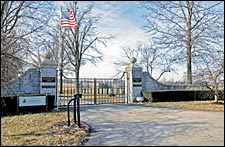 Entrance to Buckram Oak Farm.


The bloodstock market is not the only thing that has been healthy in Central Kentucky in 2004. So too has the real estate market. "If I would have quit for the year on June 1, it would have been the best year I ever had," said Arnold Kirkpatrick, head of Kirkpatrick & Co. The former manager of Spendthrift Farm, who has been selling real estate for 20 years, said his firm has sold 18 horse farms in 2004. Justice Real Estate, another Lexington company that specializes in horse farms, has also had a good year, Bill Justice said. On Nov. 24, Justice said his agency has seven closings scheduled before 2004 ends. "It has been a very good year," Justice said. "It really has been going on for three or four years. I think our latest upward blip occurred when everybody took that 25%-30% hit in the stock market; people started looking at where they were putting their money. Land has always been a good investment." Kirkpatrick agreed. "People have decided land is a more solid investment than the stock market because after 9/11, the stock market dropped close to 50% in just three weeks," he said. "Land doesn't tank 50% in three weeks." Both Kirkpatrick and Justice said land in Fayette County (Lexington) that four years ago brought $10,000-$12,500 an acre is now bringing $15,000-$25,000. "The market has been good, prices are rising, and the selection of farms has become less and less," Justice said. Location and infrastructure are also key components of the equation, said Tom Biederman of Biederman Real Estate & Auctioneers. "It is just like the horse business," he said, "where people want quality and will pay for quality. Mediocrity doesn't sell. Farms with good locations and improvements--roads, fences, barns--sell." Development costs have also gone up markedly, Biederman said. "If you buy an undeveloped piece of land for $10,000 an acre, you will spend another $10,000 an acre to develop it," he said. The health of the horse business is another major factor, the three men said. "That drives things from many areas," Biederman said. "Major farms look to expand, regional breeders look to move to Kentucky, and newcomers look to enter the business." "The health of the breeding industry is a key," Justice said. "There is renewed vigor in buying farms again." Kirkpatrick's top price per acre in 2004 was the $25,000 paid by Dinwiddie Lampton for Green Gates Farm, which adjoins his Elmendorf Farm. The 212 acres brought $5.3 million. "For the land with the right soils for raising horses, the price is going up very sharply," said Joe Riddell of Riddell Realty. Riddell said more farms are being sold to show-horse people. "They are finding Central Kentucky," he said. "It's near the Kentucky Horse Park, which is having more and more shows, and the hurricanes in Florida have caused some to reevaluate where their farms are located." An impending private sale could easily top the Green Gates price. Jess Jackson is said to be purchasing Mahmoud Fustok's Buckram Oak Farm on the desired Old Frankfort Pike. No realtor is involved, but speculation puts the price at $16 million to $17 million, which would be about $35,000 an acre for the 469 acres. "It's a unique situation: unique farm, unique owner, and unique buyer," Justice said.



Copyright © 2015 The Blood-Horse, Inc. All Rights Reserved.