Guild Grievances Include Cease and Desist Letter, Lawsuits
by Lenny Shulman
Date Posted: 11/23/2004 12:14:50 PM
Last Updated: 11/24/2004 6:44:13 PM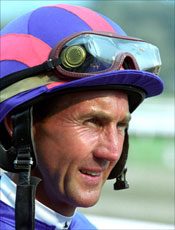 Jockey Jerry Bailey has sent a "cease and desist" letter to The Jockeys' Guild.
Photo: Barbara D. Livingston

The management company that represents jockey Jerry Bailey sent a cease and desist letter to Jockeys' Guild president Dr. Wayne Gertmenian and Guild vice president Albert Fiss Nov. 19. The letter requested they stop accusing Bailey of having played a role in canceling insurance policies that benefited jockeys. Sent by both e-mail and certified mail, it also requests a written apology be sent to Bailey, and that Gertmenian also pay for the apology to be published in three Thoroughbred horse racing trade publications, including The Blood-Horse. The letter was signed by Bailey's manager, Kelly Wietsma, the president of Equisponse, a marketing firm that represents jockeys. It claims Fiss stated on a radio show Nov. 16 that Bailey and rider Pat Day "were responsible for allowing coverage under the Jockeys' Guild Excess On-Track Accident Medical Insurance policy to expire." The letter also claimed "Dr. Gertmenian has publicly made similar statements." Fiss appeared on the radio show "At the Races and Beyond" on WNN-AM in Florida. The letter, a copy of which The Blood-Horse has obtained, added, "Jerry Bailey and Pat Day had nothing to do with the lapse of the jockeys' catastrophic loss insurance." Bailey and Day resigned from the executive board of the Guild, and from the Guild itself, when Gertmenian took over as president in June 2001, some 10 months before the expiration of the insurance policy in question. The Blood-Horse has also obtained a copy of a letter sent by Fiss to then National Thoroughbred Racing Association commissioner Tim Smith dated March 29, 2002, in which Fiss writes, "On April 1, 2002, the Jockeys' Guild Excess On-Track Accident Medical Insurance policy will expire." "If they choose not to cease and desist from speaking falsehoods of what I did and did not do, legal proceedings will follow," Bailey told The Blood-Horse. "How in the world could Pat Day and I have canceled that policy when it was in place when we left and they took over, and expired 10 months later? "There is also a Guild director named (Casey) Shepherd going around speaking publicly that Chris McCarron, Pat Day, Bobby Colton, and I are now trying to take over the Guild so we can receive kickbacks from an insurance company. This stuff has got to stop. I don't know what depths they'll go to..." Bailey, the country's most dominant jockey the past decade, served seven years as Guild president, during which time the Disabled Riders Fund was established. He is a seven-time Eclipse Award winner as the nation's leading jockey, and is a member of the sport's Hall of Fame. In other legal action, New Jersey-based jockey Eddie King has filed two lawsuits against the Jockeys' Guild. King served as treasurer of the Guild in 2003 and was a director until Nov. 6, 2004, when he was voted off the Guild's board after questioning the movement of funds while he was treasurer. "One suit is a request for an accounting of funds related to the Disabled Jockey Fund under the Labor-Management Reporting and Disclosure Act," said Alan Milstein, King's New Jersey-based attorney. "The other suit has to do with (King's) concern that he was removed from the Guild's senate and from being an officer without getting written notice of the charges, and with (the Guild) not complying with the requirements of the Labor-Management Reporting and Disclosure Act." "I guess they didn't like the questions I've been asking," King said. In a series of e-mails obtained by The Blood-Horse between King and Guild chairman Tomey Swan over a six-month period, King repeatedly asks about $1 million that was moved out of the Disabled Riders Fund. In a May 15, 2003, e-mail, King asked, "Where is the million dollars that Dr. Gertmenian requested to move out of the Disabled Riders Fund?...Dr. Gertmenian assured me what we were doing was OK. Now I am not so sure." Shortly after being told the money had been moved in Jan. 2003 to a Health and Welfare Reserve account, King asked in Jan. 2004 for a copy of the bank statement and deposit slip for the transfer. On April 17, 2004, King e-mailed Swan to say he had not received the information he requested three months prior. "My attorney felt it was in my best interest, since I was the treasurer during the time period (of the transfer), that I have some kind of record." On June 10, 2004, King again wrote Swan "...still waiting on the documentation that has been requested numerous times..." After published articles that criticized the Guild's leadership in October, the tone of the e-mails grew testy, with Swan decrying the fact that Gertmenian's motives were being questioned. "How long would you...take this kind of personal abuse if it were you?" she wrote King Oct. 23. Two days later King answered Swan, "I asked the office many times about the $1 million; all they had to do was tell the truth. I got so many explanations I don't know what the truth actually is. Albert (Fiss) explained it to me, but different than he is telling other riders around the country. The worst might be that $250,000 was taken from the fund and deposited into the Endowment. That is a lie! I have the bank statement saying where it came from (Riders media account). You said the $1 million was in a Health and Welfare Reserve account...I don't know where you got that information, but it doesn't make any sense after all the other explanations...I tried to do the (treasurer's) job like it was required of me by the law. The management was the largest barrier for me to accomplish the task. And now I am the bad guy...We are spending way too much money and the petition for an audit (of the Guild) should be done, and by someone other than Dr. G's friend."



Copyright © 2015 The Blood-Horse, Inc. All Rights Reserved.