Blue Skies: Frustrated buyers mean sellers' market for mares with upside
by Dan Liebman
Date Posted: 11/24/2004 6:52:16 PM
Last Updated: 11/26/2004 11:04:26 PM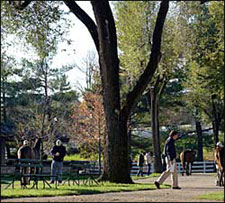 There were plenty of "blue sky" days in the November sale's 12-session run.
Photo: Anne M. Eberhardt

(From the November 27, 2004 issue of The Blood-Horse)
On day 10 of the Keeneland November sale, it was dark, gloomy, and drizzly. But you couldn't dampen the spirits of those who consigned to the world's largest breeding stock auction. In fact, David Greathouse, co-owner of Glencrest Farm and a partner in Four Star Sales, was typical of sellers, still seeing nothing but a different kind of forecast. "If you left any blue sky in them, you got all (the money) the law allowed," Greathouse said, a way of describing how a mare with any upside was bringing top dollar throughout the 12-day sale. A year earlier, Greathouse formed a partnership that purchased six mares at the Keeneland November sale. Those six, all in foal, sold during the first week of this year's auction, and the group realized a profit of close to 70%. "I don't like to pay for the foal that is in them, so we bought maiden mares with as much race record and pedigree as we could afford," Greathouse said. But while Greathouse found a good market in which to be a seller, his group found it frustrating to purchase mares to try and repeat their success. "The type of mare that I bought last year for $200,000 was bringing $300,000 to $350,000 this year," he said. Greathouse's comments about difficulty in buying were typical, Keeneland director of sales Geoffrey Russell said. "I've had more complaints from buyers at this sale than any previous sale ever." Of course, purchasers having trouble buying translates to a strong sale. "The American breeder breeds for the middle market and it appears the middle market is changing," Russell said, before asking, "What is the middle market? I always thought it was $100,000 to $300,000 but that may be changing." Russell felt one sign of a middle market adjustment came "when you see people who used to buy in book one now having to buy in book two." The key figures for the sale were: * The number of horses offered, 3,736, increased 11.9% from the 3,337 that went through the ring a year ago. The 2003 total was up by the same percentage from 2002. * The number sold increased, 9.9% after rising 10% from 2002 to 2003. This year, 2,873 lots were listed as sold compared to 2,614 last year. * The gross, was the third-highest for a Keeneland November sale, with $279,680,200 realized over the 12 sessions. This represented a jump of 18.5% from $236,070,900 in 2003. The record, set in 1999, was $317,666,000. * The average, was $97,348, an increase of 7.8% from $90,310. Keeneland listed the average as a November record. However, The Blood-Horse recognizes the 1984 sale as having the highest average because Keeneland did not begin removing the RNAs from its figures until 1985. The Blood-Horse figures show a $104,357 average in 1984. * The median, stayed level at $32,000. * The number of horses sold for $1 million or more, showed a marked advance, from 23 to 35. * The buy-back rate, was up from 21.7% to 23.1%, with 863 horses taken home by their consignors unsold this year. * The number of horses scratched, from the sale was 724 of the 4,460 catalogued. The 16.2% of outs was down just slightly from 16.6%. To say he was surprised, Russell said, would be a gross understatement. His pre-sale estimates hoped for a gross similar to last year's figure. "Historically, there is a correlation between September and November," Russell said, referring to the sale company's large yearling sale two months prior to the breeding stock auction. "If September is strong, then November is strong. September was strong, but not hugely profitable for breeders. When September is strong, breeders re-invest in November, but remember, this came after three tough years--with MRLS, Sept. 11, and the ice storm--all of which cost breeders money. "Going in, I didn't think we would match last year's gross." Numerous factors, Russell said, seemingly combined to contribute to the overall strength of the November sale: the emergence of Jess Jackson, the fact several major farms needed to replenish stock, the economy, and the breadth of the market. Jackson, the founder of Kendall-Jackson Wine Estates, and believed to be purchasing Mahmoud Fustok's Buckram Oak Farm near Lexington, decided the time was right to fulfill a longtime dream of becoming a Thoroughbred breeder. Represented by Emmanuel de Seroux of Narvick International, Jackson jumped in with both feet. Narvick purchased 95 horses for $21,724,000, nearly all for Jackson. Over the first three days of the sale, Narvick accounted for 10.2% of the gross. Overbrook and Calumet Farm both bought high-priced broodmares and were the underbidders on other costly mares. Overbrook bid on two of the top three prices, going past $4 million on both before stopping. Calumet was active throughout the first four days of the sale. Overbrook ended up spending $1 million for two mares, while Calumet took home three for $1,395,000. Among the other high-profile farms that spent significant amounts were Claiborne Farm, $1,795,000 for three mares; Diamond A, $3,375,000 for three; B. Wayne Hughes in the name Malibu Farm, two for $3,450,000; and Adena Springs, eight for $5,470,000. "This just happened to be a year when many farms were seeking to replenish some stock," Russell said. As Russell pointed out, there were numerous factors connected to the economy. "People have more discretionary income, and there appeared to be a sense of stability with the election being over," he said. "The weak dollar was a factor in both September and November, and the bonus depreciation ends Dec. 31." The strength at the top of the market was evidenced not only by the large number of mares that brought seven figures but also by the fact they were purchased by so many different buyers. Twenty-one different buyers took home at least one mare that cost $1 million or more. It should also be noted that nine females officially listed in the catalogue as a racing or broodmare prospect brought $1 million or more. It can logically be assumed that rarely would one pay such a price and not send his purchase directly to the breeding shed. At the head of this list was Stellar Jayne, bought by Sheikh Mohammed's bloodstock agent, John Ferguson, for $3.6 million. The grade I winner by Wild Rush was sold by Spendthrift Farm as agent. The only buyer to purchase two from this group was Frank Stronach, who paid $1.75 million for Elloluv and $1.25 million for Smok'n Frolic for his Adena Springs. The breadth of the market was shown by the median, both overall and in many of the sessions. For instance, on Nov. 16, the ninth day of the sale, the median advanced 128%, from $4,500 to $10,250. Two days later, the median rose 129%, from $3,500 to $8,000. "We like the median; it's our favorite gauge," Russell said. "It shows that the money is being spread around through the whole sale. The average can be skewed by just a few horses." QUALITY MATTERS One thing is for sure: Buyers are willing to pay a premium for quality, no matter what level. One consignor who saw evidence of that was Craig Bandoroff of Denali Stud, who as agent sold mares owned by Bob and Beverly Lewis. "People want special at any age--weanlings, yearlings, 2-year-olds, or broodmares," Bandoroff said. "That's what brings a premium. "Bob Lewis pays for special as yearlings, and he is reaping the rewards when they come back through the ring following their racing careers." Santa Catarina, who topped the November sale, was purchased by Lewis at the 2001 Keeneland September yearling sale from Claiborne Farm, agent, for $950,000. Lewis raced the daughter of Unbridled to win $645,260, and then bred her to A.P. Indy. She was bought Nov. 9 by Reiley McDonald of Eaton Sales for $4.8 million. The trickle-down effect was on display during the sale, with buyers shut out at one session making the following session that much stronger. One Kentucky farm owner said each November he bids on 30-40 mares and buys one or two. This year, he bid on more than 30 without making a single purchase. The quality lasted to the later sessions of the sale. For example, on the eighth day of the auction, when the average was $29,529, a mare sold for $400,000. "You are better off in some of those later days where your mare will stand out," Crestwood Farm owner Pope McLean said. Speaking on Nov. 17, McLean said, "I thought a couple of mares we sold today did better than they would have two or three days ago because they stood out today." McLean offered yet another reason why the sale was up--the alternative gaming legislation recently passed by several states. "We keep adding states with slot machines," McLean said. "People see that there is a future in this business." Other items of note during the sale: * One weanling brought seven figures, a filly by Unbridled's Song--Helsinki purchased by John Sikura of Hill 'n' Dale Farm for $1,150,000. She was sold by Taylor Made Sales Agency. * Taylor Made, the family operation based in Nicholasville, Ky., was the leading consignor, selling 278 horses for $38,917,700. * The leading covering sire by average (three or more mares in foal) was A.P. Indy. The Lane's End stallion, who stands for $300,000, had seven mares carrying his offspring sell for an average of $2,357,143. * The leading sire of weanlings by average (with three or more sold) was Giant's Causeway. His seven foals averaged $309,286. The leading first-crop weanling sire by average (with three or more sold) was Johannesburg, with 20 sold for an average of $109,700. Both stand at Ashford Stud. * The final figures for the dispersal of Carl Icahn's Foxfield was 51 horses sold for $3,325,000. The horses were consigned by Tom Evans' Trackside Farm, where Icahn always boarded his stock. * Narvick was by far the leading buyer at the sale, the next highest amount the $9.5 million spent by Ferguson.KEENELAND NOVEMBER 2004 FOR THE RECORD
All Buyers
All Consignors
All Weanling Sires
All Covering Sires
Leading Buyers
Leading Consignors



Copyright © 2015 The Blood-Horse, Inc. All Rights Reserved.