NTRA Insurance Panel Schedules First Meeting
by Tom LaMarra
Date Posted: 11/16/2004 8:12:10 AM
Last Updated: 11/17/2004 11:33:48 AM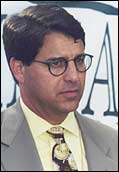 Alan Foreman, among those serving on an NTRA insurance task force.
Photo: File

The National Thoroughbred Racing Association working group on insurance, members of which were named Nov. 16, will hold its first meeting Nov. 22.The Jockeys' Medical Insurance Panel will review current issues involving jockeys and their medical coverage in racing jurisdictions. The panel's purpose is to bring relevant parties together to conduct a systematic review of the facts and practices relating to jockeys' insurance coverage, according to a release. "Our members--representing racetracks, owners, breeders, and other horsemen--have asked us to look into this issue," NTRA commissioner D.G. Van Clief Jr. said. "It's a national issue deserving of a national solution that can only come about through input and involvement by all of the parties involved."The working group has retained the services of Anthony Byergo, an employment law expert for the St. Louis, Mo.-based law firm Armstrong Teasdale.Keith Chamblin, senior vice president of marketing and industry relations for the NTRA, will chair the working group. Details were to be announced Nov. 15, but the NTRA was awaiting a response from the Jockeys' Guild as to its participation.Terry Meyocks, special assistant to Van Clief, was to serve as chairman, but the former president of the New York Racing Association has a daughter who is married to New York-based jockey Javier Castellano. He believed it could be seen as a conflict of interest.Here are the members of the insurance working group:Don Amos (Magna Entertainment Corp.), Greg Avioli (NTRA), Jerry Bailey (jockey), Vicki Baumgardner (Churchill Downs Inc.), Paul Bowlinger (North American Pari-Mutuel Regulators Association), Donna Brothers (retired jockey), Susan Bunning (Kentucky Horsemen's Benevolent and Protective Association), Chamblin, Drew Couto (Thoroughbred Owners of California), Pat Day (jockey), Bob Elliston (Turfway Park), Alan Foreman (Thoroughbred Horsemen's Association), Randy Fozzard (Turf Paradise), Jim Gallagher (Kentucky Horse Racing Authority), Darrell Haire (Jockeys' Guild), Corey Johnsen (Lone Star Park), Jack Knowlton (owner), Dick Mandella (trainer), Dan Metzger (Thoroughbred Owners and Breeders Association), Meyocks, Linda Mills (Florida HBPA), John Milward (Palmer & Cay), Eddie Plesa Jr. (trainer), Lonny Powell (Association of Racing Commissioners International), John Roark (National HBPA), Chris Scherf (Thoroughbred Racing Associations), Steve Sexton (Churchill Downs), David Switzer (Kentucky Thoroughbred Association), John Unick (Maroevich, O'Shea and Coghlan), Van Clief, Rick Violette (New York Thoroughbred Horsemen's Association), and John Ward (trainer).Foreman, chief executive officer of the THA and counsel for the Maryland THA, was involved in the 1985 launch of the Maryland Jockey Injury Compensation Fund, which provides workers' compensation insurance.Foreman outlined a scenario that also played out in New Jersey, and ultimately may be used in other racing states. Because jockeys are considered independent contractors under Maryland law, a mechanism was necessary to create an employer-employee relationship.All licensed owners and trainers are members of the fund, which serves as the jockeys' employer. The annual assessment to owners and trainers is $200, but it could increase a bit because of a declining number of licensees in Maryland, Foreman said."Not only does it work, it's relatively inexpensive," Foreman said. "It solves the problem that's going in Kentucky and other states."Maryland is one of five states--California, Idaho, New Jersey, and New York are the others--that offer workers' compensation insurance for jockeys. In most racing states, up to $100,000 in medical expenses are covered.



Copyright © 2015 The Blood-Horse, Inc. All Rights Reserved.