Popular Jockey Homeister to Quit Riding
by Scott Davis
Date Posted: 11/13/2004 2:23:22 PM
Last Updated: 11/15/2004 8:56:47 AM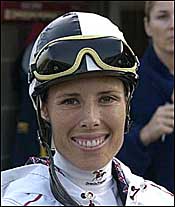 Jockey Rosemary Homeister Jr. to retire and raise family.
Photo: Anne M. Eberhardt

After a career in which she gathered over 1,700 winners and legions on fans, jockey Rosemary Homeister, Jr. announced her retirement from racing on Friday.The 32-year-old South Florida native cited both outside interests and the risks inherent in her profession as factors in her decision. "I had two major falls in three days in September, and I was lying on the track I asked myself do I really want to continue to press my luck?" she said. "I have a lot of plans of other things to do with my life and I want to be able to do it while I'm young and healthy."Homeister is married to fellow jockey Jose Ferrer, and she said the couple is planning on starting a family. A licensed realtor, Homeister will also pursue a career in real estate.The daughter of two jockeys, Homeister grew up around racing and began riding professionally in 1992. Her mounts earned over $1 million in purses that first year and Homeister was honored with an Eclipse Award as the nation's top apprentice jockey. She remains the only female jockey ever to win the award.Among her other career achievements were riding titles at both Calder Race Course and Hialeah Park, a victory in Puerto Rico's most prestigious race the Clasico del Caribe, and a mount aboard Supah Blitz in the 2003 Kentucky Derby.Although that colt could fare no better than 13th in the race, Homeister called it the highlight of her career. "That was when I knew that I had made it," she said.



Copyright © 2015 The Blood-Horse, Inc. All Rights Reserved.