Return to Races in '05 Planned for Kitten's Joy
Date Posted: 11/11/2004 8:57:10 PM
Last Updated: 11/13/2004 2:39:23 PM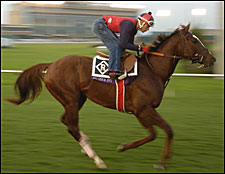 Kitten's Joy, Breeders' Cup Turf runner-up underwent surgery.
Photo: Skip Dickstein

By Steve Byk
Ken and Sarah Ramsey's Kitten's Joy is recovering at Rood & Riddle Equine Hospital in Lexington, Ky. after undergoing surgery Nov. 9 to remove bone chips from his left front knee. The runner-up in the John Deere Breeders' Cup Turf (gr. IT) Oct. 30 had several carpal tips removed from the knee according to Dr. Larry Bramlage, who performed the operation.Kitten's Joy will be moved Nov. 12 to Hub and Kirsten Johnson's Kesmarc in Versailles, Ky., where he will begin rehabilitation for an estimated 60 days under the watch of Ramsey farm manager Mark Partridge. Bramlage, Ramsey and trainer Dale Romans all expressed confidence that the son of

El Prado

, the favorite to be named the 2004 Eclipse winner as top grass horse, will return to the races in 2005. "They have an excellent facility at Kesmarc," said Bramlage, "and the swimming pool and water treadmill will be perfect therapy to return Kitten's Joy to the same level in 2005 that he enjoyed this year." Bramlage had advised Ramsey and Romans that Kitten's Joy should make a 100% recovery because the damage had not affected any surrounding cartilage in the knee."If we didn't think he could continue to be a grade I horse, we wouldn't have done the surgery," he said, adding that Kitten's Joy has been, "a wonderful patient," and "has done everything we've asked the same way he runs."Ramsey took the setback in stride, already planning a five-race 2005 campaign for Kitten's Joy, who won six of his eight starts this year, amassing winnings of more than $1.6 million. After the two months at Kesmarc, Kitten's Joy will reunite with Romans at Palm Meadows in Boynton Beach, Fla. to prep for the Woodford Reserve (gr. IT) at Churchill on Derby Day. According to Ramsey, a successful return there would be followed by starts in the Manhattan (gr. IT) on Belmont Stakes day; the Arlington Million (gr. IT), in August; the Prix de l'Arc de Triomphe (Fr-I) and a return to the Breeders' Cup Turf (gr. IT) at Belmont."There's always a risk when you operate," said Ramsey, "but we feel the prognosis is excellent and that he's all cleaned up." Ramsey said he had briefly considered retiring Kitten's Joy so that he could be immediately included in the upcoming breeding season. "We already have several interested parties but haven't sold anything yet," he said. "Frank Stronach (Adena Springs), the Japanese, and several area farms have been talking to us about standing him. Plus we've got our own farm, so we'll just wait and see."For trainer Romans, a 60-day vacation was in the plans anyway for the Secretariat and Turf Classic (both gr. IT) winner. "He was going to get a couple months off after all the hard running he'd been doing," said Romans from his Churchill Downs base. Romans is fairly sure the injury occurred in the roughly run Turf because Kitten's Joy had shown no signs of distress leading up to the race. The colt finished second behind Better Talk Now."He trained and looked great according to everyone," said Romans, "but the knee started to fill up over the next three days after the race, and when we took the X-rays it was obvious."Having enjoyed his best year as a conditioner with Kitten's Joy and the Ramsey's Roses in May, Romans said he is anxious and excited at the prospects for next year despite the injury and was thrilled that the breeding shed still appears a ways off for his charge. "We certainly don't want to cheapen him," said Romans, "but from what Dr. Bramlage told me I'm confident we'll get the same horse back. Mr. Ramsey's about racing. He wants to run them."



Copyright © 2015 The Blood-Horse, Inc. All Rights Reserved.