Kentucky Breed Development Program Sought
by Tom LaMarra
Date Posted: 11/10/2004 5:28:03 PM
Last Updated: 11/13/2004 2:36:19 PM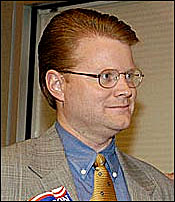 Kentucky state senator Damon Thayer.
Photo: Associated Press

As the Kentucky breeding industry continues to suggest it's under siege from competition in other states, legislation that would shift millions of dollars in existing tax revenue into a Thoroughbred breed development program looms a good possibility for 2005.Sen. Damon Thayer, who co-chairs the Interim Joint Committee on Agriculture's Subcommittee on Horse Farming along with Rep. Susan Westrom, said he believes the about $14 million currently raised through a tax on stud fees could be shifted to support a breed development program. Currently, only owner awards are available through the Kentucky Thoroughbred Development Fund, which is worth about $9 million a year.The Subcomittee on Horse Farming met Nov. 10 in Frankfort, the state capital. Dennis Brida, executive director of the New York Thoroughbred Breeders, and Tom Early, secretary/treasure of the Louisiana Thoroughbred Breeders Association, were on hand to offer information on programs in their respective states.Thayer said his original plan was to push for elimination of the 6% tax on stud fees. But after some investigation, he said some breeders supported keeping the tax but shifting the revenue from the state's general fund to a Thoroughbred breed development program."They don't like to pay the tax, but they would pay it if it was used to create a breed development program," Thayer said. "We need to compliment our (KTDF) program. Most of the breed development money in New York is generated by the industry itself. My position right now is we have money available that would make for an excellent program."The New York Thoroughbred breed development program is worth about $14 million, though that figure is expected to grow when revenue from video lottery terminals at Aqueduct is realized. Brida said VLTs at Finger Lakes Gaming & Racing in western New York this year would generate about $1 million for breed development. Annual purses there have jumped from $14 million to $28 million.Brida noted there are no sales taxes on horses or farm machinery in New York. In addition, the state offers incentives to people who want to start horse farms. In Kentucky, horses sold at auction are taxed--unless someone from out of state buys them and ships them elsewhere."It's bad business when you give an incentive for people to remove horses from Kentucky to avoid a sales tax," Thayer said. "It's a big enough loophole to drive a horse van through."Thayer, who is pushing for tax modernization, said elimination of taxes on feed, fencing, and equipment would amount to a meager $9-million hit to the general fund. But the total $23 million that could be reinvested in horse breeding would have major ramifications for the industry.A breed development program would perhaps offer bonuses for breeders and stallion owners but wouldn't contribute to base purses. When asked if racetrack gaming would still be pursued should a breed development program be implemented, Thayer said: "That's a completely separate issue."Thayer, as well as the Kentucky Equine Education Project, supports expanded gambling only if it's pursued in the form of a constitutional amendment. The 2005 General Assembly session is "short," so 2006 is the earliest racetrack casinos could be pursued via referendum."We need to do something now," Thayer said."It's a proven industry," Westrom said. "We don't need to experiment. The industry is in jeopardy, and probably the most highly competitive in our state. We have to do everything we can to provide incentives."The annual economic impact of the horse industry in New York is about $2 billion. Early said in Louisiana, the number is about $1.8 billion. Louisiana has four racetracks, three of which have slot machines.Though incentive programs in those states continue to grow, attracting high-level stallions remains a challenge. Early said Afternoon Deelites, who used to stand in Kentucky, commands $4,500, the highest fee in Louisiana. Brida said Phone Trick, another former Kentucky stallion, tops the New York list at $25,000."Even though there is a band of quality mares in New York, people who have significant funds in Kentucky always seem to make a better offer for a stallion," Brida said. "The only place to command high fees is Kentucky."The Subcommittee on Horse Farming is in its second year. The meetings are held to educate lawmakers on the economic impact of the horse industry.



Copyright © 2015 The Blood-Horse, Inc. All Rights Reserved.