Bumpy Ride
by Ray Paulick
Date Posted: 11/10/2004 10:42:03 AM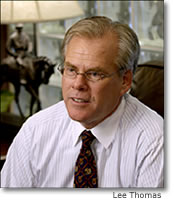 Ray Paulick
Editor-in-Chief


The Nov. 7 dispute between a group of riders and the management of Churchill Downs was not the first and surely will not be the last time jockeys have taken action to express displeasure with their plight. The Churchill Downs riders who boycotted entries for Nov. 10-11 are unhappy over the insurance policy under which they are covered. The policy covers up to $100,000 of a jockey's medical bills. The same policy is in place at racetracks throughout the country, with large and small tracks each paying a premium of $1,000 for each day of live racing. Those premiums have more than doubled in 10 years and are likely to jump by 20% next year, according to Chris Scherf, who as executive vice president of the Thoroughbred Racing Associations has negotiated previous insurance contracts with the Jockeys' Guild. In California, New York, New Jersey, Maryland, and Idaho, jockeys are also covered under workers' compensation, even though they are considered independent contractors and not employees of the owners who pay them to ride their horses. The last significant strike by jockeys came in 1988, when 30 riders in New York refused to ride until mount fees were increased for second- and third-place finishes. That strike lasted 13 days but did not shut down racing. A sufficient number of jockeys, many of them from other states, crossed picket lines to pick up mounts during the walkout. There is no impasse between the Jockeys' Guild and the TRA, according to Scherf. The last contract negotiation was in December 1999, when the two parties signed a three-year deal in which racetracks agreed to fund the $100,000 insurance policies and pay an aggregate $2.2 million to the Guild each year. There were no restrictions on how the Guild spent that money. That deal has expired, though tracks continue to pay the insurance and the cash to the Jockeys' Guild. John Giovanni was head of the Guild when that contract was signed. The longtime Guild executive was cast aside by Chris McCarron and several other jockeys in a June 2001 coup d'etat that brought in Wayne Gertmenian, a professor at California's Pepperdine University, along with his consulting firm, Matrix Capital Associates. Under Gertmenian, the Guild has increased membership, though qualifications to join have dropped from a minimum 100 mounts per year to one. A Giovanni-era excess insurance policy that covered medical bills over the $100,000 threshold has been dropped under Gertmenian. The Disabled Jockeys' Fund, which previously had as much as $1.3 million in it, is believed to have been depleted since the hiring of Gertmenian. Scherf said the Jockeys' Guild has expressed no interest in negotiating a new policy with racetracks. "We've agreed to discuss some safety issues together," he said. "But the Guild has a whole new proposal that asked for many things that were not in the purview of the racetracks." Gertmenian, who did not return phone calls to The Blood-Horse, was quoted in the New York Daily News as saying he will wage a state-by-state battle in the 33 racing states that do not offer workers' compensation. In that same article, he said he has lined up 34 attorneys to work pro bono on behalf of the Guild and will begin filing lawsuits when the number of attorneys reaches 50. Gertmenian has convinced many riders their organization is a "sleeping giant," and that they are not getting adequate compensation from the growth in simulcasting. McCarron, since retired and working for Magna Entertainment, has had a falling out with Gertmenian. A number of jockeys and their wives are beginning to question the Guild's finances. Churchill jockeys are unhappy with their plight. They might look within their own organization to discover how they got there.



Copyright © 2015 The Blood-Horse, Inc. All Rights Reserved.