Ayes for Texas
by Ray Paulick
Date Posted: 11/2/2004 1:56:27 PM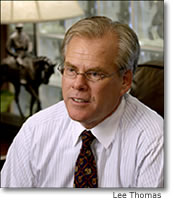 Ray Paulick
Editor-in-Chief


Lone Star Park was a sight to behold Oct. 30 when the Breeders' Cup World Thoroughbred Championships came to town. An enthusiastic crowd of 53,717 horse lovers from around the world was on hand to take part in the most important day in the history of the Texas racing industry. Only the wildest of dreamers among the architects of the Texas horse racing revival of the 1990s could have imagined a day like this in the Lone Star state. Texans would still be driving to Louisiana or Arkansas to follow their passion for horses if not for people like Quarter Horse icon B.F. Phillips, members of the Kleberg family, David and Joe Straus, Josephine Abercrombie, Mike Rutherford, Stanley Beard, Bill McMorris, Dr. Charlie Graham, Arthur Seeligson, Harold Goodman, Johnnie Jones Jr., and so many others who lobbied to bring pari-mutuel wagering back to their state. They persevered from one legislative session to another, from one roadblock to another. Different breed organizations put their individual agendas aside. Egos dissolved. In 1987, working together, the horse industry of Texas got the job done, with enabling legislation for a statewide referendum that passed by a 57-43 margin. But Texas wasn't quite ready for world-class racing. The legislation that passed included what the industry soon discovered was a burdensome tax of 5% on wagers. Texas horsemen who would rather have been back on their ranches breeding, raising, and training Thoroughbreds and Quarter Horses instead found themselves in Austin, lobbying legislators for tax relief. Jim Helzer, Ed Dodwell, Dr. Bobby Lewis, and Jeff Hooper were among those who led the effort to get the clean-up legislation passed in 1991. Things began to come into focus with the opening of the first Class 1 track in Texas, Sam Houston Race Park in Houston in 1994. Retama Park opened in San Antonio in 1995, and the final Class 1 licensee, Lone Star Park in Grand Prairie, opened its doors to live racing in 1997. Within a year, Lone Star Park's Corey Johnsen was publicly stating his case for hosting the Breeders' Cup. In a commentary in this publication ("The Final Turn" of Oct. 31, 1998), Johnsen wrote that "one of our long-range goals is to host the Breeders' Cup Championship day. It is a goal which gives us direction with every decision we make." Johnsen stuck to his vision, similar to how the pari-mutuel proponents brought big-time racing back to Texas after a half-century ban. All are to be congratulated. While some have passed away, many of those early pioneers were at Lone Star for a firsthand view of the proceedings. One who couldn't be there was Stanley Beard, the former Texas Thoroughbred Breeders Association president who was one of those working in the trenches to make it happen. Beard, 74 and slowed by six heart bypasses, a pacemaker, four back surgeries, and multiple seizures, watched the NBC telecast from his Kerrville, Texas, home with a great deal of interest and more than a little pride. "Goodness, yes, I watched," said Beard. When he saw returning Texans like Todd Pletcher and Steve Asmussen on the telecast, it reminded him of what they were fighting for so many years ago. "I knew them when they were little kids," he said. "It made me realize how far we've come. We had a lot of difficulty, a lot of adversity. We've got adversity now, too, with our neighboring states (Louisiana and New Mexico) holding a big advantage over Texas with their slot machines. But I think we'll get there. There are good people involved now, many of them have been in the horse business a long time. And we've got some young people who are a real asset." If the new vanguard is anything like the old one, they will get the job done. And if that's the case, the Texas horse industry has a very bright future--one that should include many return engagements of the Breeders' Cup.



Copyright © 2015 The Blood-Horse, Inc. All Rights Reserved.