Turf Recap: Tough Talk
Updated: Tuesday, November 2, 2004 1:48 PM
Posted: Tuesday, November 2, 2004 1:48 PM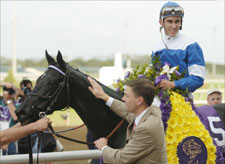 Photo: Skip Dickstein
Better Talk Now has the final say in this year's Turf.
They got down and dirty in the John Deere Breeders' Cup Turf (gr. IT), turning the Sport of Kings into a rip-roaring, Texas-style rodeo. With front-running Star Over the Bay starting to fade, Powerscourt charged to the front on the final turn. Then Better Talk Now attacked from the outside, cutting in front of Magistretti. Meanwhile, the 7-10 favorite, Kitten's Joy, frantically swung his head to the left and right, looking for running room as the field headed to the wire. It was a brawl to the finish, with Better Talk Now and jockey Ramon Dominguez bulling their way to a 13/4-length victory, leaving angry riders in their wake. The accounts of what happened during the controversial finish conflicted significantly. John Velazquez, aboard Kitten's Joy, complained his colt had been struck "pretty hard" by Better Talk Now. "It completely stopped our momentum," Velazquez claimed. "It really cost me the race, I believe." Edgar Prado, the rider of Magistretti, thought both Better Talk Now and Kitten's Joy were at fault. "The horse on the inside, Kitten's Joy, tried to get out and find some room," Prado said. "And the other horse (Better Talk Now) was coming in. It put me in a bad spot, so I had to take up a little bit." Dominguez maintained that he and his mount were innocent, even though the bay gelding has a reputation for wanting to lug in at the end of his races. "I feel like I just basically held my ground," Dominguez declared. "I had full control of my horse at all times." However, the official chart for the $2-million Turf told a different story in its written account, stating that Better Talk Now "charged to the front while drifting in slightly at midstretch." It also said that there was contact between Powerscourt, who drifted out, and Better Talk Now. Stepping in to sort out the mess, the stewards conducted an inquiry and ruled that it didn't matter who got bumped, who ducked in, or who ducked out. They allowed Better Talk Now's victory to stand. Kitten's Joy wound up second, finishing a length in front of Powerscourt while Magistretti was another 21/4 lengths behind in fourth. "Even though the betting public could see there were some problems there, we felt that the five horse (Better Talk Now) was obviously going to win the race, and it didn't really affect the (final) placing of the horses," explained one of the three stewards, Chuck Nuber. "The four horse (Kitten's Joy) comes on and finishes second, about the best that it was going to finish. It was a little rough, but it was the correct order of finish." As a result, Dominguez and Better Talk Now's other connections--trainer H. Graham Motion; owners Brent Johnson, Karl Barth, and Chris Dwyer of Bushwood Racing Partners; and breeder Wimborne Farm--all became first-time Breeders' Cup winners. Earlier in the day, Motion had saddled Film Maker, with Velazquez up, to finish second in the VO5 Breeders' Cup Filly & Mare Turf (gr. IT) and Dance Away Capote to finish fifth in the Breeders' Cup Juvenile Fillies (gr. I) while carrying Dominguez. "It was cruel waiting for the stewards' inquiry because we've been through this with this horse before," said Motion, a 40-year-old native of England, following the 11/2-mile Turf. "I wasn't actually clear what had happened, but knowing his antics, I was very worried." At 27-1, Better Talk Now had the second-highest odds of the Breeders' Cup winners on the Oct. 30 World Thoroughbred Championships program at Lone Star Park, and he beat the heaviest favorite in Kitten's Joy. A 3-year-old son of El Prado, Kitten's Joy had notched six victories in seven outings this year prior to the Breeders' Cup. Known for his devastating closing kick, the colt came into the Turf off a 21/2-length victory against older rivals in the Joe Hirsch Turf Classic Invitational (gr. IT) at Belmont Park. Hall of Fame trainer Bobby Frankel, who does not condition the flashy chestnut colt, called Kitten's Joy "the best American turf horse I've seen in at least 10 years, maybe more." Ken Ramsey, who races the homebred colt in partnership with his wife, Sarah, said Kitten's Joy is so good he "might have mystical qualities." Better Talk Now, a 5-year-old son of Talkin Man, had no such rave reviews. The Bushwood partners purchased the colt privately from Diane Perkins of Wimborne during the summer of 2002, just after Better Talk Now had broken his maiden by nine lengths while running for the first time on grass. He won two allowance races for his new owners that year, then picked up victories in the Knickerbocker Handicap (gr. IIT) at Aqueduct and the Eight Thirty Stakes at Delaware Park in 2003. But all was not well because Better Talk Now had some behavioral problems. "Last year, we ran him in the Arlington Handicap (gr. IIIT), and he lost to Honor in War by a neck," said Bushwood's Johnson, an investment adviser who lives in Virginia. "Pretty much the entire run through the stretch, he was trying to lug in to the left. Rene Douglas was riding him that day, and he really couldn't ride him out because he was having to steer the entire time. "It had happened a couple of times before, but in races that were a little bit weaker, so he could get away with it. This time, when he lost by a neck, we knew we had to do something about it. Graham came up with a full cup blinker on the left side, and that has seemed to help him out." Better Talk Now opened his 2004 campaign in Texas following a more than five-month break from competition. The race was a disaster, with heavy rain turning the turf course into a bog and the gelding finishing eighth in the 11-horse field for the John B. Connally Breeders' Cup Turf Handicap. He also struggled again in the Argent Dixie Stakes (gr. IIT) at Pimlico, beating only two of his 10 rivals. Journeying to Monmouth Park, Better Talk Now showed improvement by taking second in the Battlefield Stakes. Next, in the Bowling Green Handicap (gr. IIT) at Belmont Park, he was the runner-up to Kicken Kris, who would later win the Arlington Million (gr. IT) following the disqualification of Powerscourt. "It was a turning point," said Motion of the Bowling Green. "He finally came around and got back to being his old self. He's not an easy horse to ride. He needs to relax off the pace and be covered up." In the Sword Dancer Invitational Handicap (gr. IT) at Saratoga, Better Talk Now found his groove, rallying to defeat United Nations (gr. IT) winner Request for Parole by 11/2 lengths over a yielding course. Back at Belmont, Better Talk Now followed that effort with a fourth in Magistretti's Man o' War Stakes (gr. IT). "He might have regressed a little bit in the Man o' War, coming off that big race in the Sword Dancer," Motion said. "That's why we decided to skip the Joe Hirsch (Turf Classic) and come straight to the Breeders' Cup." Motion and the Bushwood partners didn't believe they had a superstar, but they thought this year might be the right time to tackle the Turf. They predicted that some European trainers would be reluctant to run their best horses because of their unfamiliarity with Lone Star, the possibility of hot weather, the probability of firm turf, and the track's tight turns. And Better Talk Now's connections were right. The Turf had only eight runners, equaling its lowest turnout ever in 2002. The only starter who came into the race straight off a European effort was Powerscourt, who had finished third in the Baileys Irish Champion Stakes (Ire-I) Sept. 11. The Sadler's Wells colt also had a victory in the Tattersalls Gold Cup (Ire-I) to his credit this year. Even though a pulled muscle slowed him down after the Champion Stakes, Powerscourt attracted plenty of betting support in the Turf, going off the second choice. The race lost one of its strongest candidates when trainer Ed Dunlop and owner Lord Derby decided to send Vodafone (Eng-I) and Darley Irish (Ire-I) Oaks winner Ouija Board to the Breeders' Cup Filly & Mare Turf (gr. IT), where she triumphed by 11/2 lengths. "I wasn't sure we were going to win the Turf, but I thought we could run well," Johnson said. "This might have been a year that was a little below average for the Turf. The division just wasn't that strong, and I wasn't convinced Kitten's Joy was quite as strong as everyone thought. Don't get me wrong. He's a very nice horse, but he had been running mostly against other 3-year-olds. In the Turf Classic, the pace was very slow and he got a pretty good trip. I was impressed with his turn of foot, but I felt we had enough horse that he had earned the opportunity to at least give it a try." However, Better Talk Now almost didn't make the trip to Lone Star. On Friday, Oct. 22, at the Fair Hill training center in Maryland, the gelding worked seven furlongs over a wood chip track. His time, according to Johnson, was 1:34, a disappointment. "I talked to Graham, and he told me the breeze was OK," Johnson said. "But I've been with him long enough to know that he didn't really think it was OK, so we talked long and hard about it. Graham said that he (Better Talk Now) was super the whole week leading up to the work. He was full of himself, eating very well, and was very aggressive in his gallops. Graham was looking for a big breeze and didn't get it. I told my wife there was less than a 50-50 chance that we were going to the Breeders' Cup. "Graham and I expected that we would find a problem over the weekend," Johnson continued. "But he came out of his work super, and we couldn't find anything." The two men finally concluded that the surface of the Fair Hill track probably was the culprit instead of illness or injury. "They had redone the entire surface recently and laid down all new chips," Johnson said. "For him, 1:30 or 1:31 was a typical breeze over the old chips. Because we couldn't find a health issue, we decided he didn't handle the new surface very well; it was much looser than the old one." Better Talk Now arrived in Texas four days before the Turf, attracting little attention. Reporters crowded around Kitten's Joy's barn, where the Ramseys handed out red and white buttons printed with Kitten's Joy's name and answered numerous questions. Over where Better Talk Now was stabled, Motion's mornings were quiet, with only an occasional writer interrupting his work. Heavy rains earlier in the week were fortified by a storm the night before the Breeders' Cup, leaving the grass course with a yielding surface. But race day was warm and sunny, a great improvement over the weather during Better Talk Now's earlier Texas visit. The gelding galloped along in last early in the Turf while California grade I winner Star Over the Bay shot to the lead. Pressed by no one, he strolled though comfortable fractions of :24.90, :49.16, and 1:13.96. He led by 31/2 lengths after a quarter-mile and by five after a half. But as Star Over the Bay completed a mile, his lead was rapidly shrinking. "The course was way too deep," said the gelding's jockey, Tyler Baze. "Every time he took a step, it felt like he went down eight or 10 inches. Every time I would give him his head and ask him to run, he would fall down, so then I had to pick him up and he'd start running again. But he just didn't like the course." Star Over the Bay faded to the rear of the pack while Better Talk Now, Kitten's Joy, Powerscourt, and Magistretti battled each other in the race's closing stages. Better Talk Now stopped the clock in 2:29.70, more than a second slower than the Lone Star course record of 2:28.20 and nearly six seconds slower than the Breeders' Cup Turf mark of 2:23.92, set by Chief Bearhart at Hollywood Park in 1997. While heavy traffic seemed to be Kitten's Joy's biggest problem, Velazquez reported that the colt did not cope well with Lone Star's mushy course. "He was having a hard time today with the ground," the rider said. "He tried, but it was way too wet. He didn't fully give it up, but when I slapped him a couple of times he didn't quicken like he usually does. When I got after him around the quarter pole, he got brave and finally started running, but then he had to stop (because of traffic)." But even though Kitten's Joy lost the Turf, trainer Dale Romans was still hoping the colt could win the Eclipse Award. "He wasn't getting hold of the track, but he tried the whole way," Romans said. "He's incredibly game, and he showed the heart of a champion. I think he's definitely the (male) turf champion. I don't see how anyone could vote any other way."
FREE! E-Newsletters from The Blood-Horse!...
Follow the top stories of major racing events, racing previews and results with FREE e-newsletters from bloodhorse.com. As news develops, we'll deliver updates to your inbox. Follow important events moment by moment, step by step!