Sprint Recap: Classy Call
by Leslie Deckard
Date Posted: 11/2/2004 1:47:13 PM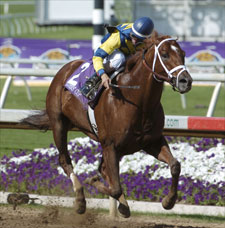 Speightstown makes his case as champion sprinter.
Photo: Skip Dickstein

In the days prior to the Oct. 30 Breeders' Cup Sprint (gr. I) trainer Todd Pletcher was dogged with questions about Speightstown's chances of being named champion sprinter. The soft-spoken Texas native would only say that Speightstown would have to win the six-furlong race in order to be considered a champion. It seems as if the 6-year-old son of Gone West was listening while his trainer gave those interviews because he won on the biggest stage of Thoroughbred racing, giving Pletcher his second Breeders' Cup score in the span of about an hour and 15 minutes--having won the Breeders' Cup Distaff - Presented by Nextel (gr. I) with Ashado--and providing his owners, Eugene and Laura Melnyk, their first win in five Breeders' Cup attempts. Early in the year Speightstown was considered the class of his division and a strong candidate to earn the Eclipse Award, but a defeat in the Vosburgh Stakes (gr. I) at the hands of Pico Central placed that Brazilian-bred horse at the top of the points list. The only blemish on Pico Central's record was a loss to Breeders' Cup Sprint starter Kela--who subsequently finished second to Speightstown in the Sprint--in the Pat O'Brien Breeders' Cup Handicap (gr. II), giving both one loss apiece this season and setting up a dual at Lone Star Park in Texas. The owner of Pico Central, Gary Tanaka, chose not to enter his son of Spend a Buck, citing the $120,000 supplemental entry fee it would require to get him in the gate. Instead Pico Central's championship hopes rest on his performance in the Nov. 27 Cigar Mile (gr. I). "Both Pico Central and Speightstown have lost one race this year," Pletcher said. "They are both of the highest quality, and what I feel should be everyone's opinion, today is the world championship. This is the race; this is the setting where you bring everybody together and lay it all on the line for a million dollars. In my eyes, this is the race, that if it's close, this separates the closeness. Pico Central may or may not win the Cigar Mile. Speightstown showed up and showed he was the best winner of everybody that was in the world championship event." And show up he did. With regular rider John Velazquez aboard, Speightstown, the 7-2 second choice in the field of 13, slipped through along the rail at the top of the stretch, then pulled away to win by 11/4 lengths, covering the six furlongs in 1:08.11. "He didn't break as well as I wanted him to, but I took a little bit of a hold to get a good position," said Velazquez, also aboard Ashado for her win. "I had to take advantage of the inside. He wasn't taking that much dirt in and the hole was there. When I had the hole, I had to squeeze him in there. From then on, it was all him." Leaving the gate, it was Dubai Golden Shaheen (UAE-I) winner Our New Recruit who broke the quickest, but Maryland-based Abbondanza took the early lead and set a quick early pace of :21.23 for the quarter-mile. Cuvee, Gold Storm, and Speights-town tracked the leader and the group sped down the backstretch. The half-mile went in :43.47. Turning for home, Speightstown and Gold Storm made their way to the front, with Speightstown holding his ground inside to wear down the locally-based sprinter. Speightstown quickly grabbed the lead, opening up a 11/4-length lead after hitting five furlongs in :55.56. Outsider My Cousin Matt, at 60-1, came from mid-pack to move up into second in the stretch, but the late-running Southern California-based Kela came charging from the back of the pack to overtake the longshot and hold steady for second, three-quarters of a length better than My Cousin Matt. "They told me he wouldn't run with dirt in his face and to keep him clear, but I didn't want to lose ground all the way around, so I waited for the turn to home," said jockey Jerry Bailey who was aboard Kela. "Then you have a short stretch where you have got more of a problem with a horse that won't run into dirt. We just ran out of ground." Jockey Edgar Prado urged 7-2 favorite Midas Eyes early in the race, but he didn't respond. It was later discovered both he and Cajun Beat had bitten their tongues, and Midas Eyes also ran down. The Steve Asmussen-trained Bwana Charlie was fourth, followed by last year's winner Cajun Beat, Clock Stopper, Champali, Pt's Grey Eagle, Gold Storm, Midas Eyes, Abbondanza, Our New Recruit, and Cuvee. "Today, he didn't break sharply, but he didn't fall out of there," Pletcher said of the winner. "In the Vosburgh he was on his head the first three strides and couldn't get his feet up underneath him. The track was cupping away from him. He is normally an exceptionally quick horse and a good gate horse." Pletcher, who now resides in New York, had a very good homecoming to the Dallas-area track. The day before the Breeders' Cup, the Pletcher-trained Pollard's Vision won the Lone Star Derby (gr. III) by a half-length and he watched as Ashado asserted herself in an impressive win in the Distaff. Pletcher also saddled Proud Accolade and Newfoundland to unplaced finishes in the Bessemer Trust Breeders' Cup Juvenile (gr. I) and Breeders' Cup Classic - Powered by Dodge (gr. I), respectively. Also on Breeders' Cup day, Pletcher watched via simulcast as Melnyk's Chilean-bred Host won the 11/8-mile Knickerbocker Handicap (gr. IIT) at Aqueduct, marking his first win since being imported to this country in February. "A lot was said about getting the first one (Breeders' Cup win) and getting it over," Pletcher said. "You have to show up with the right horses at the right time. We took a shot at some races in the past with horses that were considered longshots. I didn't think they necessarily performed badly. Statistics can be a little deceiving sometimes. You have horses run wild, and just don't win it, but hopefully that monkey is off our back for good now." Patience in earning their first Breeders' Cup win and patience with horses are something both Pletcher and Melnyk know a lot about. The first time the two men met also required a lot of patience and understanding. Melnyk said he called Pletcher, saying he was new to the business but very interested. The duo arranged to meet in New York City at 7 p.m. Melnyk arrived at 6:30 and became upset when his potential trainer had failed to arrive in 20 minutes. "I was walking out toward a cab when Todd walked up," Melnyk said. "I asked where he had been and why he was so late. Todd looked at me and said, 'What do you mean? I am five minutes early.' " Melnyk told Pletcher to jump into the cab so the two could talk business while Melnyk went to his next appointment. "That was the best $6 cab ride I have ever taken," Melnyk said. Speightstown missed nearly two years of racing--from his 3-year-old to his 5-year-old season--and only made two starts last year due to minor ailments. Melnyk said there was a time, even earlier this year, when he considered sending the regally-bred chestnut horse to stud duty early. He sold a 50% interest in Speightstown to the partnership of Bill Casner and Kenny Troutt's WinStar Farm and the Taylor family's Taylor Made Farm in mid-September with plans to stand him at WinStar Farm near Versailles, Ky., at the conclusion of his racing career. Speights-town was to be shipped to WinStar Nov. 1, with a stud fee expected to be announced in the coming weeks. "It was a big deal for us to partner up and acquire Speightstown, because it is so hard to land a stallion these days," said Frank Taylor, Taylor Made Farm manager, where Speights-town was foaled and prepped for the yearling auction market. "The fact that he is by Gone West and out of a Storm Cat mare, he has all the credentials to become a top stallion and he met all of the criteria we look for in a stallion prospect. He is brilliant, his conformation was impeccable, and he was a $2-million yearling," Taylor said. Melnyk is the chairman of the pharmaceutical company Biovail Corp., and the owner of the National Hockey League's Ottawa Senators, in addition to owning Winding Oaks Farm near Ocala, Fla. He has believed in Speightstown since purchasing him for $2 million at the 1999 Keeneland July yearling sale. He bought him from the Taylor Made Sales Agency consignment, agent for breeders Aaron and Marie Jones, who also bred Ashado. Speightstown was the third-highest-priced colt of that auction and has become the most accomplished of the top three prices. The Joneses, who reside in Oregon, are well versed in producing champion runners, having bred or raced such outstanding horses as leading sire Forestry, Forest Camp, and Riboletta. "I learned a lot with the experience with Speightstown," said Melnyk, who named the horse after a port city on his home island of Barbados. "And what I learned is not to push a horse when he is not ready. We really believed that he was ready as a 2-year-old and we pushed a little bit, and finally nature took its course and said 'forget about it; pack it in' and we did that. "I know Todd knows this, and all the trainers we work with know this, the moment a horse shows any sense of fatigue or distress, bring him to the farm, give him a little time. The end result is you can win a Breeders' Cup that way. I am lucky enough to have the fortune of having some great horses and the patience with the trainers on the farm and the trainers at the racetrack. Just give a horse time and eventually he will blossom into what you always dreamed he would be." Patience also paid off for the connections of Kela, owner Jay Manoogian and trainer Mike Mitchell. Manoogian privately purchased Kela in late 2003 from the Joneses, who bought the son of Numerous for $150,000 from the Taylor Made consignment at the 1999 Keeneland September yearling sale. After paying $100,000 for Kela, Mitchell suggested the horse be sent to Bobby Mitchell's Bonnie Acres Farm in Southern California for a rest. "He was just a tired horse when he came to us," Manoogian said. "It was hard to do, but I trusted Mike so we sent him to the farm until Mike thought he was ready to return to the track." Kela began to blossom in April when he won the Texas Mile (gr. III) over the Lone Star surface. He then became a force to reckon with at Del Mar, winning the Bing Crosby Breeders' Cup Handicap (gr. I) and followed up with a win in the Pat O'Brien Breeders' Cup Handicap. "After he beat Pico (Central) I knew he belonged in the Sprint," Manoogian said. "I believe his best distance is anywhere between six furlongs to mile, maybe more. He is a very versatile horse so we have a lot of options with him." Manoogian, who has been in the Thoroughbred business for four years and owns six horses, said getting to the Breeders' Cup was beyond his belief. "In six years I have had a starter in the Kentucky Derby (gr. I, Quintons Gold Rush) and now to have Kela in the Breeders' Cup is like a dream come true," said Manoogian, who owns and operates Preferred Property Maintenance. Quintons Gold Rush, who is trained by Asmussen and owned in partnership with the Sanan family's Padua Stables, will return to racing during Churchill Downs fall meet. Concerning Kela's runner-up effort to Speightstown, Manoogian said he was pleased with his horse's effort. "He was getting there," he said. "He was ready to run once he got his head out of the dirt. He just ran out of room." Kela and Pico Central may meet again in the Cigar Mile, but Speightstown will head to Kentucky for a stallion career while his connections wait for Eclipse Award ballots to be counted.



Copyright © 2015 The Blood-Horse, Inc. All Rights Reserved.