Mile Recap: Single Minded
Updated: Tuesday, November 2, 2004 1:46 PM
Posted: Tuesday, November 2, 2004 1:46 PM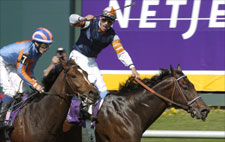 Photo: Skip Dickstein
Singletary muscles past the competition to win the Mile.
It wasn't hard to spot the connections of Singletary at the post position draw three days prior to the Breeders' Cup World Thoroughbred Championships. Amid a sea of dark suits and conservative ties, trainer Don Chatlos Jr. and Little Red Feather Racing syndicate manager Billy Koch commandeered a center table while dressed in Chicago Bears jerseys bearing the name and number (50) of their horse's namesake, accessorized with athletic wristbands. It was equally easy to spot 10 of the syndicate members when their horse opened up a winning margin steaming down the Lone Star turf en route to winning the Oct. 30 NetJets Breeders' Cup Mile (gr. IT). They were raising hell up on the balcony of a second-floor dining room overlooking the winner's circle, screaming themselves hoarse, and turning the racetrack into the host for their unique brand of frat party. "We're very undignified--we scream and holler like we won the Super Bowl. Hey, we're having the time of our lives," said syndicate member Marc Madnick before the Mile. The winner's circle celebrations, courtesy of Singletary, waged by the 13 syndicate partners are well known up and down California. But the Breeders' Cup represented a whole new level. In the words of Texas rockers ZZ Top: They're bad, they're nationwide. The Mile was widely believed to be the most contentious on the Breeders' Cup card. Nineteen horses were pre-entered for a chance to take down the pot, swelled from $1.5 million to $1.68 million by supplements. A full field of 14 eventually faced the starter, a salty contingent that nearly to a horse could claim realistic designs on the top prize. Defending champion Six Perfections, the French filly who won the 2003 edition at Santa Anita, was back attempting to become the fourth horse to repeat as champion of the race. Fellow Europeans Diamond Green, Whipper, and Antonius Pius bucked the anti-warm weather prejudice of the Old Country to take their shots. Bobby Frankel sent out Ken and Sarah Ramsey's Shadwell Turf Mile (gr. IT) victor Nothing to Lose. Two-time Mile conqueror Julio Canani came with a pair of bullets, veteran Special Ring and Del Mar wonderhorse Blackdoun, and Canadian Soaring Free and New York's Artie Schiller joined the party. If any of them were doing less than well leading up to the race, it was not evident from their morning gallops over Lone Star's dirt and grass courses. Irish trainer Aidan O'Brien spoke for all when he commented, "The place is lovely, and everything has been done to make it comfortable for humans and horses." Also inhabiting a worry-free zone was California-based Canani, who brushed aside any suggestions that track condition or post position could play a part in the outcome. "We've done all we can do; the horses are doing fantastic. I don't want to talk about this or that. Let's run the race and see what happens." Chatlos named Singletary after the Hall of Fame middle linebacker, now an assistant coach with the Baltimore Ravens. Not initially a racing fan, Singletary has been kept up to date on the horse's accomplishments, and was very excited his name was being carried into racing's version of the Super Bowl. The horse races in Chatlos' silks, which consist of the Bears colors with their logo 'C' on the back. Chatlos was hardly a marquee name in the Mile, not compared to competitors such as Frankel, Canani, O'Brien, Bill Mott, Andre Fabre, Pascal Bary, and Jimmy Jerkens. The 39-year-old from the south side of Chicago grew up a track rat thanks to his father, a trainer on the Illinois circuit. But none of the marquee names knew their horse any better than Don Chatlos Jr. knew Singletary. Although Singletary the critter won the 2003 La Jolla Handicap (gr. IIIT) at Del Mar, Chatlos surmised his 3-year-old was not yet ready to step up to Breeders' Cup competition. So he mapped out a plan for Singletary's 4-year-old season consisting exclusively of mile races. Included in the campaign was a scheduled summer break from the races, because Chatlos knew his horse fired best second time off the layoff. So after two firsts and two seconds in four stakes efforts this year, Singletary got some R&R in the warm California sun, and returned to run a game third, beaten a head, in the Oak Tree Breeders' Cup Mile (gr. IIT) three weeks before the big day. It may have seemed an unorthodox pattern from the outside, but Chatlos would not be swayed. "We wanted to stick to one-mile races and stick to our guns. We didn't give in to any pressure about why we weren't running in other races." There would be no second-guessing. Artie Schiller, a 3-year-old from Jerkens' barn, was sent off the 7-2 favorite by bettors who noticed his only loss in turf races this campaign came to Kitten's Joy, who would be the overwhelming choice in the John Deere Breeders' Cup Turf (gr. IT) a couple of hours later. Nothing to Lose was also fancied a bit more than Six Perfections on the strength of the Frankel/turf combo. As expected, Soaring Free, perhaps more comfortable going a furlong or two shorter than a mile, grabbed the advantage first time past the grandstand. On a narrow course with tight turns, most riders tried to leave and tuck in going for the initial bend. David Flores, aboard Singletary, did so flawlessly. From the 10 post, Singletary broke alertly and Flores kept the son of Sultry Song in the clear behind the first flight of Soaring Free, Special Ring, Domestic Dispute, and Whipper. The pace was modest, and Soaring Free looked to have every chance after cutting out fractions of :24.03, :48.65, and 1:12.71. Artie Schiller was in tight to the first turn, and Nothing to Lose raced unhurried early, then wide up the backstretch. Six Perfections likewise was placed back in the pack. With Whipper to his inside and Mr O'Brien threatening his space from the outside, Flores approached the quarter pole with an abundance of patience, but with Chatlos' words in his head. "I only told David one thing: this horse wins his races from the three-eighths to the quarter pole, and you can't be in trouble then. That's where you have to be in the clear and make your run and open up, because he doesn't have that turf-horse turn of foot, that incredible acceleration. But if he opens up, he can hold other horses off." Flores gave his charge the picture-perfect ride. With Soaring Free and Special Ring just up ahead, Flores found a seam to their outside on the second turn. "I saw the spot open in the middle of the turn and I screamed to Victor (Espinoza, on Special Ring), 'Watch it 'cause I'm coming.' And as I said it, I was already there." Singletary sprinted to the lead and opened up daylight at the sixteenth pole. But out of the pack came Antonius Pius, closing the gap with every stride. The Danzig colt, though, had been a challenge all year, and O'Brien allowed "he tends to duck left and right and is not an easy ride." Antonius Pius, who snatched defeat from victory in the French Two Thousand Guineas (Fr-I) in May by taking a right turn into the rail, was found wanting once again. With all the momentum and about to force a photo finish, he shied from Jamie Spencer's whip and ducked behind Singletary 50 yards from the wire, losing all chance. Singletary's winning margin was a half-length in 1:36.90. He returned $35. Antonius Pius finished 11/2 lengths in front of Six Perfections, who had trouble getting clear on the final bend. Soaring Free held fourth, and Silver Tree copped the last purse position. Flores and Singletary were serenaded across the wire by the ruckus from the balcony, where the Little Red Feather partners were clearly tickled. Several members had made an appearance at Lone Star's front gate well before the clock struck noon, needing a short break from what had already been a significant intake of Bloody Marys. Their stamina and spirit, though, could not be called into question as their victory became apparent. Their rhythmic 'Single-Tary' chant could be heard at the temporary bleachers that rung the turns, as could the banshee screams that came with the $873,600 worth of spoils. If ever there was a group to pick up the mantle from Funny Cide's Sackatoga Stable in terms of selling racing, this group of 30-something friends is it. Anteing up for just a few thousand dollars apiece, these Los Angeles buddies, many from the film industry, could have come from central casting to preach on the joys of horse ownership. Koch, 34, a father of three, is the grandson of Hollywood producer (The Manchurian Candidate, Ghost, Airplane) Howard Koch, who owned Telly's Pop in partnership with actor Telly Savalas ("Kojak"). His grandfather would pick young Billy up from school and they'd spend afternoons on the backstretch of Hollywood Park. "We went to Bay Meadows when the horse won the California Juvenile and I was in charge of handing out the 'Kojak' lollipops," Koch said. "After that, how are you not going to get involved in the sport?" His grandfather would tell the boy tales of a fictitious character named Little Red Feather, and Koch launched his first syndicate with the claiming horse Spoon Man. He met Chatlos when the latter was an assistant to Ron Ellis, and the two hit it off immediately. When Chatlos journeyed to Florida two years ago to buy some horses for Koch, he noticed a "big, fat, dumpy" horse no one was paying attention to. When he went stride for stride with the two horses that were being pushed on him, Chatlos demanded the horse be thrown into the deal for $30,000. According to partner Madnick, the first two horses "are giving hay rides in Colorado." The third, Singletary, won the Breeders' Cup Mile. The Singletary partners are Chatlos, Koch, Madnick, Dave Corwin, Bruce Corwin, Brad Kuehn, Janine Halloway, Josephine Galley, Barry Fadem, Richie Lichtenstein, Josh Merliss, Kevin O'Connell, and Mike Chiovare. "We're bargain shoppers," said Koch. "It took two months to put the people together for Singletary. We didn't set out to make a million bucks. This right here is not about money. Look around the room and see the smiles and hear the cheers. That's what it's all about. We're bringing horse racing back to when it was fun and people laughed and cried and went crazy." Chatlos fit right in. Fifteen years ago he was sharing a dump of an apartment with a guy named David Flores in Rosemead, an unfashionable L.A. suburb, "eating tortillas and beans because we were broke. We had nothing. David wasn't riding any good horses, and I wasn't running any." Having set aside his college degree to follow his father's footsteps, Chatlos not only gained a client in Koch, but an entire social club and a base of new friends. Owners, trainer, and rider think and act as one. "Billy wanted somebody who had the passion like him," said Chatlos. "We shared that feeling, and we thought alike. Just like with me and David (Flores). This horse has taken us places...when we went to San Francisco we had such a great time it was like the whole group went to summer camp." Little Red Feather currently has a handful of horses, all with Chatlos, including promising 2-year-old Tizmanian Devil, third in the recent California Cup Juvenile. After the post-race interviews, Chatlos, who trains 20 head at Hollywood Park, finally made his way back to barn C4, stopping to receive congratulations from John Sadler, for whom he served as assistant for five years. When he ducked into the shadows of the barn, Singletary was being walked up the shedrow. "Here's my boy. My boy," Chatlos beamed, embracing his horse like a proud parent and planting a kiss on Singletary's nose. The barrel-chested horse, who couldn't have been named more appropriately, was bright of eye and spry of step. Back in his stall, he couldn't wait for the hayrack to be raised, and commenced to tear chunks out of it while it was still at knee level. Chatlos added several peppermints to his snack, and although horse and trainer's first grade I victory hadn't yet sunk in, Chatlos looked toward the future. "I know in my heart next year he's going to be even better," said Chatlos. "That one-turn mile at Belmont (site of next year's Breeders' Cup) is right up our alley. And when we get to New York, the Plaza is gonna see a party like it's never seen before."
FREE! E-Newsletters from The Blood-Horse!...
Follow the top stories of major racing events, racing previews and results with FREE e-newsletters from bloodhorse.com. As news develops, we'll deliver updates to your inbox. Follow important events moment by moment, step by step!