Juvenile Fillies Recap: Super Sweet
by Dan Liebman
Date Posted: 11/2/2004 1:46:26 PM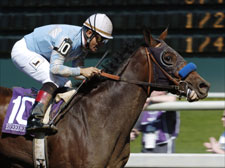 Sweet Catomine can be as big as she wants to be.
Photo: Skip Dickstein

If you need to satisfy your curiosity, you can check the lip tattoo and foal papers. But the fact is Sweet Catomine is a 2-year-old. Really. She may have the appearance of a 3-year-old, and she might have the composure of an older, more experienced horse, but she is a bona fide member of the foal crop of 2002. Actually, after winning the 21st Breeders' Cup Juvenile Fillies (gr. I) Oct. 30 at Lone Star Park, the daughter of Storm Cat is the leader of the foal crop of 2002--of either sex. She also is the no-brainer choice for Eclipse Award voters. In fact, it makes perfect sense such a large, muscular specimen would win a World Thoroughbred Championships race the first time the event was held in Texas, where its citizens like to brag about how they do everything big. "She's the biggest 2-year-old filly I've ever ridden," said Corey Nakatani, who rode Sweet Catomine to an impressive 33/4-length win, his sixth Breeders' Cup victory. Added Marty Wygod, who bred and races Sweet Catomine with his wife, Pam, "She looks like a 3- or 4-year-old." "She's huge, but I think she's still growing," said winning trainer Julio Canani. That should send shivers up the spines of rival horsemen. Big was also how Sweet Catomine ran in the Juvenile Fillies. She found herself between horses for several furlongs down the backstretch and had to check entering the turn--something of great concern for larger horses, who often have a problem getting rolling again, but Sweet Catomine is no ordinary horse. Coming off an eye-catching win at Santa Anita's Oak Tree meeting in the Oak Leaf Stakes (gr. II) in which she showed how much she loved going two turns, Sweet Catomine was made the 2-1 favorite in the Juvenile Fillies. But it wasn't easy proving the bettors right. Sweet Catomine broke well enough from the 10-hole in the 12-horse field, and Nakatani immediately moved her inside behind the first flight of horses. Though a bit wide around the first turn, she was traveling well and in a good spot as longshots Higher World and Sis City took the field through a quarter-mile in :22.99 and a half in :46.44. Nakatani was biding his time in seventh, less than five lengths from the lead and with a ton of horse under him. Frizette Stakes (gr. I) winner Balletto, who had the inside post for her second consecutive race, was always in a good striking position under Jerry Bailey, unlike Matron Stakes (gr. I) winner Sense of Style, the second betting choice, who needed to be close to the pace but broke badly and never was in the hunt. "She was standing well but when the gates opened, she just lunged," jockey Edgar Prado said of Sense of Style. Sweet Catomine was between horses as the field entered the far turn but she then found herself in trouble as the group cornered for home. "I just had a hold of her at that point," Nakatani said. "A horse dropped in on me a little bit. She showed how good she is when she just jumped right back in the race. That move was with the heart of a champion." Sweet Catomine swept wide on the turn and by the time the field hit the stretch, she was ready to take complete control. Despite her eventful trip, she drew off inside the sixteenth pole, with her 33/4-length margin the widest of the eight Breeders' Cup races. Balletto hung tough, finishing second after being wide on the final turn and in tight down the stretch. "When I needed her to, she accelerated," Bailey said, reflecting, and then adding, "but she didn't have as much acceleration as the winner." Sweet Catomine was not the only member of the field to have trouble in the race. The first five finishers in Keeneland's Darley Alcibiades Stakes (gr. II) were entered in the Juvenile Fillies though one, In the Gold, was scratched two days prior to the race when trainer Nick Zito discovered she was running a fever. Alcibiades winner Runway Model finished third in the Juvenile Fillies, but was forced to steady twice down the stretch under Rafael Bejarano, the nation's leading rider by wins who was riding in his first Breeders' Cup race. Sweet Catomine's time for the 81/2 furlongs was 1:41.65, the fastest Juvenile Fillies run at that distance around two turns. The race has been run at nine furlongs once and eight furlongs three times. Tempera's winning time of 1:41.49 at Belmont Park in 2001 was faster, but that was contested around one turn. It marked the third Breeders' Cup win for California-based Canani, and came with his first starter in a 2-year-old race. The 65-year-old native of Peru has a reputation as a turf trainer and seven of his nine previous Breeders' Cup starters have been in grass races. In fact, following Sweet Catomine's win, he sent out two runners in the NetJets Breeders' Cup Mile (gr. IT), Blackdoun, who ran seventh, and Special Ring, who finished 13th. Canani won the Mile in 1999 with Silic and in 2001 with Val Royal. With three winners from 12 starters, his strike rate is a solid 25%. Stabled in the barn of local trainer Bret Calhoun, Canani was extremely confident of two things throughout Breeders' Cup week: that Sweet Catomine would run well, and that he can train a 2-year-old. "People say turf trainer, but I never had a chance to train 2-year-olds before," said Canani. "Last year was really the first year (I had 2-year-olds) and I had Silent Sighs. Now this year I have 10 (2-year-olds)." By the Wygods' stallion Benchmark, Silent Sighs won the California Breeders' Champion Stakes at two and earlier this year captured the Santa Anita Oaks (gr. I). Canani has always been so confident in Sweet Catomine's ability she broke her maiden in a grade I stakes. Her first race was a maiden special weight at Del Mar July 31 going 51/2 furlongs, a distance the trainer knew would not suit her running style. She finished second and was wheeled back a month later to win the seven-furlong Del Mar Debutante (gr. I), another race in which she had an eventful trip. She hopped at the break, was five wide, and came from last in the field of nine to win by three-quarters of a length. Sweet Catomine worked three times at Santa Anita after her Oak Tree victory, then flew to Texas. Canani said it was the second of those moves that showed him she was ready. "She breezed around the dogs," Canani said, the common term for cones placed to keep horses from working near the rail when the track is off. "She went 50 and two (for four furlongs; Daily Racing Form timed her five furlongs in 1:03) and was just galloping. I had her galloping out in 1:11. "She doesn't look like a 2-year-old and she doesn't train like a 2-year-old. She just does everything perfect. Her move in the Oak Leaf, when she went from sixth to first, she showed she's a very special filly...and she will get better as she runs longer." Interestingly, it was Silent Sighs' full sister that Canani and the Wygods thought would be their best 2-year-old this year. Named Proposed, she made her first start July 23 at Del Mar, running third in the California Thoroughbred Breeders' Association Stakes. She ran coupled as an entry with Sweet Catomine in the Del Mar Debutante, finishing seventh and coming out of the race with a bone chip. "The thing is," Canani said, "if they hadn't been an entry, Sweet Catomine would have gone off 10-1 that day." As it was, the two were the 8-5 favorites. On Breeders' Cup day, Canani was sporting a brand new gray Stetson, a gift the day before from Lone Star Park communications director Darren Rogers. Rogers--a publicity department member in Southern California from 1994-99--bought just one gift that week at Cavender's Boot City in Arlington, just northwest of Grand Prairie. "It was a gift, a friendly gesture from me to Julio," Rogers said. "We became friends when I was in California and we've stayed in touch." At the suggestion of Roger Licht, a friend of the Wygods' and former member of the California Horse Racing Board, the Wygods began sending horses to Canani about six years ago. One of the first he had for them was Sweet Life, by Kris S., the dam of Sweet Catomine. "She was all turf," Canani said. She won the 1999 Providencia Stakes and finished second in the Beverly Hills Handicap (gr. IT) the following year. Sweet Catomine is her first foal. Marty and Pam Wygod are New York natives who formerly lived in New Jersey. They now reside in Rancho Santa Fe, Calif., where they live on a 102-acre estate called Tierra Feliz, which means "happy land." They also own River Edge Farm near Buellton, Calif. The farm, managed by Russell Drake, stands Bertrando, Benchmark, Tribal Rule, and Wall Street Lion. Marty Wygod went to high school in Brooklyn, N.Y., with trainer Bobby Frankel and was introduced to the game by Fletcher Jones, the computer industry whiz who invested heavily in the California breeding industry and gave him his first two horses. Wygod became an associate of Jones and developed a deserved reputation as a brilliant businessman. Wygod entered the arena of home medical services with Medco and the company became so successful he sold it to Merck in 1993 for $6.5 billion. Previously involved with such other companies as Porex and Computax, he is currently the chairman of the board of WebMD. With more than 100 broodmares, the Wygods are seriously pursuing their dream of a major homebred operation. The 25-30 mares in Kentucky are bred to top stallions, Sweet Catomine not being their first good horse by Storm Cat. Just two years ago, Canani thought Tribal Rule was good enough to win the Breeders' Cup Sprint (gr. I). By Storm Cat out of the Grenfall mare Sown, Tribal Rule ran six furlongs 1:08.82 in just his second start as a 5-year-old in 2001. Canani mapped out a plan for the following year's Sprint. Tribal Rule was beaten a neck in his first start at six, when Mighty David went six furlongs in 1:08.27, but the horse developed a problem behind and was retired to River Edge. Sweet Catomine's dam is kept at Mill Ridge Farm in Lexington and though her name comes partially from Sweet Life, it could also come from the fact she was foaled on Valentine's Day. The Wygods have raced nearly 60 stakes winners, including nine grade I winners: Exotic Wood, Key Phrase, Pharma, Pirate's Revenge, Private Persuasion, Silent Sighs, Tranquility Lake, Twice the Vice, and Sweet Catomine. The couple thought they had a good chance to win a Breeders' Cup race last year when the event was held in Southern California at Santa Anita. But their homebred Yankee Gentleman ran fifth in the Sprint. Canani is known for his wit, and Wygod, speaking after the race, said, "You get two things when you have Julio train your horses, an excellent trainer and entertainment you can't get anywhere else. "Julio said this was the easiest training job he ever had to do," Wygod said. "She just does everything you ask her to do." Yes, she does, and in a big way.



Copyright © 2015 The Blood-Horse, Inc. All Rights Reserved.