Classic Recap: Chasing a Ghost
Updated: Tuesday, November 2, 2004 1:48 PM
Posted: Tuesday, November 2, 2004 1:48 PM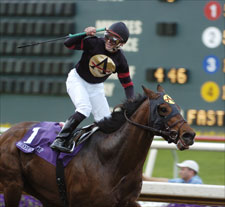 Photo: Skip Dickstein
Ghostzapper gives Bobby Frankel a Classic winner.
Article appears in the Nov 6, 2004 issue of The Blood-Horse
Bobby Frankel had it all figured out as he spoke with owner Ken Ramsey outside barn B2 two days before the Oct. 30 Breeders' Cup World Thoroughbred Championships at Lone Star Park. He knew he had the best horse in the day's biggest race, the $4-million Classic - Powered by Dodge (gr. I). More importantly, he was convinced he had the horse of a lifetime--the one all trainers dream about. Ghostzapper, owned by Frank Stronach and bred by Stronach's Adena Springs Farm, was that rare athlete who could do it all. He was the fastest of the fast who would show the world what true greatness was in the Classic. Frankel was so sure Ghostzapper was some freak of nature, he truly believed the colt was unbeatable in the Classic, even as early as three weeks before the race. "If I don't screw him up and he goes into the Breeders' Cup as good as he is right now, he can't lose," Frankel said at the time. "It'll be no contest; that's all I'm telling you. That's how good this horse is." But when Ghostzapper drew post one in the Classic, Frankel knew his strategy was limited. He would have to go to the lead, something the colt had never done before. That didn't worry Frankel, who felt Ghostzapper could walk on water if he had to. His only concern was Ramsey's Whitney Handicap (gr. I) and Kentucky Cup Classic (gr. II) winner Roses in May, a brilliantly fast horse who, like Ghostzapper, was unbeaten in 2004 and had never been the Classic's distance of 11/4 miles. Frankel knew the two colts could not afford to get involved in a speed duel, with top-class closers like Pleasantly Perfect and Birdstone in the field of 13. Roses in May, whom Ramsey owns with his wife, Sarah, had the advantage of drawing post 6, with the great mare Azeri, whose best running has been on or near the lead, breaking from post 3. "Drawing the rail doesn't matter, wire-to-wire," said Ghostzapper's exercise rider, Nuno Santos, who had been the regular exercise rider of Azeri and
Fusaichi Pegasus
, the winner of the 2000 Kentucky Derby (gr. I). "Believe me, no worries. This horse is unreal, a freak, and everyone is going to see it on Saturday. You're going to see a Secretariat type of race. I can feel him getting stronger every day, and I've never been as confident in a horse as I am with this guy, and that includes Azeri. It's another world. They're going to have to wait years and years to see another one like this." With that kind of ammunition, Frankel, who would saddle Ramsey's Nothing to Lose in the NetJets Breeders' Cup Mile (gr. IT), attempted to plant the seeds of his strategy inside Ramsey's head. "If we lay first and second and the jockeys keep them slow and don't kill each other trying for the lead, they'll finish one-two," Frankel assured Ramsey. "You know what I'm saying? If they're not stupid and they stay cool, we'll be one-two." "You're boxing them (in the exactas), huh?" Ramsey said, breaking into his customary broad grin and booming laugh. "In other words, how fast we go on the backstretch will dictate what happens in the homestretch. What about Azeri?" "I don't think Azeri is going to be there," Frankel said. "She can't run with these two. Both our horses will get the mile and a quarter and we got two smart jockeys (Javier Castellano aboard Ghostzapper and John Velazquez on Roses in May). If they sit, they finish one-two. I'm telling you, that's the race; it's that simple. Look, I gotta go (to the lead) from the one post. But if they let us get away with a half in :47, the race is over. It'll be you and me, and let the best horse win." Frankel could see his words were registering, and that Ramsey was coming around to his way of thinking. "That's the best shot we got, and if I outrun you or you outrun me, we're still talking about $800,000 for second. That's nothing to sneeze at," Ramsey said. But Frankel wasn't thinking about second. He knew there was no horse who could eyeball Ghostzapper and outrun him in the stretch, and if Ramsey and trainer Dale Romans let him slow the pace down on the lead, he'd have his first Classic victory and they would have their $800,000. Earlier that morning, Ramsey and Romans had plotted their own strategy. Romans originally had considered gunning Roses and May to the lead, establishing a clear advantage while setting a stiff pace, then killing off everyone near him by taking them out of their game plan. But after the draw, that scenario changed. "We got to sit down and plot some strategy, right?" Ramsey said to Romans as they watched Roses in May gallop. "Azeri's got to go, and we have the opportunity to make decisions now. John will be able to dictate what he does," Romans said. Ramsey replied, "We're obviously in the catbird seat and can sit and can watch what they do. The absolute biggest thing for us is to make sure the horse is well within himself and we don't get involved in some speed duel down the backstretch." When Frankel later assured Ramsey of a one-two finish if they followed Frankel's strategy, Ramsey was all ears. As it turned out, their conversation would be the blueprint for the 2004 Classic. Frankel's script was followed to perfection. Ghostzapper went for the lead, Roses in May sat right off him, and Castellano and Velazquez slowed the pace down to 47 seconds on the nose for the opening half-mile. Everything was exactly as Frankel had envisioned. Well, almost everything. Not even Frankel could have envisioned Ghostzapper coming home his last two quarters in an unbelievably quick :24.06 and :23.64, while drawing off to a three-length victory over Roses in May, and blazing the 10 furlongs in 1:59.02, which broke Skip Away's Classic record of 1:59.16. It shattered the Lone Star Park record by more than five seconds. The Classic drew a top-class field that boasted victories in the grade I Kentucky Derby, Preakness, Belmont, Travers, Jockey Club Gold Cup, and Whitney, as well as last year's Classic winner, Pleasantly Perfect, who came into this year's race having won the Dubai World Cup (UAE-I) and Pacific Classic (gr. I). A massive son of Pleasant Colony, Pleasantly Perfect arrived in Dallas Oct. 25 with a planeload of other California-based horses. He was the last one off the plane, and seemed to dwarf all the other horses in the van. After staring down his neighbor, Mile (gr. IT) starter Blackdoun, he immediately began digging into his hay rack. By the time he arrived at Lone Star, he was loaded for bear, dragging trainer Richard Mandella around the barn. "Man, you're wearin' me out," an exhausted and sweaty Mandella said to the horse. "Slow down a little." After eventually putting the colt in his stall, a flushed Mandella walked out of the barn shaking his head. "Just hose me down," he said. Another early arrival was Belmont and Travers winner Birdstone, who is as small as Pleasantly Perfect is big. The son of Grindstone arrived in Texas sporting the remnants of a nasty skin rash. It has been a year of highs and lows for the colt they call Little Man, and no one has been more appreciative of what the colt has been able to accomplish than trainer Nick Zito. "He's hung in there all year," Zito said one morning as Birdstone went out for a light jog. "He's just a tough little guy and has been such a gallant warrior. He's carried us on his shoulders for a long time. I'm just glad he's made it here." Arriving the morning of Oct. 25 following a 13-hour van trip from Kentucky was the hard-luck Perfect Drift, who was still looking for his first victory of the year. This was the son of Dynaformer's third try at the Classic after two disastrous trips. The gelding's fan club was led by groom Marvin Anderson and exercise rider Mike Bowlds. "I would lay my life down for this horse," Bowlds said. "This is what I was born and raised to do, and you can't wait to wake up every morning when you have something like him to look forward to." Oct. 26 brought the arrival of Azeri, whom everyone expected to be entered in the Distaff - Presented by Nextel (gr. I). But trainer D. Wayne Lukas dropped a bombshell by announcing she was going to run in the Classic. As the 2002 Horse of the Year was settling into her new home, Lukas attempted to explain owner Michael Paulson's decision. "He's been agonizing over this," Lukas said. "What if she runs away with the Distaff again and then he watches some longshot win the Classic? He'd be sick. She's already one of the great fillies of all time, and now he wants to try to do something nobody's ever thought of doing. It's her last hurrah; let it all hang out. We've actually been training with the Classic in mind since July. All I know is that when one drops in your lap like Azeri, you're blessed." Everything was now in motion for a memorable Classic. All that was missing were Ghostzapper and Funny Cide, who arrived from New York three days before the race. Ghostzapper was one victory away from superstardom. The son of Awesome Again out of the Relaunch mare Baby Zip, is a half-brother to the fast sprinter City Zip, but Frankel has never had any doubts about Ghostza pper's ability to stretch out to two turns. Following the colt's spectacular 61/2-length victory in last year's Vosburgh Stakes (gr. I), he developed "puffy ankles" and Frankel put him away for the year. When a quarter crack suffered this past spring in California forced him to miss the Metropolitan Handicap (gr. I), Frankel pointed him for the seven-furlong Tom Fool Handicap (gr. II), which the colt again won in sensational fashion by 41/2 lengths. It was now time to stretch him out. But when a scheduled start in the Whitney was scrapped due to a cough, Frankel waited three weeks and ran him in the 11/8-mile Iselin Breeders' Cup (gr. III) at Monmouth Park, which Ghostzapper won by 103/4 lengths in the slop. Not only had he annihilated his opponents in his last three starts, his speed figures were somewhere in orbit. Len Friedman of the Ragozin sheets and Jerry Brown of Thoro-Graph both called him the fastest horse ever since the advent of speed figures. The Sept. 11 Woodward (gr. I) would leave Ghostzapper with seven weeks to the Classic, and he would need it following his first gut check. Running head and head with the tenacious Saint Liam, Ghostzapper dug in and eked out a neck victory. The pair had run six furlongs in an eye-opening 1:08.75 and Ghostzapper completed the nine furlongs in 1:46.38. It was 91/4 lengths back to the third-place finisher Bowman's Band. Having already shown brilliance from six furlongs to 11/8 miles, Ghostzapper was on the threshold of greatness. Only the 11/4 miles of the Classic, and a top-class field, stood in his way. One of Ghostzapper's main attributes is his ability to take care of himself and conserve his vast well of energy. On the morning of the Breeders' Cup, Ghostzapper, as usual, was sprawled out in his stall, something he does at home like clockwork at 9:30 each morning. When his groom, Carlos Quevedo, went in the stall to trim the edge of his mane behind his ears, Ghostzapper didn't even bother getting up, preferring to just lie there while Quevedo snipped away. Frankel's longtime California assistant, Humberto Ascanio, was amazed. "Any other horse would jump up," he said. Ascanio hadn't seen Ghostzapper since the spring and felt he is stronger and more mature now. Ghostzapper lay in his stall all morning and a good portion of the afternoon, as if he knew something special was about to happen. Building up inside him all the while was a force that was about to rock the racing world. By the time the Classic was run, Frankel, as usual on Breeders' Cup day, was ready to pack up and go home. Going into this year's event, he had won only two Breeders' Cup races in 57 starts, including second-place finishes in the Classic with Bertrando in 1993 and Medaglia d'Oro the last two years, as well as an eighth-place finish with Aptitude in 2001. All of them were the betting favorite. Now, here he was going into the Classic having just seen his first five Breeders' Cup starters on the day finish out of the money. Ghostzapper was his last shot, and was yet another Classic favorite, closing at 5-2, having just a few dollars more bet on him than on Pleasantly Perfect. Frankel knew he was about to unleash the greatest horse he has ever trained, and in his mind perhaps the greatest horse anyone has trained in a long time. If the colt liked the Lone Star surface, and if Frankel's strategy and guarantee to Ramsey had sunk in, then there was an excellent chance Ghostzapper was about to put on a show and end Frankel's nightmare run in the Classic. Stronach also was confident, especially sending out a horse named Ghostzapper on the eve of Halloween, and just days after a full moon. The start was everything Frankel could have hoped for, as Azeri broke a step slowly and was being steered to the inside to avoid getting squeezed just as Castellano was easing Ghostzapper off the rail. Just like that, Ghostzapper was several paths off the rail with Azeri inside of him. Now it was a question of Roses in May's strategy. Once again, the script went perfectly, as Velazquez took a hold of Roses in May and was content to let Ghostzapper dictate the pace. Castellano was able to get away with a quarter in :23.42 and a half in :47, exactly what Frankel had told Ramsey he was hoping to get. Ghostzapper continued to hold a narrow advantage over Roses in May down the backstretch, with Azeri on the inside, right in the battle. The entire field, with the exception of longshots Fantasticat and Freefourinternet, was well bunched, separated by only five to six lengths. Approaching the far turn, Ghostzapper and Roses and May began to ease clear of the pack, with Pleasantly Perfect beginning his run from 10th. Ghostzapper picked up the pace with a quick quarter mile, as Dynever and Funny Cide launched their bids from the outside. Birdstone had been stuck down on the rail and appeared to get swallowed up by the cavalry charge. He suffered a gash on his hind leg that went right through his protective bandages. Nearing the head of the stretch, Castellano still had a ton of horse under him. Roses in May also was full of run and trying to keep up with Ghostzapper, who had opened a length advantage. Pleasantly Perfect, meanwhile, was charging past Funny Cide and Dynever on the far outside and began closing in on the two leaders, as they hit the quarter pole in a brisk 1:35.38. Once in the stretch, Castellano pulled the trigger, and Ghostzapper finally was able to release the energy he had stored up all day. He spurted clear, opening up by two lengths at the eighth pole. Roses in May gallantly kept after him, but Ghostzapper had this one wrapped up, winning by three lengths. The victory for Castellano came in the Venezuelan jockey's first Breeders' Cup race. He was aboard Exogenous heading to the track for the 2001 Distaff when the filly suffered a fatal injury after rearing up and falling backward striking her head on the ground. Runner-up Roses in May finished another four lengths ahead of Pleasantly Perfect, who simply could not close into that blazing final quarter, especially stuck on his left lead, and came out of the race with a minor ankle injury. Perfect Drift also closed gamely, finishing three-quarters of a length behind Pleasantly Perfect. It was another two lengths back to Azeri, who ran as hard and as far as she could and never gave it up. A beaming Frankel came down the escalator with Stronach, who said to him, "We're going to race him next year, Bobby. You can do whatever you want to, but no Japan and no Dubai. They take too much out of them." Stronach was proud of the fact that Ghostzapper's sire, Awesome Again, whom he raced and now stands at Adena Springs, had become the first Classic winner to sire a Classic winner. While Awesome Again was shut out at the Eclipse Awards after winning the 1998 Classic and completing a perfect six-for-six season, Ghostzapper will be the favorite to be voted champion older male and, unless there are enough Smarty Jones loyalists still out there, Horse of the Year. Nearing the winner's circle, Frankel ran into Ramsey, who was gracious in defeat. "Well, that's what you said would happen and that's what we did," Ramsey told him. "We ran our game plan. We laid off your flank, and if you had backed up we would have tried to take the lead. It didn't work out that way; my hat's off to you. I'm glad you got a victory." When Frankel returned to the barn, he was greeted by all the barn help. "Finally!" he bellowed. "It looked like it was gonna be another bad day." He went over and gave a quick look at Ghostzapper and his other Breeders' Cup starters. Ghostzapper showed no signs that he had just run the fastest Breeders' Cup Classic of all time. He picked on some alfalfa, then tore into his hay rack with vigor. A few minutes later, Romans stopped by with his son to congratulate Frankel. "It was a big day and I'm proud of our team," said Romans, who had also finished second in the John Deere Turf (gr. IT) with Ramsey's Kitten's Joy. "I told my wife, I made about $150,000 today and I've got the blues; something's wrong with that. Great job with him. I know it hasn't been easy." Frankel still had one more thing to do before he left. He went into the barn office and turned on TVG to watch T N T Stud's Leroidesanimaux run in the grade III Morvich Handicap on the grass at Santa Anita. After the 4-year-old Brazilian-bred closed fast to win going away, Frankel broke into his typical Cheshire cat smile, turned to his wife, Bonita, and said, "OK, let's go home."
FREE! E-Newsletters from The Blood-Horse!...
Follow the top stories of major racing events, racing previews and results with FREE e-newsletters from bloodhorse.com. As news develops, we'll deliver updates to your inbox. Follow important events moment by moment, step by step!