Calm Canani Loaded with Contenders
by Lenny Shulman
Date Posted: 10/28/2004 12:57:58 PM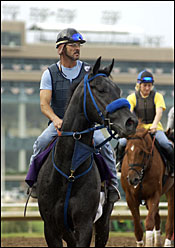 Blackdoun, will represent trainer Julio Canani in the Breeders' Cup Turf.
Photo: Anne M. Eberhardt

Let others worry about track conditions and post positions. Trainer Julio Canani has adopted the "What, Me Worry" stance made famous by Alfred E. Neuman as the Breeders' Cup World Thoroughbred Championships approach.And why not? The native of Peru, long encamped in California, has a trio of live contenders -- surefire favorite Sweet Catomine in the Juvenile Fillies (gr. I) and Blackdoun and Special Ring in the NetJets Mile (gr. IT). Ask Canani about the fact Special Ring has but one start since last year's Breeders' Cup Mile, and you get a dismissive gesture of the hands and a "Don't worry, this horse is as fit as he can be."Ask about Blackdoun being a 3-year-old facing elders and receive a "In two months, he's going to be four, what difference does it make?" Track condition? A sly smile. Post positions? Well, he'd prefer a reversal, wishing Special Ring had drawn outside where Blackdoun is, but he quickly recovers: "Let's get to the race already and see what happens. I don't give the jockeys any directions. When the gate opens what's going to happen will happen."Perhaps the 65-year-old's confidence is borne from his terrific success in the race. Canani owns two victories in the Mile, winning it with 7-1 shot Silic at Gulfstream Park in 1999 and following two years later with 5-1 Val Royal at Belmont Park. Ask Canani the secret to his success in the race and you get the sly smile behind the shaded glasses. He refuses to take any real credit other than the fact that many of his horses are European imports whom he feels might benefit from the shorter distance of the mile than the longer trips they face overseas. Canani looks like a cat about to eat the canary as he walks around the Lone Star backside, shoulders thrust back, always looking like he's dressed for the beach. Blackdoun couldn't be entering the race in better fashion, having swept three races over the summer at Del Mar in his only North American efforts. Special Ring repeated to win the Eddie Read Handicap (gr. IT) in July at Del Mar, and is now a 7-year-old. Canani hopes to add to his legacy, which includes conditioning such outstanding runners as Martial Law, who took the 1989 Santa Anita Handicap (gr. I), as well as Tranquility Lake, Caffe Latte, Tuzla, and 2004 stakes winners Amorama and Bayamo. We'll see Saturday if all the lack of worrying by Canani is justified.



Copyright © 2015 The Blood-Horse, Inc. All Rights Reserved.